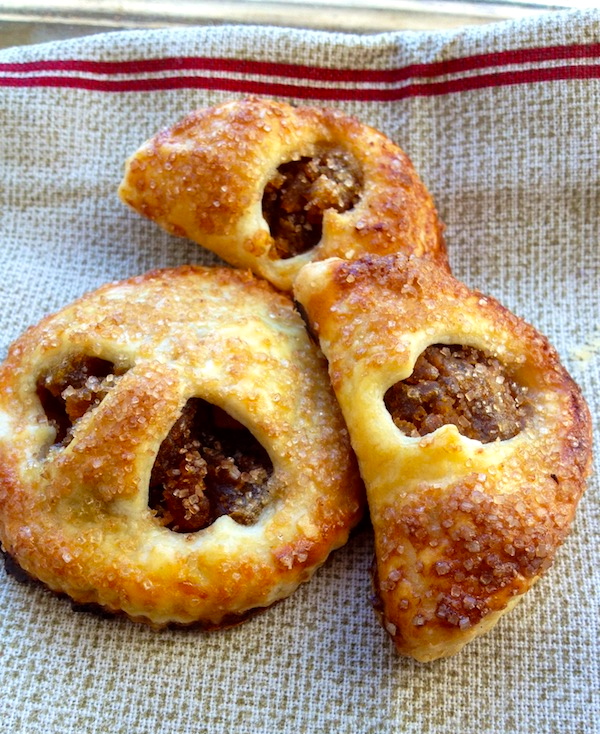 Sometimes, in my efforts to use up food, I never know what I'm going to wind up with in the kitchen. This week, among far too many things I'd amassed in the fridge, a container of roasted squash was staring at me from behind a bag of kale. I have no idea what I'd been planning to do with it when I pulled it out of the freezer. Maybe make my Spiced Butternut and Cranberry Quick Bread from Fresh From the Farm? Usually I wait until closer to Christmas time to do that. And I know it wasn't one of many different butternut soups I make. (Though soup is the main reason I roast and freeze winter squash "meat.")
Puzzled, I returned to my computer, where I happened across an email from Food 52 with a "Genious Pumpkin Butter" recipe in it. I'm not really a fruit butter kind of gal, but I clicked on this because I loved the photo and the deep color of the pumpkin butter. When I got there, I realized why it looked so appealing. In a word (one of my favorite words): Caramelization. The pumpkin (or squash) is basically roasted twice, first to get the flesh tender and scoopable (and out of the skin); second with brown sugar, spices, and a little butter in a shallow baking pan so there is lots of contact with direct heat. You stir the squash mixture from time to time as it bakes and releases a lot of moisture, making it drier, much more flavorful, and deeply colored.
I'd already done the first part—check. So I measured the roasted squash I had (3 cups) and set about to make this right away. (I cut the recipe in half  and used a 7 x 11 Pyrex baking dish.) The house began to smell holiday-fragrant, and stirring the squash every once in a while was one of those comforting and tactile pleasures that make cooking so satisfying.
I ate some right out of the pan not long after it came out of the oven–delicious. Like pumpkin pie filling only much tastier and more concentrated. Which reminded me, of course, that I now had to do something with the squash butter (thinking Roy was really not going to be interested in squash butter crostini for dinner.) So once again, fate (and web surfing) intervened, and as I was perusing The New York Times thanksgiving coverage, I came upon Melissa Clark's simple pie dough recipe. I had just seen a recipe for cranberry hand pies on another site, and suddenly I knew what I wanted to do—make mini pumpkin (or squash) hand-pies.
After making and chilling Melissa's easy dough, I promptly stopped looking at anyone else's recipes, which might have been a mistake, because I haven't made hand-pies in centuries. But I was already having so much fun with my old pastry cutters, flour flying all over the place.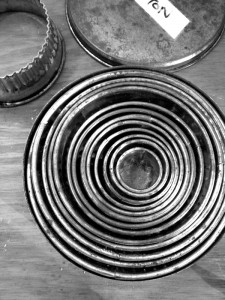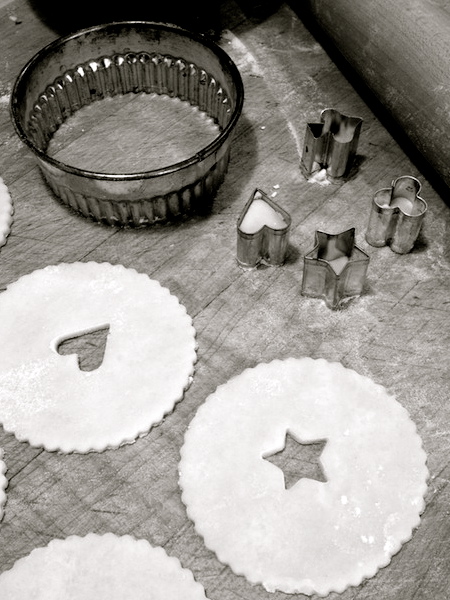 So only after I had already cut out circles that were rather small, cut little windows out of them, and spooned a heaping portion of roasted squash on to them, did I realize that folding one half of this circle of dough on to itself (to make a half-moon shape) was going to be a stretch and a squish. I should have made bigger circles and smaller cut-outs. Whatever, I said! And forged ahead again, baking them anyway, and then going on to use the rest of the dough to make full-circle hand-pies that held the filling more demurely. (The half moons were cuter, though, even if they were a bit stuffed.)
But wait! Half way through I also stopped and folded a couple tablespoons of mascarpone cheese into the pumpkin butter and tried that as a more "pie-ish" filling. The first one of those I tasted I loved and promptly filled the rest of the dough with that stuff. Later, after everything cooled–and more sampling ensued–I decided that I actually liked the straight roasted squash butter filling better. The crust was so flaky and buttery that it didn't need a creamier filling.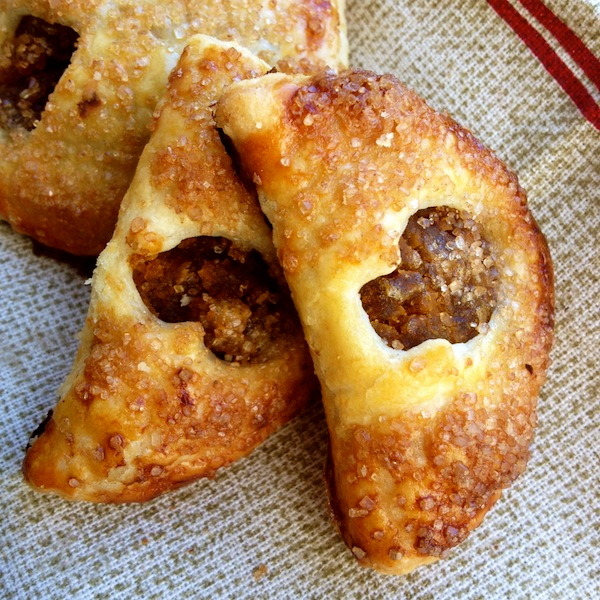 Well, in the end these things were very cute and very tasty. But of course I can't give you a full recipe, because I was playing, rather than developing! But if you're intrigued (and the little pies would be great on a Thanksgiving dessert buffet—they don't even need to be warmed up), you can certainly grab the pumpkin butter and pie dough recipes and have at it yourself. I would say that in the end I got about 12 to 14  hand pies out of the one dough recipe. (And there is plenty of leftover pumpkin butter, so you could certainly make more dough to yield more pies.) The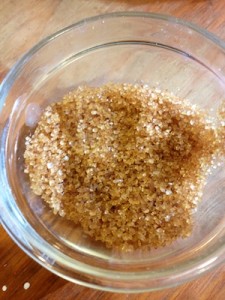 only other things you will need are a little egg wash (made from one egg yolk and a bit of cream) and some coarse sugar. I brushed a little of the egg wash around the edges of the dough circles before sealing them. And I also brushed the tops of the pies—for color and to help the sugar adhere. I used some raw cane sugar I happened to have around, but a cinnamon sugar mix might be nice to try, too.
P.S. If you're in the process of making up your Thanksgiving menu, and you're looking for side dish ideas, I've been posting my favorite side dishes on Face Book at Susie Middleton Cooks. And you can click here for a link to some of my older favorites.
P.P.S. My apologies for the fuzzy (and poorly lit) photos–my good camera has now left the repair place and apparently is being sent back to the "factory" for repair. Yikes.