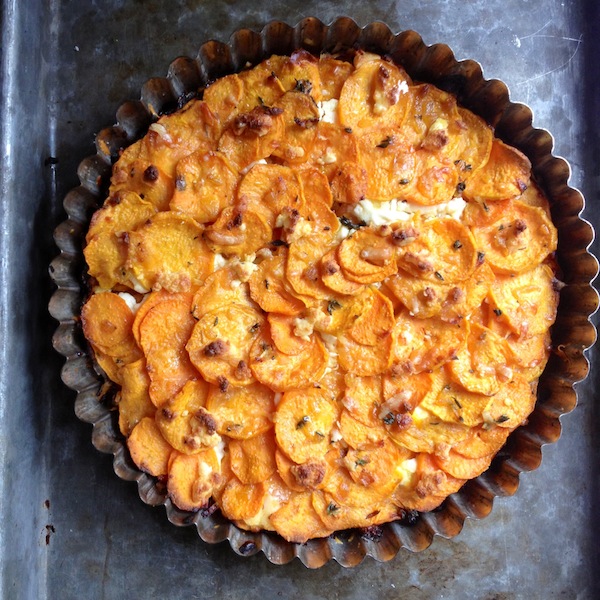 It feels a bit swirly here in my world. I know swirly isn't really a word (or at least not the right word), but often I need to merge two or three words to find something that sounds like what it is. Swish, whoosh, whorl, curl, squirrel. I'm looking for a word that says I'm feeling a little squirmy and wind-blown and short of breath. Partly because every time I walk out the door, the wind, the relentless wind, is cranking up again. Sending leaves scampering and tearing a thousand tiny branches from the trees. It's getting dark so early, too, and even on the sunnier days, the skies seem to be the color of stone and riddled with buckshot clouds. Ominous, in a not very subtle way. In the short window of daylight, there's not nearly the time we need to clean the fields, mulch the beds, gather tools strewn near and far. And those are not even things at the top of the list. How did it get to be December?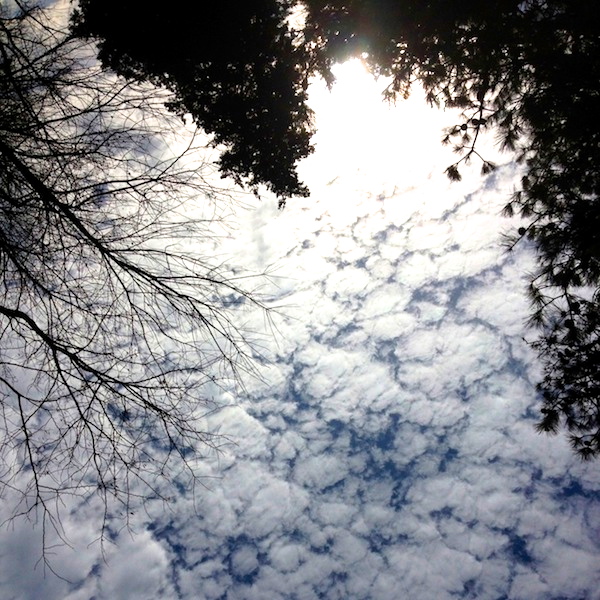 Time is not slowing down the way I thought it would come winter. (Ha! Yet another reminder that I am not in control.) I clear my desk of one thing and four more piles show up. I go into the kitchen to test a recipe and come out with four more things I want or need to cook. There are cookbooks and magazines piled everywhere. And books I've been meaning to read. Farm paperwork to do.
I have a bad habit, too, of worrying about the future, especially on dark, cold, windy days. Like everyone else on the planet, I go from feeling like I'm absolutely going in the right direction to wondering what in the world I'm doing. I especially like to have self-debates about the merits of writing cookbooks as part of one's income plan. Yesterday evening I found out that Fresh From the Farm: A Year of Recipes and Stories was chosen to be on NPR's list of great reads for 2014. An honor and a total surprise. I let myself be very excited about it, just because you have to do that to be good to yourself. What does it mean? Will it help sell more copies? Who knows!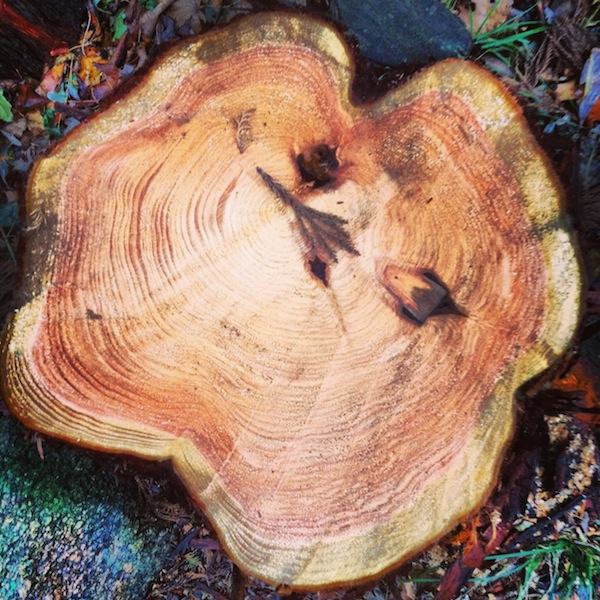 But I know it is good to be back in the kitchen cooking now. And I see, looking back at some of my recent Instagram photos, that apparently swirly things are not all bad in my world. (I'm coming to the end of my second 100 days straight of farm photos on Instagram.) I take a lot of comfort in the concentricity of say, a sweet potato-parmesan-goat cheese galette I made for Thanksgiving (top photo). (And, believe it or not, concentricity is a real word). Or the curly life lines of a freshly sawn tree trunk.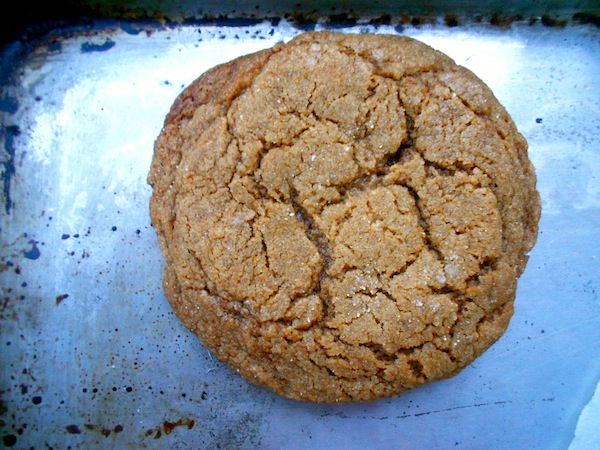 Or the uber-familiar circle of a favorite cookie. Like the giant molasses crinkles I made today, just because. Because December means cookies to me. Lots of cookies. (Cookies are the antidotes to grey days, don't you know?) And because these giant molasses cookies are a recipe from Fresh From the Farm, part of a bigger pear dessert. (This is where I am supposed to remind you that cookbooks make great holiday gifts… And that cookbook authors will be eternally grateful to you for your purchases…) And because the cookies remind me of my best friend Eliza, to whom I wish I lived closer. And of my mom, who is coming to visit (with my Dad, of course) next week. It will be their 60th wedding anniversary this month.
I bet they wonder where 60 years went. Me, I look at the shiny splotchy warm patina of my metal tart pans and baking sheets in these photos, and I wonder where 20, even 30 years went. I've had these things that long. Clearly my memory bank is swirling around a lot these days, too, circling back.
Tonight we're celebrating Roy's birthday. With freshly caught bay scallops a friend dropped off for us. And a simple vanilla cake I made this afternoon. And cookies, of course. Here's the recipe.
Big Molasses Crinkle Cookies
This is a softer, chewier version of a childhood favorite. It's also a bit bigger (as in diameter), since I roll the dough into fairly large balls. They bake out at between 3 and 4 inches across. The dough needs to be chilled for 45 minutes to an hour, but it can also be chilled overnight if you like. The cookies freeze well, too.
Makes 16 four-inch cookies
__________________________________________________________
2 1/4 cups (10 1/2 ounces) unbleached all-purpose flour
2 teaspoons baking soda
1 teaspoon ground cinnamon
1 teaspoon ground ginger
1/2 teaspoon ground cloves
Table salt
3/4 cup (1 1/2 sticks) unsalted butter, at room temperature
1 cup dark brown sugar
6 tablespoons granulated sugar
1 large egg
1/4 cup unsulphured molasses
1 tablespoon vegetable oil
____________________________________________________
In a small mixing bowl, whisk together the flour, baking soda, cinnamon, ginger, cloves, and 1/4 teaspoon salt.
In the bowl of a stand mixer, combine the butter, brown sugar, 2 tablespoons of the granulated sugar, and a pinch of salt. Beat on medium speed until light and fluffy, about a minute. Stop the motor and scrape the sides down. Add the egg and beat on medium speed until combined. With the motor running, slowly add the molasses and the vegetable oil and beat on medium-low speed until well combined. Stop the motor and scrape the sides down. With the motor running on low, spoon in the dry ingredients gradually and mix until just combined (you'll still see some flour). Remove the bowl from the mixer and use a silicone spatula to finish gently mixing the last bits of flour into the dough.
Chill the dough in the refrigerator for an hour or so.
Heat the oven to 375° F degrees. Line two rimmed baking sheets with parchment. Put the remaining 4 tablespoons granulated sugar in a shallow bowl. Put a small bowl of water out. Roll the dough into big balls that are about 1 1/2-inches (or a smidge bigger) in diameter. Dip each ball in the sugar and roll around to coat. Put each on the baking sheet. Sprinkle each dough ball with a little water. Repeat, spacing dough balls 4 to 5 inches apart on the baking sheets. (You'll get 4 to 5 cookies on a sheet pan.)
Bake until the cookies are set around the edges, slightly puffed (they will collapse as they cool), and crackled on the top, 11 to 13 minutes, rotating the baking sheets to opposite racks halfway through cooking. (Smaller cookies will cook in about 10 minutes.) Cool on the baking sheets. Repeat with the remaining dough, putting new parchment on the baking sheets.
Keep the cookies well wrapped in plastic inside of a zip-top bag in the freezer or well wrapped at room temperature for a day or two. To warm cookies, place on a parchment-lined baking sheet in a 350°F oven for 2 to 4 minutes.