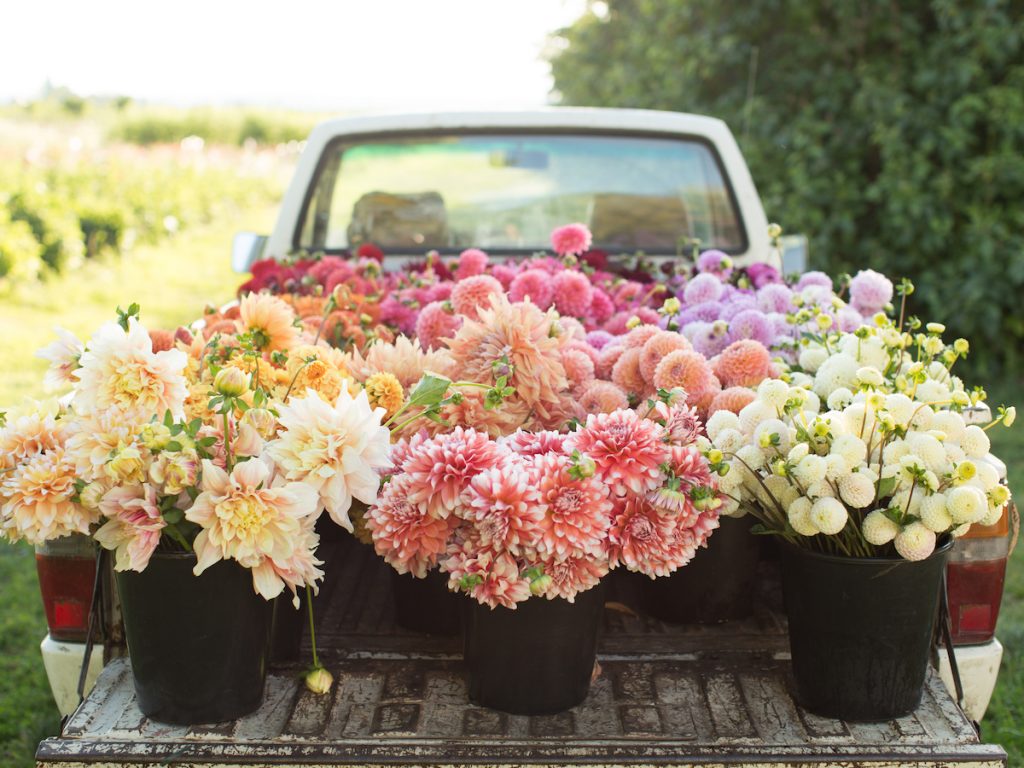 THEY have names like Brown Sugar and Cupcake, Honeydew and Café au Lait. There's a Zippity Do Da and a Gitty Up, a Bumble Rumble and a Poodle Skirt. Throw in a Lover Boy, an Irish Blackheart, a Foxy Lady, and a Platinum Blonde, and it sounds like the cast of Toy Story took a wrong turn on the studio lot and wound up on the Outlander set. 
"They" are dahlias, and I think I'm in love.
It's not just those names, though seriously, who doesn't want a Lucky Ducky or a Ferncliff Dolly hanging out in the yard? It's much more. Much, much more. Starting and ending with color. With shape, size, stature, and abundant generosity in between.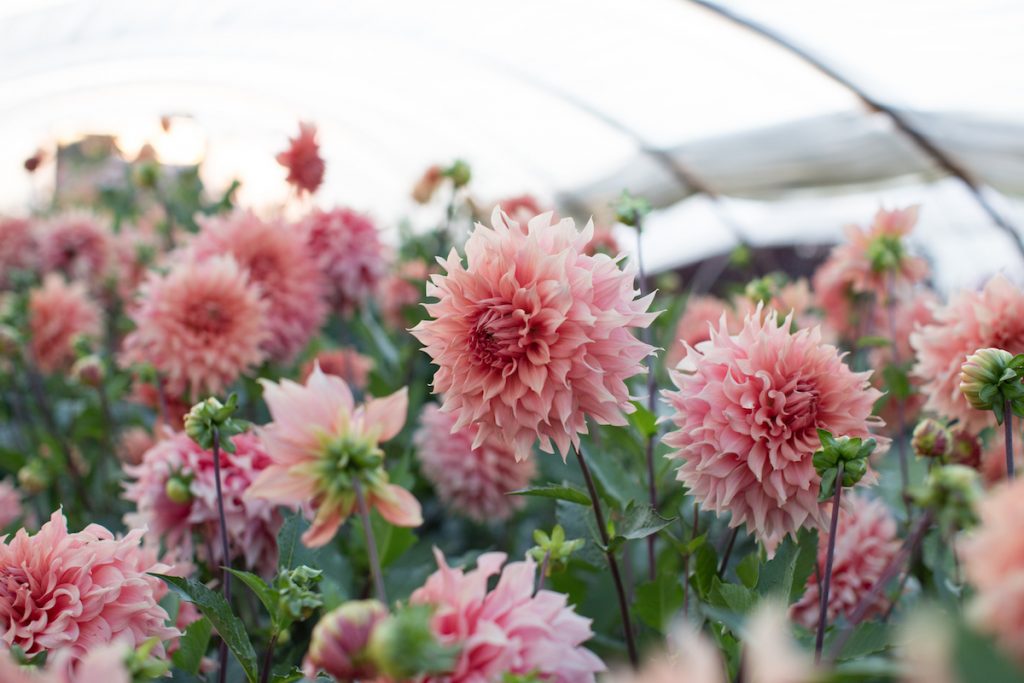 If I'd only known. Oh, I must have known dahlias. They towered in late summer in Edgartown front yards, giant fiery blooms tipping over genteel cap-rail fences. Perhaps I dismissed them for their acerbic shades of carnation red and "highlighter" lemon (more on that in a minute). But I was in the dahlia dark.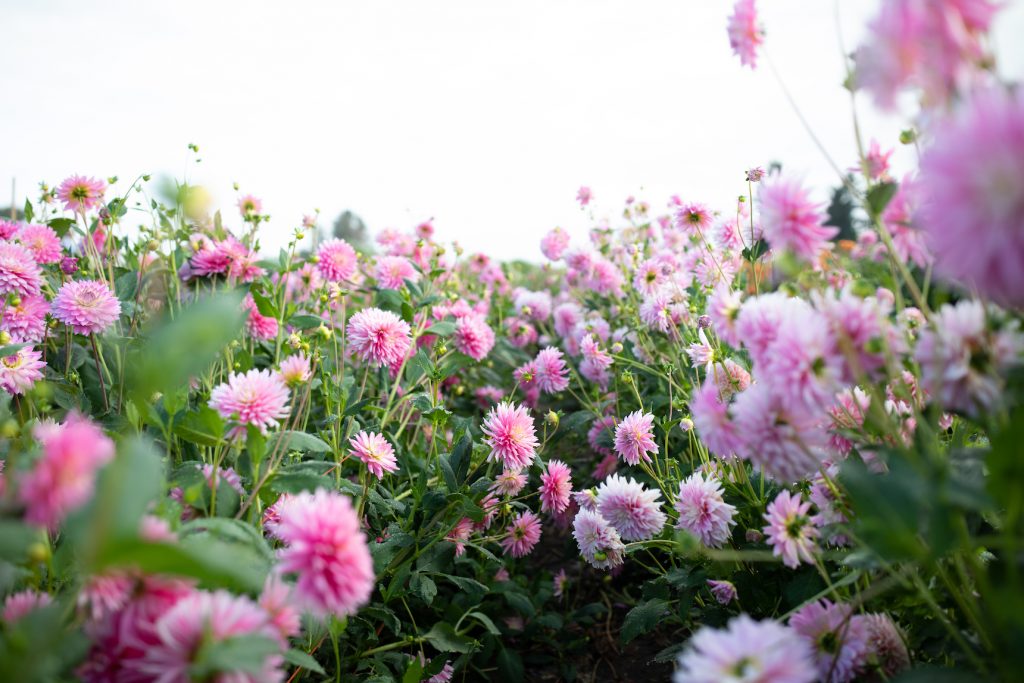 By chance, in my last year of growing cut flowers as a farmer, I planted a few tubers next to my rows and rows of zinnias and cosmos and sunflowers. I had no idea what I was doing, and waited patiently for the shoots and leaves to appear above ground. (Staring at the ground? Yes I was.) Even when they showed up (and actually grew tall!), I wasn't convinced they would bloom. At last, late in the summer, a raft of perky coral, ball-shaped flowers appeared to bounce on the breeze – and kept right on bouncing through October.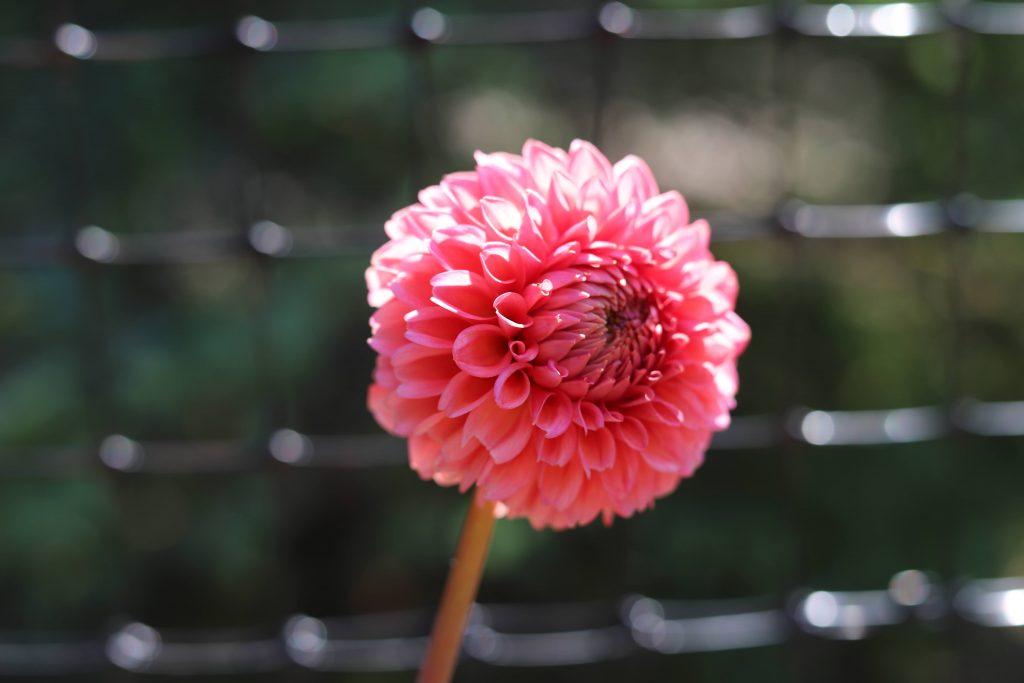 I harvested my first dahlias, popped them into my flower bunches, and thought, hmmm, I wish I had more. (More is the story of my life.)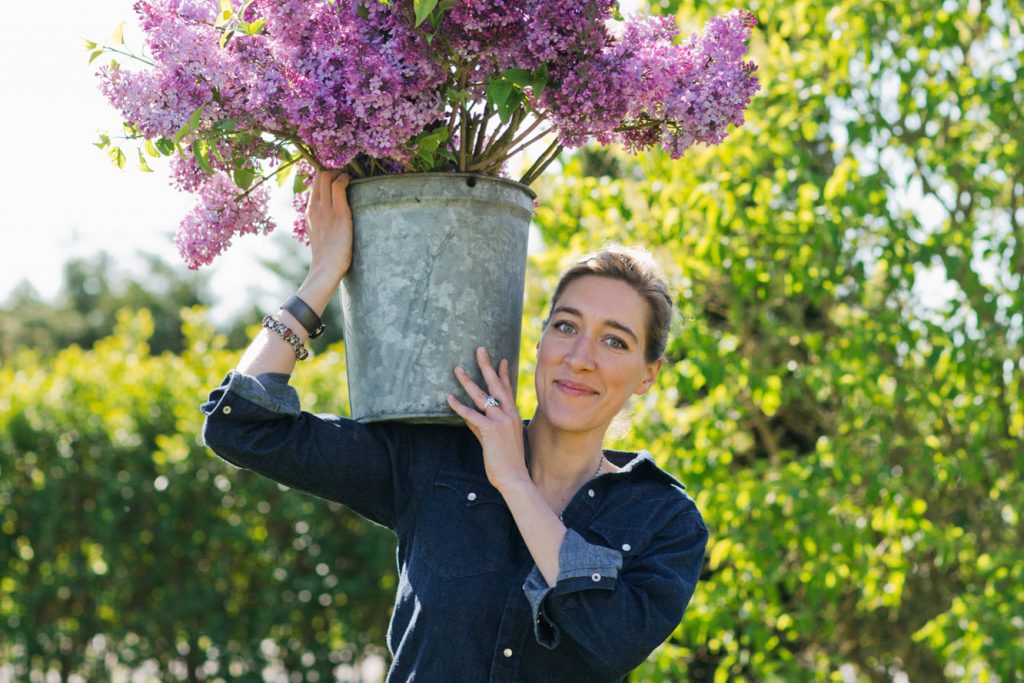 But it has only been in the last few years, since I discovered Floret Farm and the fabulous Erin Benzakein, that my awareness of dahlias has really blossomed. I bought Erin's first book, Floret Farm's Cut Flower Garden, and then the next, Floret Farm's A Year in Flowers. I soaked up page after page of gorgeous photos, expert planting tips, thoughtful arranging advice, and detailed variety information. From daffodils to peonies, lilacs to sweet peas, I began to learn how not only annuals, but shrubs, perennials, tubers (dahlias!), bulbs, vines, flowering trees, and grasses could also contribute to gorgeous flower arrangements.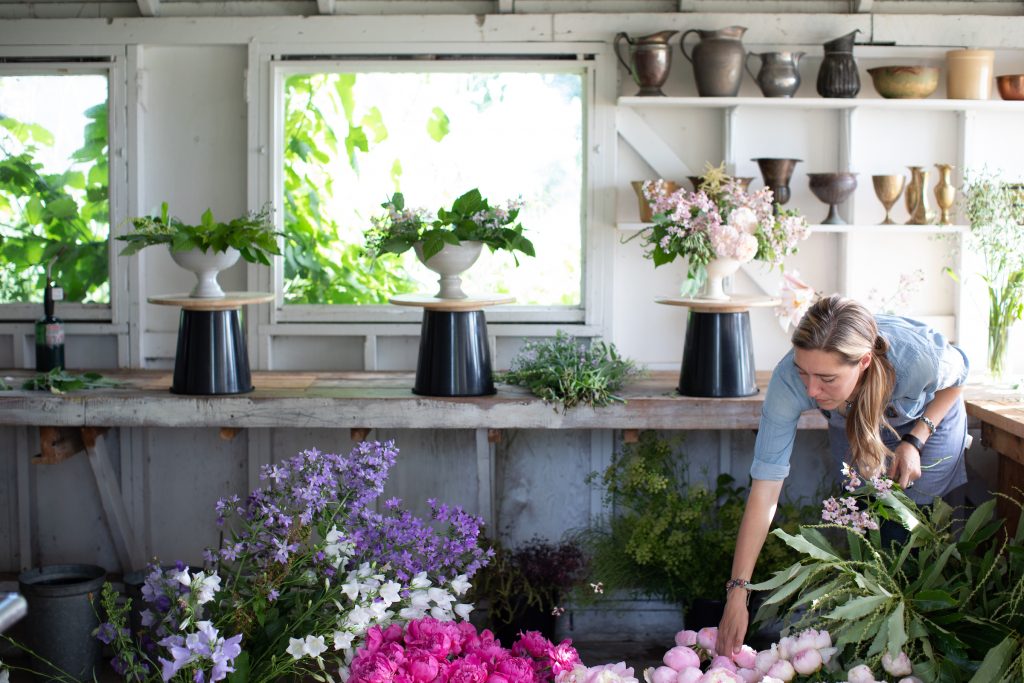 As a farmer, I'd been so unsure of my bouquet-making ability (and so short on time when I went solo), that I rarely sold anything but bunches of one type of flower. Having never worked on a flower farm, I didn't know the tricks of the trade. Now I wish I had been bolder, less insecure, and more willing to learn.  
Last summer, thanks to Erin's books and videos, I took a stab at the kind of lush, natural arranging she does. I plundered my small cut-flower garden (which includes a few dahlias I've managed to divide, store, and regrow) and foraged branches and stems of various leafy and flowery things lurking in the woods and along the roadsides near my house. I made a flower frog out of chicken wire, don't you know! My efforts were hilarious. But I didn't care. Flower arranging is so intentional and meditative (as long as you're making just one, not 400, at a time) that it's an ideal distraction for the busy-brained.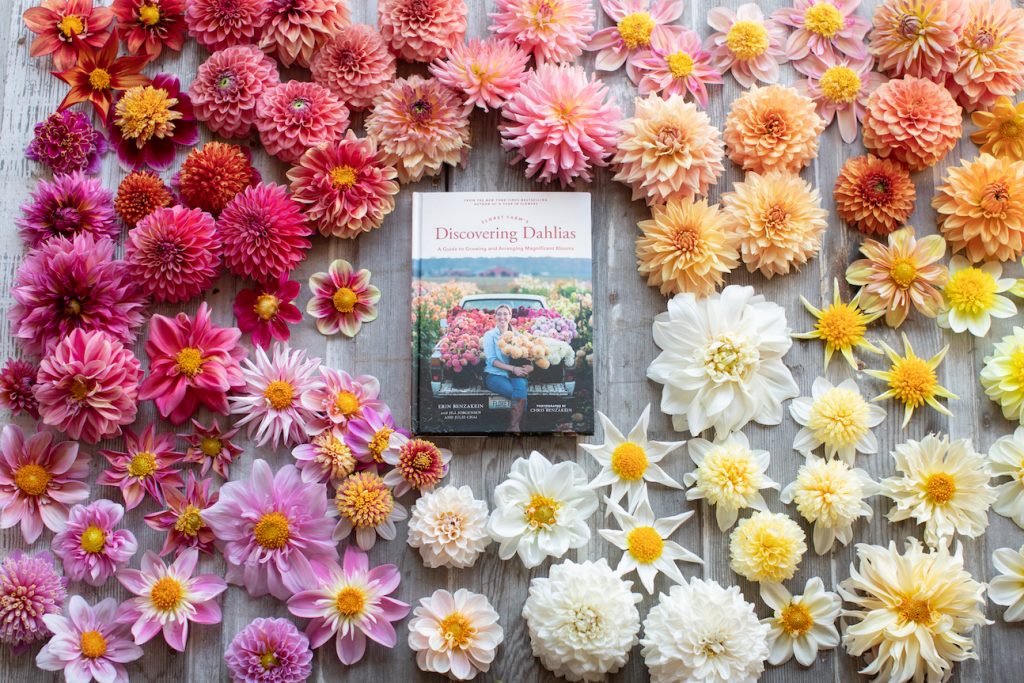 And then Floret Farm's brand new book, Discovering Dahlias, arrived in the mail last week. At first I put it aside, knowing it would be such a treat to sit and savor it that I didn't want to spoil the experience with a cursory look. (I'm sort of weird that way; my sister always found the secret hiding place for Christmas presents, but I never wanted to look.) I told myself I'd wait until I got through the busy back-to-back deadline days.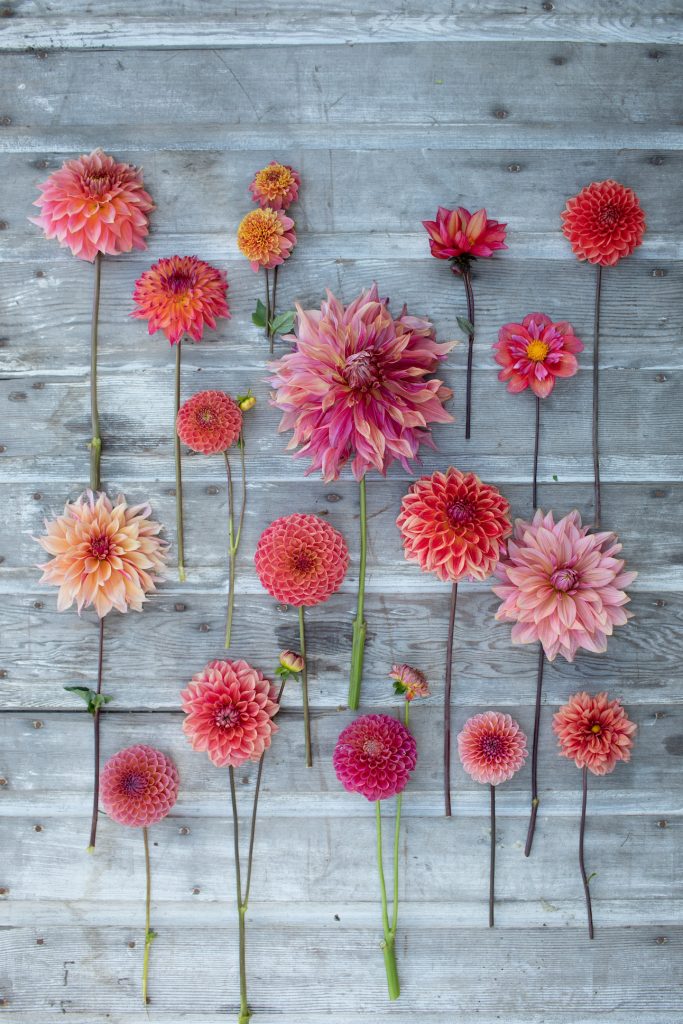 But one of those can't-fall-asleep nights came along and I broke the spine. And I was off to the races. I think somewhere between learning there are eight sizes, twenty shapes (or forms), and literally thousands of varieties and seeing the astonishing range of colors, I went from charmed to hooked to officially obsessed. (As if anyone couldn't guess that was coming.) Even before I started reading, the photographs by Erin's husband Chris got me at hello. Just stop, I wanted to say, when looking at them. How can there be so much beauty between two covers?
Clearly dahlias are a geeky flower gardener's dream. The permutations of color, shape, and size are seemingly infinite, as illustrated by the second half of Discovering Dahlias, where Erin and Chris have thoughtfully profiled and photographed 360 of their favorite varieties. 360! And that's less than half of the 800 varieties they grew on the farm last season.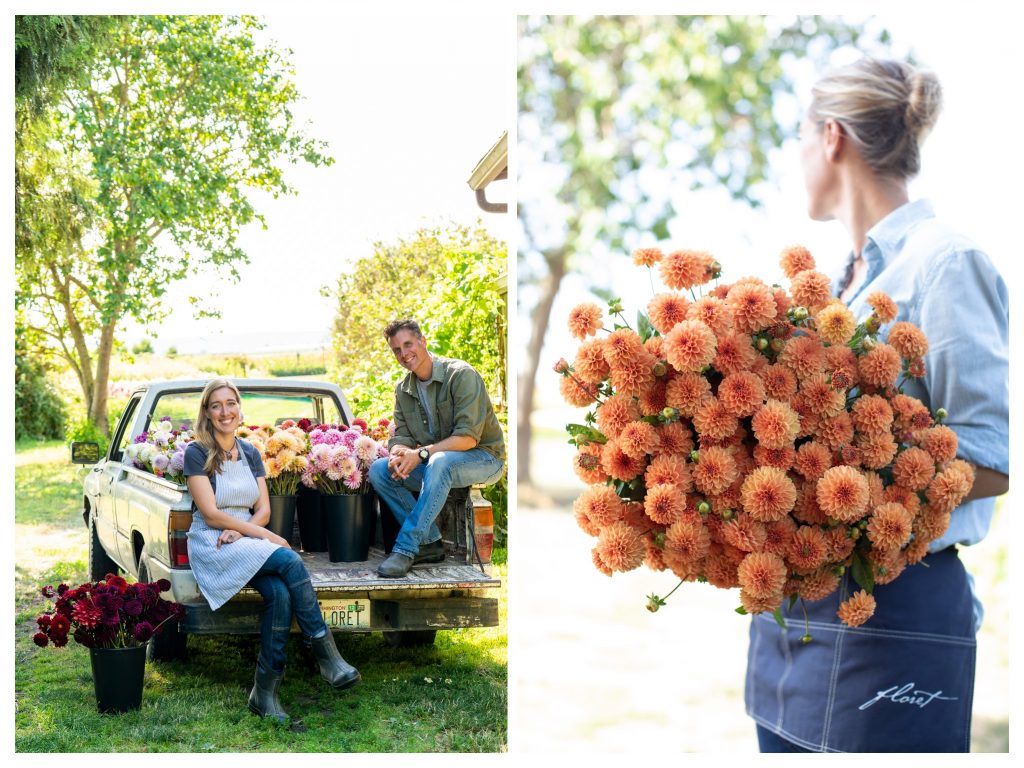 The varieties are grouped by color (just as they are planted in the "rainbow" dahlia field on Floret Farm) – white, yellow, blush/champagne, peach, orange, coral, raspberry, pink, purple, red, and maroon/black. Seeing them segue together this way is a revelation. Those garish hues (including what Erin calls "highlighter" yellow, though she takes care not to dismiss it, only saying it can be difficult to pair with other shades) that I once associated with dahlias recede into this captivating new spectrum of subtly shifting color.
The photos – in the signature style Chris has developed of shooting bunches of flowers in Erin's arms, often with her looking away from the camera – are illuminating. Showing a bunch, rather than just one blossom, gives a sense of how one dahlia variety can manifest itself in blooms each slightly different from the next. I just wish the pictures were larger!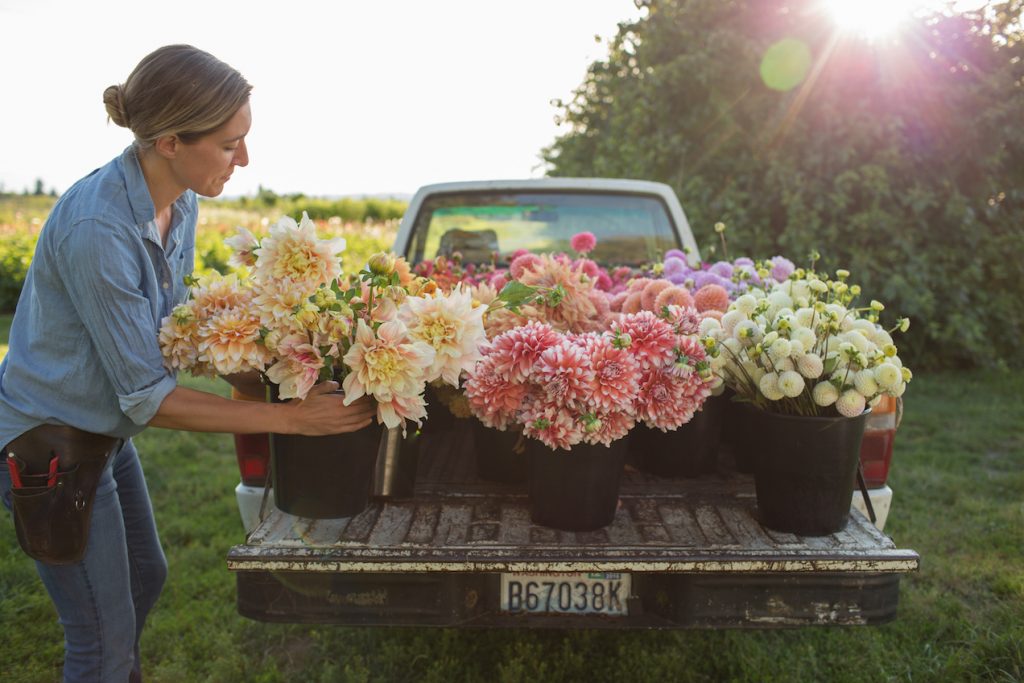 I am currently in the "orange" chapter of the book, and I think I may stay there awhile, though I feel like I'm dissing my pal pink. There's just something about the ambers and pumpkins and tangerines and butterscotches. In fact, last night, around midnight, I may or may not have placed an order to a dahlia farm for three (more) dahlia tubers in orangey hues (Brown Sugar, Ice Tea, and Maarn). These are in addition to a just a few others I ordered in January. I don't know, I'm afraid to look in my email and find out.
Tonight I will return again to the comforting world of Discovering Dahlias, knowing there's more to learn, more to admire, more to feed my pursuit of color and beauty.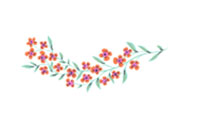 ---
Take note! All photos from Discovering Dahlias and of Floret Farm were taken by Chris Benzakein and provided, with permission, by Team Floret. (Thank you Team Floret!). Follow @floretflower or visit floretflowers.comfor more. And here is the link to purchase any one of the three books.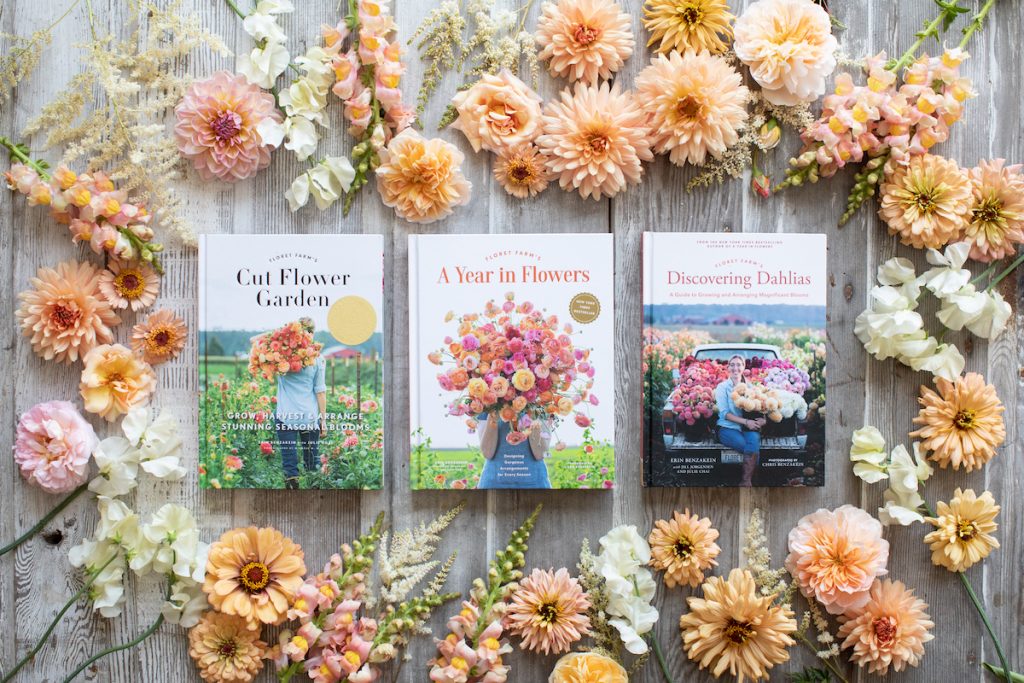 ---
Pretty flowers need pretty vases. Check out @farmhousepottery and @francespalmer for dahlia-friendly pottery.
---
"If we could see the miracle of a single flower clearly, our whole life would change." — Buddha
---
LOOKING FOR NEW RECIPES?
Visit cookthevineyard.com and sign up for the free weekly newsletter. (Something I do as part of my day job.)
---
---
If you arrived here from the internet and would like to subscribe to the Sixburnersue blog, click here.