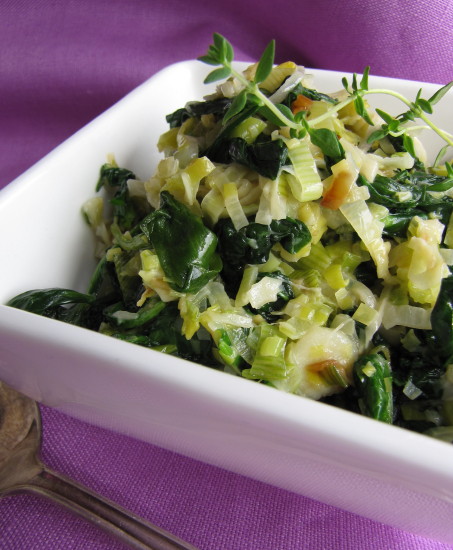 Like Peter Rabbit sneaking into Mr. McGregor's vegetable patch, I tiptoed into a friend's garden yesterday and heisted some leeks. I didn't get caught, and it was pretty thrilling, so, I don't know, I may turn into a petty criminal.
Seriously, I sort of had permission for this particular heist. When my friend left the Island late last fall to spend the winter in California, he implored me to help myself to any garden stragglers. I stopped occasionally for some lettuce and other greens, then forgot all about the garden until yesterday, when I drove past it on my way to pick up some fresh eggs at a nearby farm. I looked out the window and couldn't believe what I saw—a row of green leafy leek tops sticking out of the grey, crackly earth. What a courageous vegetable, I thought, to brave the winter we've had—the winter of a gazillion snowflakes and a billion rain drops, the winter of anemometer-breaking winds, beach-busting surf, and canceled ferries. I couldn't just leave the leeks there—or not all of them, anyway. They deserved to be cooked.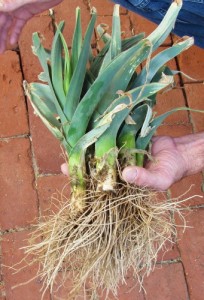 So I dug up a few, and oh, how good it felt to harvest a vegetable. Who says nothing's in season in March?  (I hear that parsnips are even better after a long winter.)
I took my leeks home, sliced them up, rinsed them well, and treated them to a luxurious buttery, steamy, simmer in a skillet until they were soft and most of the moisture had evaporated. Then I kept cooking them a bit until they were lightly browned. (Leeks like to be "sweated" in a little liquid before they're sautéed. They give off a slightly sticky substance that can cause them to stick to the pan or cook unevenly if they're not started off with enough fat or liquid.) Next, I folded in a few handfuls of fresh spinach, tossed in a teaspoon of fresh thyme leaves, and added just a tablespoon of heavy cream to give the dish some body. Off the heat, I grated in a tiny bit of Parmigiano. What I wound up with was the perfect "bed" for a juicy steak, a grilled lamb chop, or a piece of grilled fish. This is a pretty richly flavored side dish, so a little goes a long way.  You can use some at dinner time and do as I did this morning—add the rest to an omelet. Delicious. It would be a great pizza or crostini topping, too.
_________________________________________
A Bed of Buttery Leeks & Spinach
3 medium leeks, white and lightest green parts (about 8 ounces)
2 tablespoons unsalted butter
1/4 teaspoon kosher salt, more to taste
2 cups (packed) washed and stemmed fresh spinach leaves, torn into smaller pieces if large (about 2 ½ ounces)
1 teaspoon lightly chopped fresh thyme
1 tablespoon heavy cream
2 tablespoons grated Parmigiano Reggiano (optional)
__________________________________________
Trim the ends from the leeks. Slice the leeks across into thin rings (about 1/8-inch thick), discarding any woody stem in the center. Put the sliced leeks in a bowl and cover them with tepid water. Swish them around a bit and let them sit. Lift the leeks out of the bowl and transfer to a colander. Drain and rinse the sand from the bowl, return the leeks to the bowl, and cover again with tepid water. Lift, drain and repeat one more time, leaving the leeks in the water the last time.
Heat the 2 tablespoons butter in a medium non-stick skillet over medium-low heat.  Lift the leeks out of the water and add them to the pan with whatever water is clinging to them. Season with ¼ teaspoon salt. Cook, stirring occasionally, until the leeks are limp and all of the liquid has evaporated, 10 to 12 minutes. Continue to cook, stirring frequently, until the leeks are very lightly golden brown, another 3 to 5 minutes. Add the spinach leaves and a pinch of salt and fold or stir them in with the leeks until they are wilted, about 1 minute. Add the fresh thyme and the cream and remove the pan from the heat. Gently stir until the cream is mostly absorbed into the dish and the thyme is well-distributed. Stir in the Parmigiano, if using. Taste for salt and serve warm.
Serves 2 as a side dish, 2 to 3 as a "bed" for fish, chicken, or beef