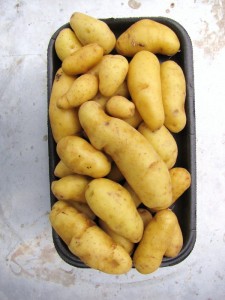 A while back I posted my favorite way to cook fingerling potatoes–the stovetop braise–and a yummy sample recipe, Braised Fingerlings with Crispy Sage and Tender Garlic. But the reality is, thanks to my CSA at Whippoorwill Farm here on Martha's Vineyard, I was swamped with fingerling potatoes last summer and fall, so happily, I have a few other suggestions for using them. I figured I'd pass them on to you here, as many are good options for winter cooking, too.
Boiled fingerlings hold their shape really well, so use them (cut in half or other pieces) in warm salads (like with frisee, bacon, and a poached egg or a garlic crostini) or other composed salads like a grilled tuna or salmon Niçoise.
Cut into a few chunks and boiled, fingerlings are then perfect for "crushing" or smashing with roasted garlic and a bit of cream (or sour cream), butter, and chives.  These smashed potatoes make a perfect bed for beef stew.
Make a quick and delicious fish chowder by starting with sautéed leeks, simmering chopped fingerlings in the same pot, adding corn kernels and pieces of cod or haddock, and finishing with chopped fresh dill, a dash of cream, a squeeze of lemon, and lots of fresh pepper.
If you like the hands-off cooking of oven-roasting, don't despair. You can oven-braise fingerlings by laying them flat, cut-side down, in an oiled Pyrex baking dish. Season with salt, dot with a few dabs of butter, and pour enough chicken broth in the pan to cover the potatoes. Cover with aluminum foil and cook (at about 375°F) until the potatoes are almost tender. Remove the foil and cook until the broth has reduced almost completely and the potatoes are browned. There'll be some nice glazy stuff on the bottom of the pan.
Dice fingerlings and sauté slowly in lots of oil in a cast iron skillet until browned all around and tender through. Season with lots of salt. Voila, crispy "fried" fingerlings. Add sautéed onions and crush a bit for a more hash-like dish.
Most fingerlings have such outstanding "potato" flavor (nutty, earthy, and rich), that they're perfect in cold potato salads, too. Try one with fresh peas, mint, and a light lemony-mayonnaise and yogurt mix in springtime.
The firm texture of cooked fingerlings makes them perfect for simple Indian curries, too. Add shrimp, peas, and chopped fresh cilantro to make dinner.