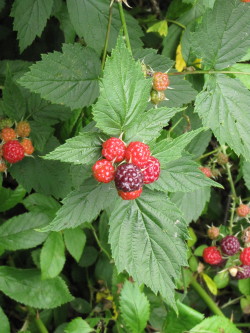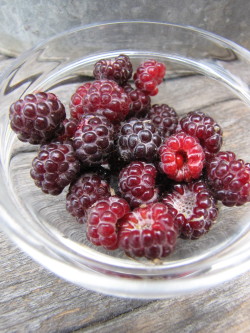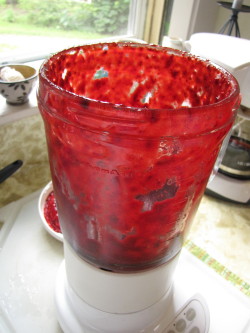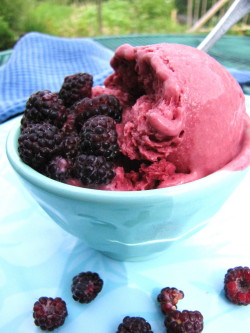 Recently my old friends have been calling to say, "What gives? You can't possibly be that happy or having that much fun." They've been reading the blog, and they're getting suspicious.
Look, I'm sorry for the Pollyanna spin. No, my life is not perfect—no one's ever is. But I doubt anyone wants to read about my bad hair days, and I certainly don't want to write about them (at least not on sixburnersue!). And I can honestly say I am not making the good stuff up. The reason the universe is treating me so kindly these days, is that, well, I did my time. And while I was slogging through the bad stuff, I started to listen to my inner voice. It said, "Go berry-picking."
I'm kidding, but only sort of. Life is short, and I finally resolved to enjoy every day by living and working around the things that make me happy. These aren't things that would necessarily seem fun to everyone (take weeding, for example), but they work for me. And so when summer comes, I pick berries.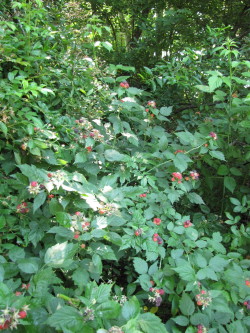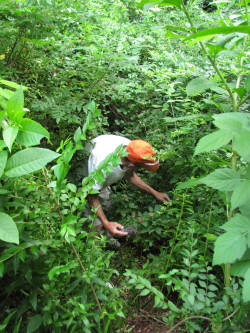 Only now I have berries in my back yard – seriously. This is about as close to fresh-food nirvana as it gets for me. I'd have to say Roy is pretty jazzed, too—we went wild blueberry-picking on one of our first dates, after all. He's been hacking away at overgrowth to expose the hidden black raspberry canes that seem to be in every corner of this property. Tonight, as I was about to post this blog, right about the time the sky was turning completely black from an approaching storm, Roy came rushing in to grab a bowl from the kitchen. "I've found the mother lode!" he exclaimed as the door banged shut. Curious, I wandered outside and listened to see if I could tell where the hacking noise was coming from. Soon I realized he was deep in the brush that surrounds and hides the old crumbling stone foundation for what was once a great big barn. He emerged, clutching a bowl of plump berries the color of the darkening sky, about the same time the rain drops started falling.
We first noticed the berry canes in early summer, but we weren't sure exactly which berry they were or whether they'd bear much fruit. Now we know. While we've also found a few straggly wild raspberries (and two high-bush blueberries) on the property, these black raspberries are prolific. Someone must have tended them at some point.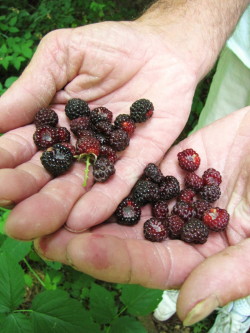 Black raspberries are cultivated in Oregon, but out East you find them mostly in the wild, or occasionally sold at farm stands. They look like small red raspberries and grow on long prickly canes, but they aren't fully ripe until they darken to a deep blue-black. They taste different, too—that inky color (yes, rich in antioxidants) gives them a grapey, smoky tartness closer to black berries than raspberries, I think. They're not too tart to pop in your mouth, though, and I've noticed that Roy, who isn't generally a big fruit-lover, sneaks a few every time he picks some.
Me, I've been putting them on my cereal, mixing them with warm maple syrup to pour over French toast, and, drum roll please—making ice cream with them. The best damn ice cream ever. Sorry, I've been told my language (still) needs work. But really, there's something about the marriage of black raspberries and a creamy custard that's incredibly delicious–a classic.
To make the ice cream, I used the same Fine Cooking recipe I used last year to make the strawberry ice cream, only I cut the recipe in half. The custard base, mixed with the berry puree, was (and is) delicious. The only problem this time around is that my ice cream has not really frozen past the consistency of a thick smoothie (or a very creamy gelato). Certainly okay by me, as I'd be happy just to drink the stuff. And I'm 99 percent sure this is an issue with my freezer (and my ice-cream-maker canister), but I bring it up just in case it's the result of cutting the recipe in half. So I share the half-recipe with the caveat that if you've got copious amounts of berries (of whatever sort), go ahead and make the full recipe as detailed in the strawberry post last year. And maybe splurge on a good ice-cream maker (I wish!).
Black Raspberry Ice Cream (Half-Recipe)
Adapted from Fine Cooking magazine article by David Lebovitz; for more ice cream recipes, visit finecooking.com.
With this small-batch recipe, it's a little difficult to read an instant-read thermometer in the shallow custard in the sauce pan. Look for visual clues to know the custard has thickened. I used three medium egg yolks since the full recipe called for 5 large egg yolks. If you don't have medium eggs, go ahead and use 3 yolks from large eggs. Your custard may thicken up a bit more quickly.
__________________________________________
1/2 pound ripe black raspberries (or other cane berries), rinsed
1/2 cup plus 2 tablespoons granulated sugar
1 cup heavy cream
3 medium egg yolks
1/2 cup whole milk
table salt
1/2 teaspoon vanilla extract
_______________________________________
Make the berry puree: In a food processor, puree the black raspberries until completely smooth. Strain the berry puree through a fine-mesh sieve into a bowl or glass measure. (Press on the solids to be sure to extract all of the juice.) Stir in 1/4 cup of the granulated sugar. Refrigerate the puree until ready to use. (Can be done 24 hours ahead.)
Prepare an ice bath: Fill a large bowl with several inches of ice water (half ice, half water). Set a smaller metal bowl (such as a stainless steel mixing bowl) in the ice water. Pour 1/2 cup of the heavy cream into the inner bowl. (This will help the custard cool more quickly when you pour it in later). Set a fine-mesh strainer on top.
Make the custard: Whisk the egg yolks in a medium bowl and set aside. In a medium saucepan, mix the remaining 1/2 cup of the cream with the milk, the remaining sugar, and a pinch of salt. Heat the mixture over medium-high heat, stirring occasionally, until the sugar dissolves and tiny bubbles begin to form around the edge of the pan, 3 to 4 minutes. In a steady stream, pour half of the warm cream mixture into the egg yolks, whisking constantly to prevent the eggs from curdling. (This is called "tempering" – a good step when making any kind of custard. Be sure to pay close attention during this.)
Pour the egg mixture back into the saucepan and cook over low heat, stirring constantly and scraping the bottom with a heatproof cooking spoon or spatula until the custard thickens slightly and measures 175°F to 180°F on an instant-read thermometer, anywhere from 2 to 6 minutes. (Mine thickened up quickly.)The custard will be a bit more viscous and thick enough to coat the back of a wooden spoon, holding a line drawn through it with a finger. Don't let the sauce overheat or boil or it will curdle.
Immediately strain the custard into the cold cream in the ice bath.
Cool the custard: Stir the custard frequently over the ice bath until an instant-read thermometer measures 70°F (or the custard feels to be at about room temperature—this won't take long). Add the vanilla extract and stir. Add all of the black raspberry puree and mix well.
Chill and freeze the custard: Chill the custard mixture in the refrigerator for at least 4 hours (or overnight—in fact it holds for two days.) Freeze the ice cream in your ice cream maker according to the manufacturer's instructions.
Makes about one pint.