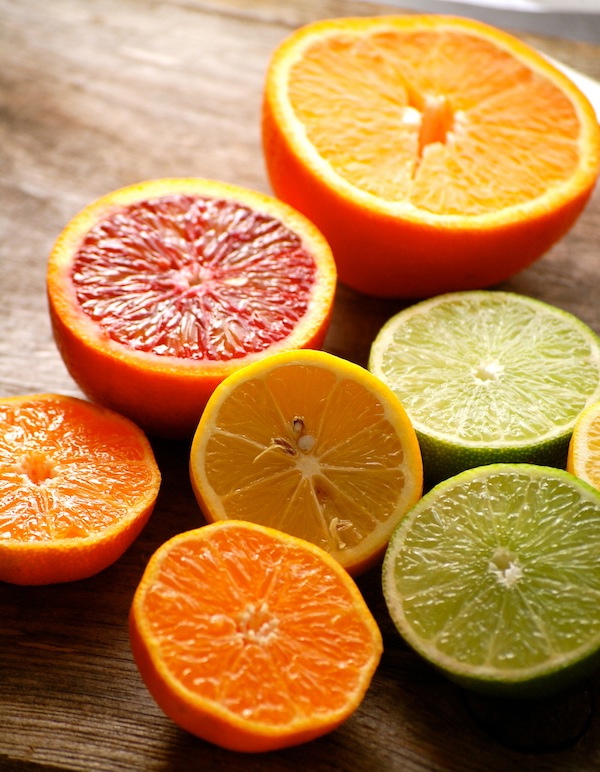 My pal Barney and I have been in the Laboratory all morning, mad-sciencing up creations to satisfy my winter cravings. For some reason, I am fixated on dark green vegetables, grains of all kinds, and citrus in every color. Plus, crunchy stuff. (My new love is roasted chickpeas). And then, I am putting them altogether for lunches and dinner. (My other new fixation is cooking grains ahead.)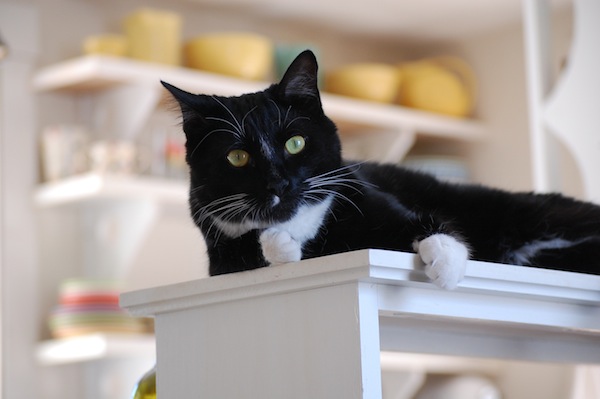 So first Barney and I had a nice cup of coffee.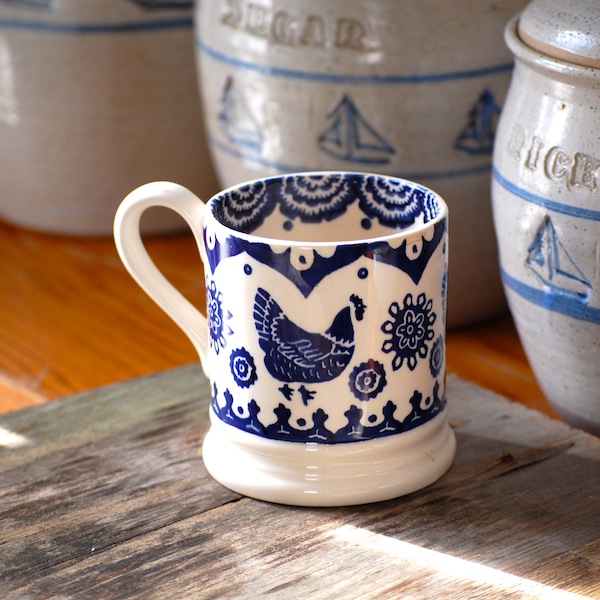 Then we snacked on the roasted chickpeas I made yesterday. Honestly, these are better fresh out of the oven, but they do keep okay for a day or two.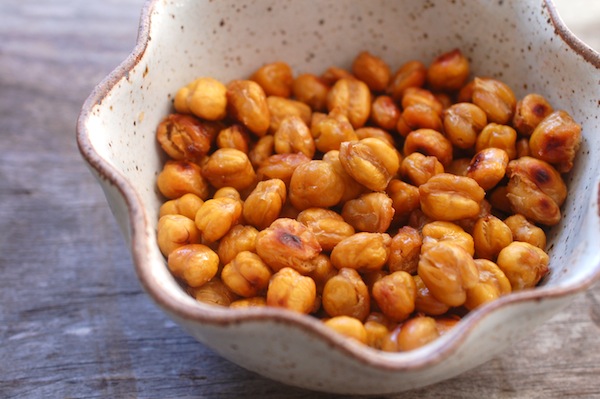 Here's how you make them: Rinse, drain, and thoroughly dry a can of chickpeas. Toss with enough of a neutral oil  (I like grapeseed) to coat well and season with about ½ teaspoon kosher salt. Spread on a parchment-lined baking sheet and roast at 400°F until browned and shrunken, 30 to 35 minutes.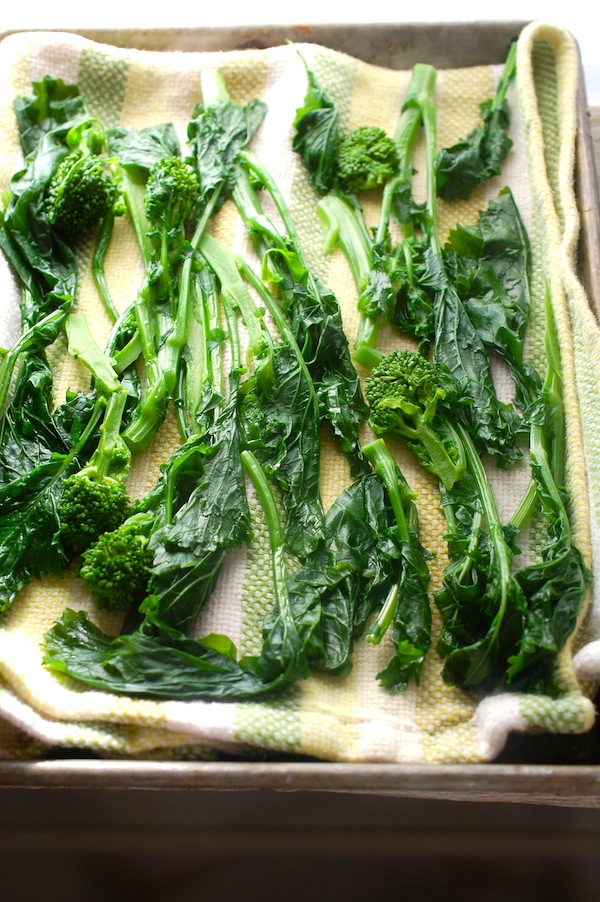 Then Barney and I par-boiled some broccoli raab. If you're not familiar with raab (aka rapini) it's actually a turnip relative and has a distinct bitterness which is highly satisfying, especially when paired with lemon or anything spicy. (Goat cheese is another good companion for raab, as are garlic and ginger.)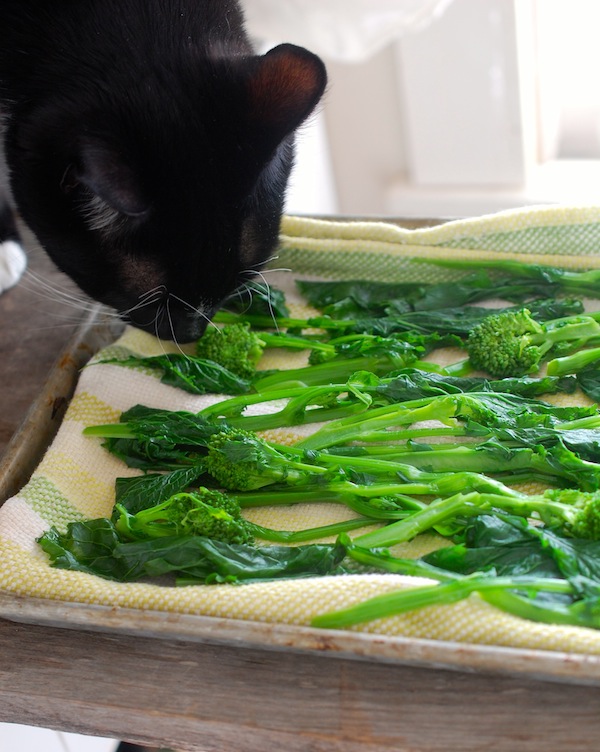 You all know how much I love to roast most vegetables, and that I'm not much for boiling them, but broccoli raab is an exception. I almost always cook it in boiling salted water for about 4 minutes—even before finishing it in a sauté pan with garlic, as I did today. I also cut the thickest parts of the stems off and then split the stems down the middle so that the pieces are all about the same thickness.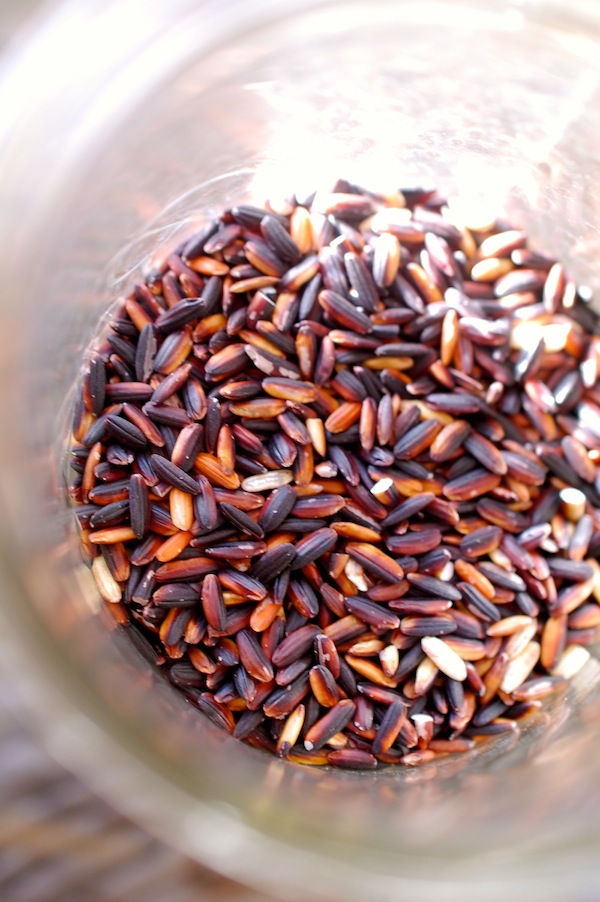 Meanwhile, on the back of the stove, a big pot of boiling water was going. I plunked a cup of black rice in it, stirred, lowered the heat just a tad (still boiling) and let the rice cook in the boiling water until tender. (About 28 minutes for me today.) Then I drained it and spread the rice on a sheet pan to cool.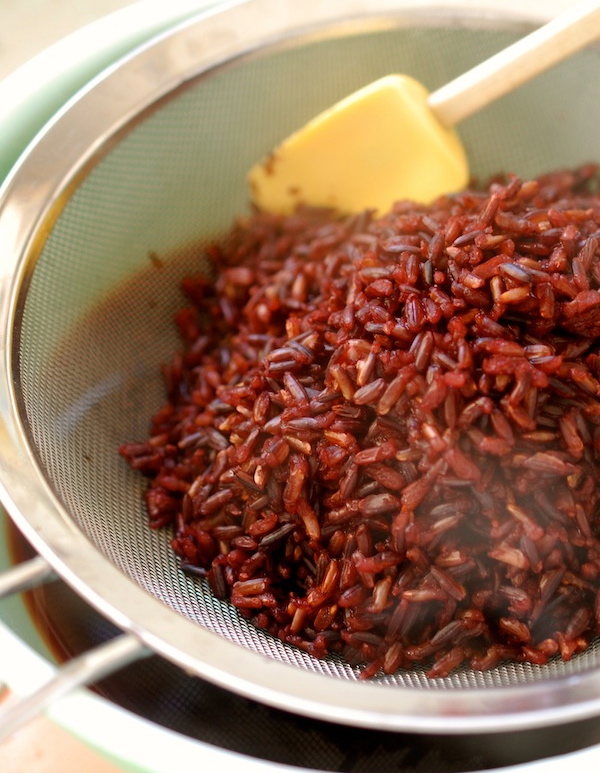 I refilled the pot, brought it to a boil, and cooked a cup of farro the same way. I overcooked the farro today because I forgot to look back at one of my own recipes and thought I remembered the cooking time was about 40 minutes. In reality, it's only 30. (There is also such a thing as par-cooked farro that cooks in 10 minutes.)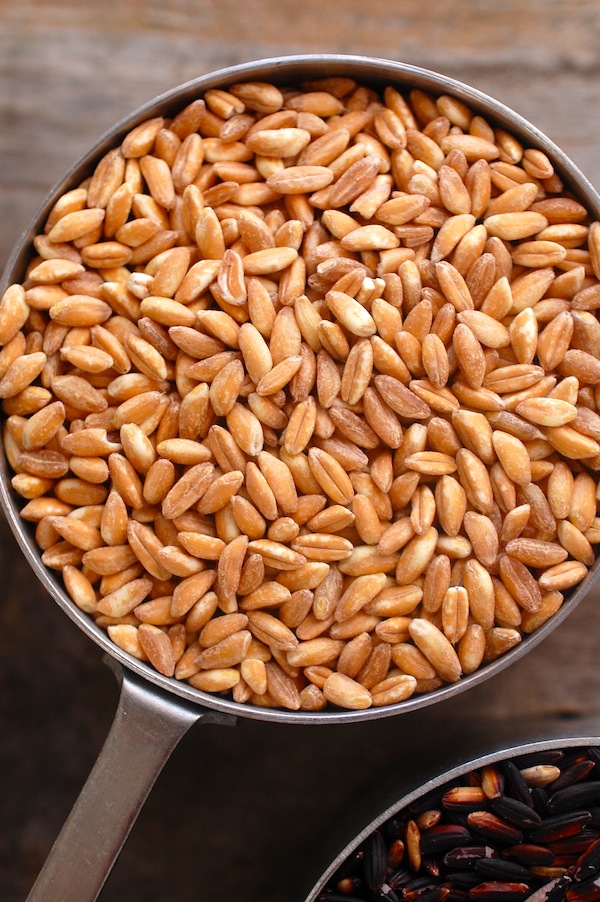 That mistake aside, this boiling water method (as opposed to the pilaf method with a measured amount of water) is really a great way to cook grains in big amounts that you want to store and eat throughout the week. You don't have the frustration of finding all your liquid simmered out and your grain undercooked; simply use a spoon to fish out a few grains every so often to see if they're done. They should still be just a tiny bit toothy when you bite into them, and with some grains, just beginning to split open a bit.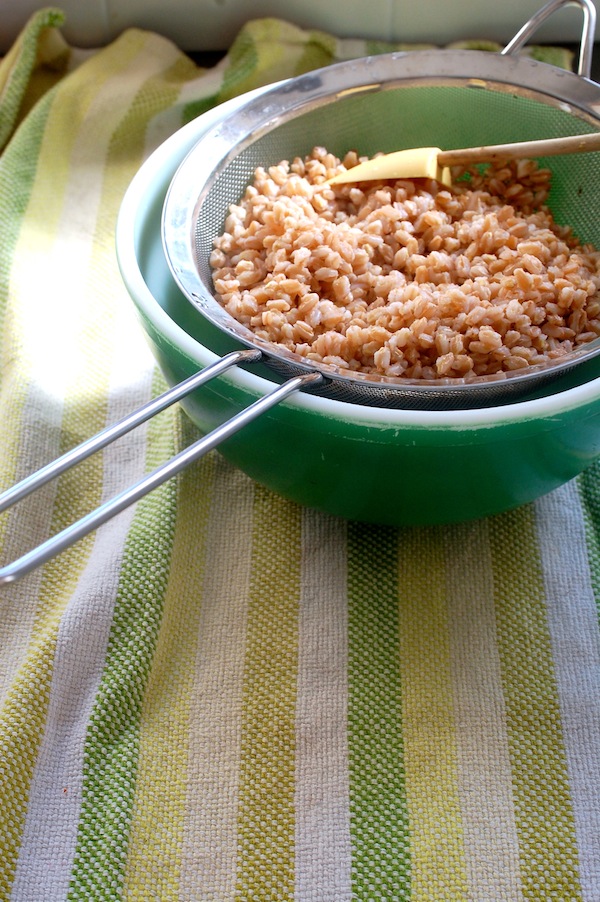 You can store them (after thoroughly cooling them) in plastic containers in the fridge. (You can also freeze cooked grains.) One note on salt: I don't salt the water at first but tend to add some halfway through cooking. That said, the grains will still need to be generously seasoned when prepared for eating.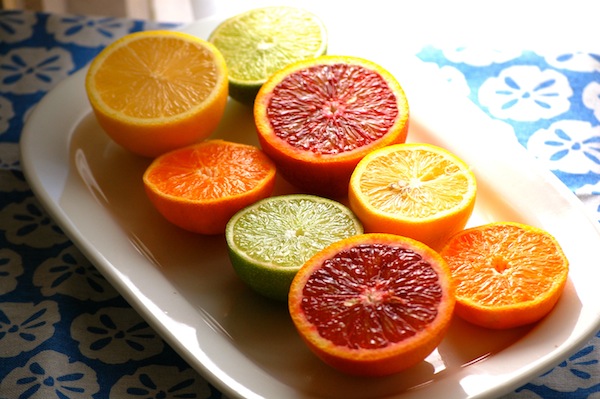 Next Barney and I pulled out all the various citrus fruits I've been stockpiling—a Meyer lemon, a blood orange, a Minneola orange, a clementine, a navel orange, a regular lemon, and a lime. Mostly I just wanted to cut them open, take pictures of them, and then eat some…but I also wanted to dress my grains with some juice and zest.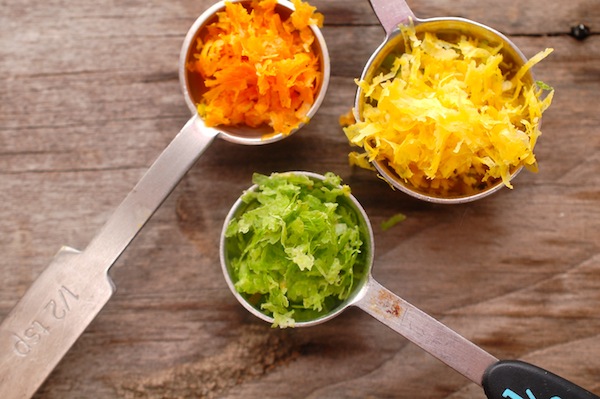 I am a citrus zest freak and put it in everything.
Lastly, I put everything together to make lunch (which wound up being dinner, too, though I did make pork chops for Roy, since he does not appreciate the meatless meal the way I do!). I put a cup of cooked black rice and a cup of cooked farro into a microwavable bowl and reheated them for a minute and a half. (Remember this, as it is easy to do on a weeknight if you've got grains already made and stashed in the fridge.)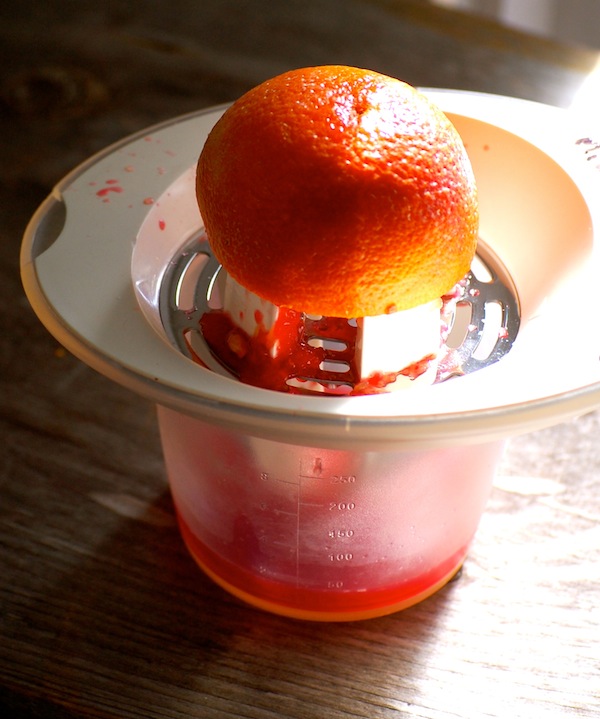 I juiced ½ of the blood orange and ½ of the Meyer lemon and added about a tablespoon of each to my grains. I seasoned with plenty of salt, too. In a little skillet, I heated up a bit of oil and a tiny bit of butter and softened ½ teaspoon or so of minced garlic in it. I tossed most of the softened garlic in with the grains and added 4 ounces of the broccoli raab to the skillet, tossing to warm it through in the garlic-scented oil. I stirred up the grains, tasted, and piled in a serving dish, arranging the raab and a smattering of roasted chickpeas alongside. I squeezed the other Meyer lemon half over the raab, and at the last minute, decided to cut the blood orange segments out of the unused half and toss them in, too. Often I used dried fruit and toasted nuts with grains, but it was a nice switch to have the crunchy chickpeas and the fresh citrus segments.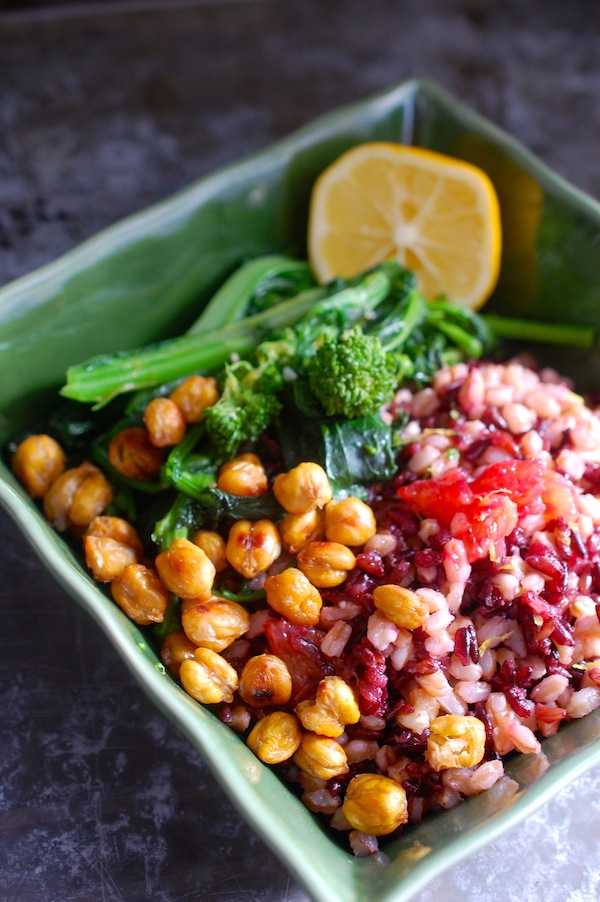 There are lots of ways to turn grains into filling meals (think beans, roasted veggies, sautéed mushrooms), so I encourage you to do your own mad-scientist experimenting. Just be sure to season with plenty of bright ingredients (vinegars, fresh herbs, Asian condiments, as well as citrus).
But don't be surprised when your trusty assistant loses interest in the experiment—especially if there are birds outside the window to keep an eye on.