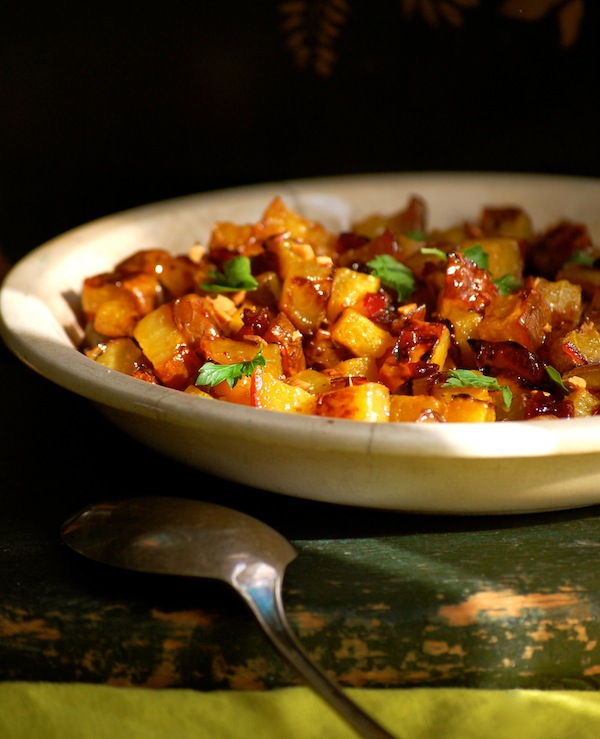 Thursday morning I managed to get out of the house for a coffee date, before it started snowing—again. I detoured on the way home (despite big fat furry flakes already falling from the sky) to go into the "big" grocery store down-Island. I headed for the produce department and went straight for the brightest looking thing I could find, which happened to be orange beets. I still have some Clementines at home, I thought. I'll make sunshine: Yellow + Orange.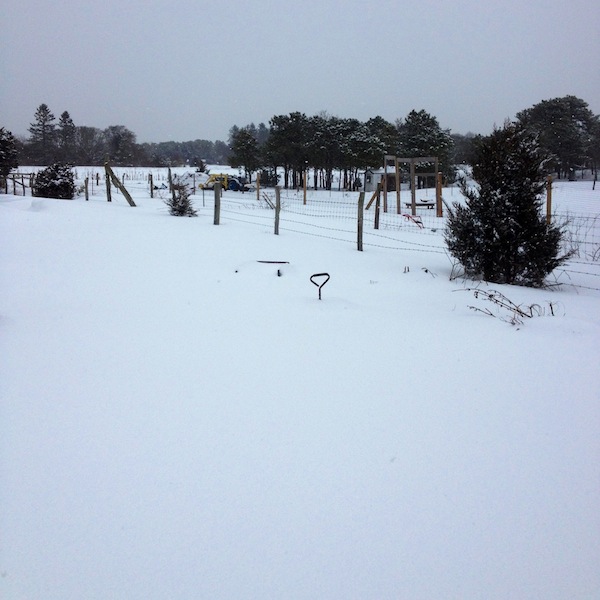 My apologies for still being citrus- and color- obsessed. When I first wrote about the snow (specifically, chicken farming in the snow) three weeks ago, I had no idea we had four storms and below-zero windchills just ahead of us. Not that cold isn't invigorating and grey skies aren't interesting. In fact the color of the sky is fascinating; one minute it looks like a collection of dull dust bunnies, the next it's a deep tarnished pewter platter, and then it turns blank, like a nearly colorless piece of cheap copy paper. But sunshine is scarce. And it does get to you after a while.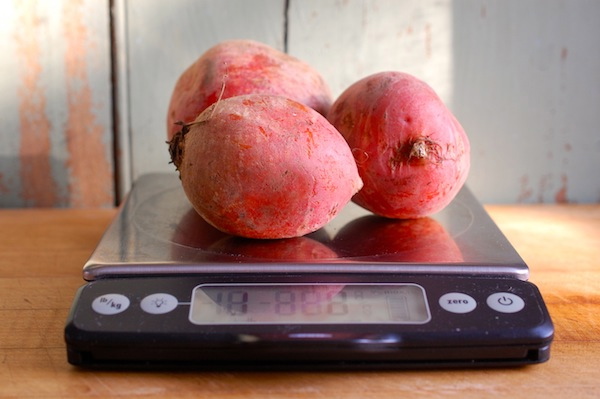 Back at home, I pulled up my Beet Jewel recipe from Fresh from the Farm and decided to tweak a  a little variation with golden beets, almonds, Clementine juice and zest, and a touch of vanilla.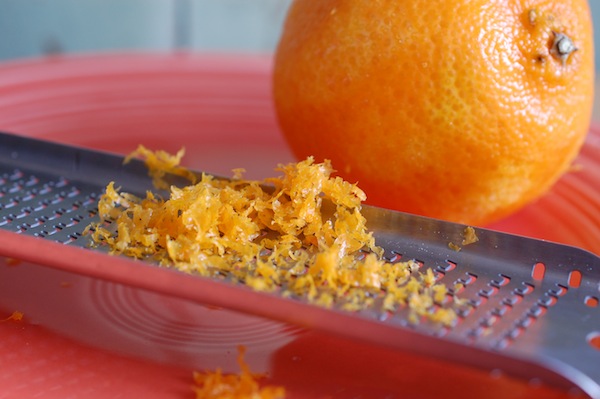 I zested my clementine and then squeezed a bit of juice out of one half.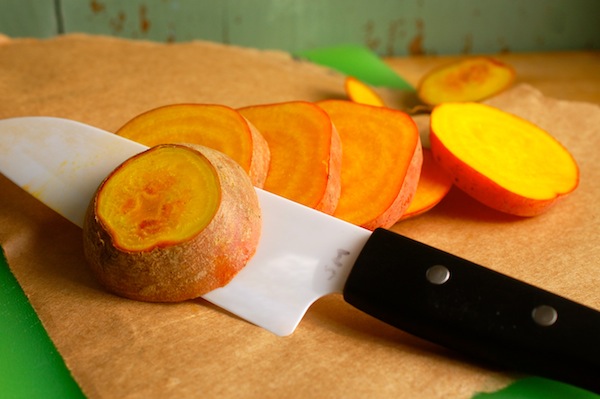 Then I sliced my beets (no peeling necessary) into slices about 1/2-inch thick. I used a piece of brown paper to protect the board from beet stains, but the yellow beets really don't stain like the red ones do.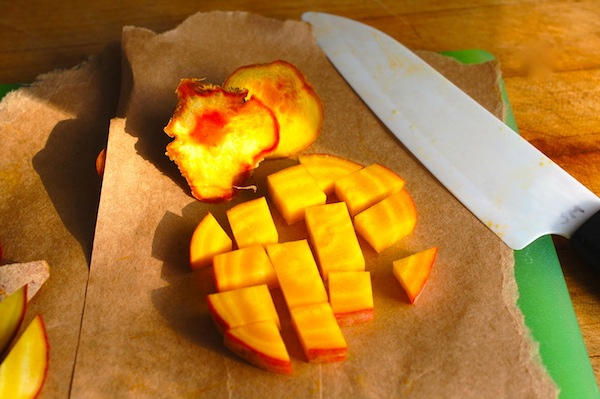 Then I cut the slices into 1/2-inch cubes, tossed them with oil and salt, and spread them out on parchment-lined sheet pans.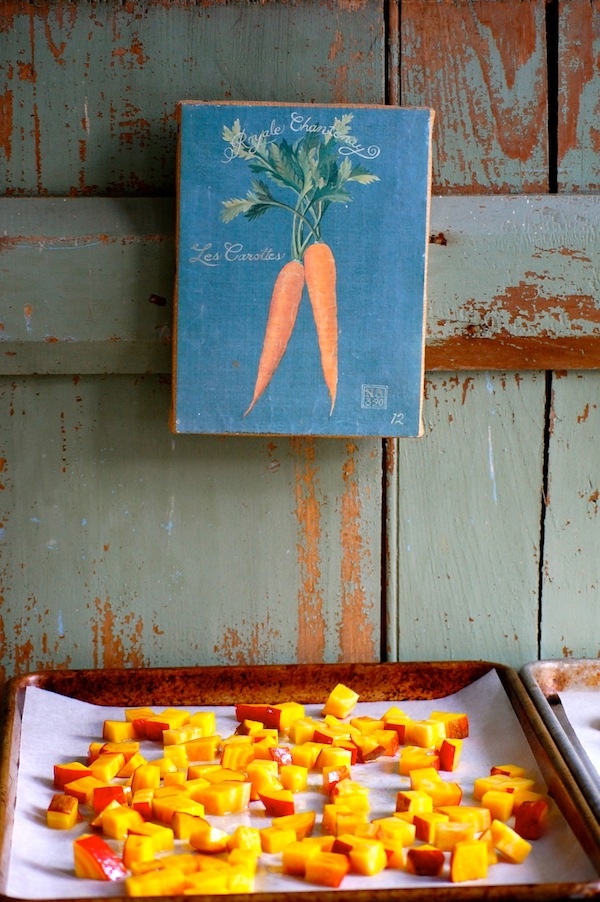 I roasted them for about 25 minutes at 450°F, until browned and tender.
Then I dressed them with the clementine butter, and took pictures, of course.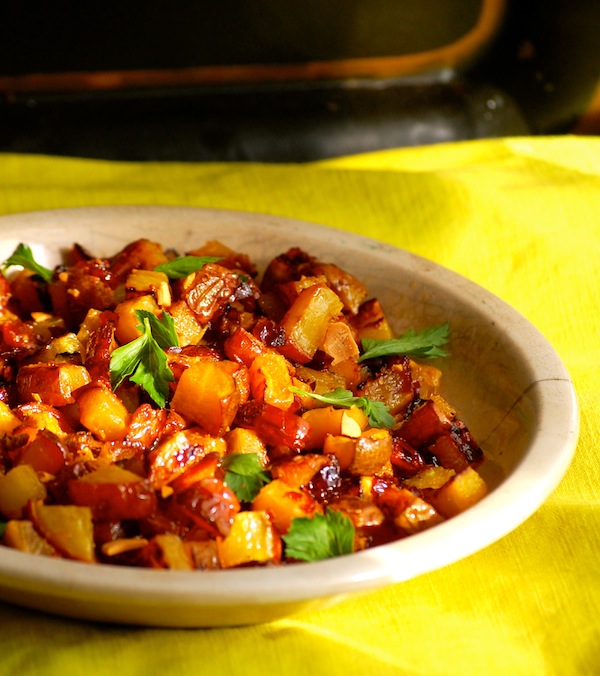 And then I ate my beets, standing up, looking out the kitchen window at the giant icicles dripping off the mudroom gutters, growing longer every day, like Pinocchio's nose.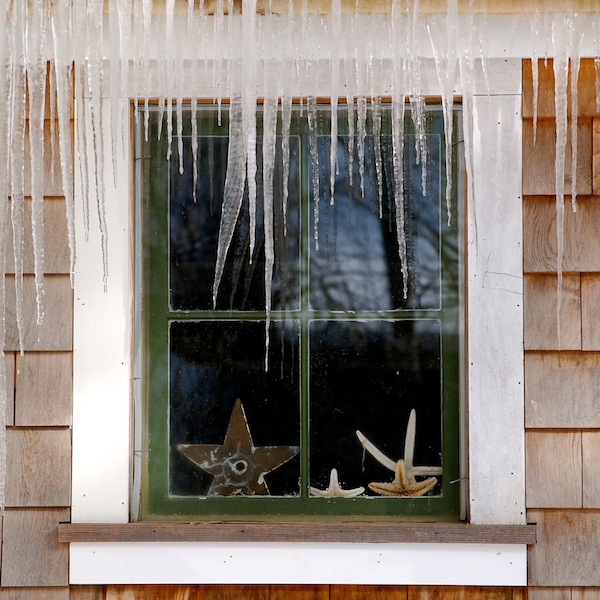 I watched Roy pull the chicken feed bags down to the coops on a sled. (We can't get the truck down to the feed shed, so the bags have to be carried down one at a time, or loaded on to the sled, two at a time. We have a little toboggan run through the deep snow that both the sled and Farmer will charge right down.)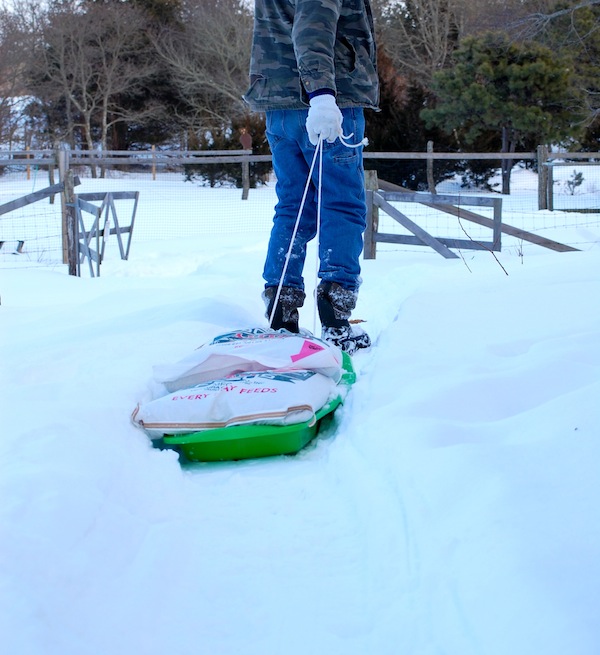 And I watched for egg customers in the driveway so that I could run eggs out to them (too cold to keep the eggs in the farm stand fridge). It was sort of an egg drive-thru (no French fries or milkshakes, though).
Kind of fun, really; but, hey, fun has its limits.
Apparently a mix of sleet, snow, freezing rain, and ice is next on the docket. Whatever.
Golden Beet "Jewels" with Cranberries, Almonds & Clementine Butter
You'll love this method for cooking beets—no peeling necessary, and the small-diced beets cook in only 25 minutes. If you don't have clementines, try a mix of orange and lemon zest and juice. You can also replace the honey with maple syrup, and use whatever nut you like.
Serves 3 to 4
1 1⁄2 pounds golden beets topped and tailed but not peeled
1 tablespoon plus 1 teaspoon olive oil
Kosher salt
1 tablespoon fresh clementine juice
(scant) ½ teaspoon fresh clementine zest
2 teaspoons local honey
1 teaspoon white balsamic vinegar
½ teaspoon vanilla
1 tablespoon unsalted butter, cut into 4 pieces and chilled
1⁄4 cup very finely chopped dried cranberries
1 teaspoon chopped fresh thyme
1⁄3 cup toasted sliced almonds, lightly crushed
Small fresh parsley leaves, for garnish
Heat the oven to 450°F. Cover two heavy-duty sheet pans with parchment paper. Cut the beets into medium-small dice (no more than about 1⁄2 inch) and toss with the olive oil and 1 teaspoon salt in a bowl. Transfer to the sheet pans, and spread in one layer. Roast until the beets are tender and shrunken, about 25 minutes. (Rotate the baking sheets to opposite racks halfway through cooking for more even cooking.) Transfer to a mixing bowl.
Put the clementine juice and zest, the honey, and the balsamic vinegar in a small saucepan over medium-low heat. Stir or whisk until the honey is dissolved and the mixture is hot (it may be steaming but it should not boil), 2 to 3 minutes. Remove the pan from the heat and immediately add the vanilla and the cold butter. Swirl the pan until the butter is melted and the sauce is slightly creamy. Add the cranberries and thyme and stir. Pour and scrape the butter with the cranberries over the roasted beets and mix and toss gently. Add most of the almonds and stir gently again. Transfer to a serving dish and garnish with the remaining nuts and the parsley.