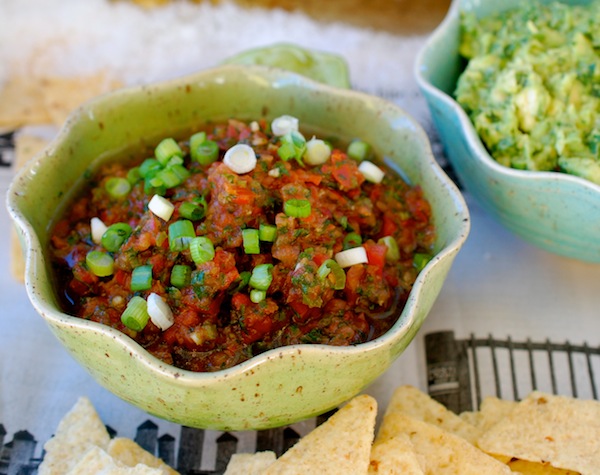 It's hard not to dream about summer when your teeth are chattering.
Goodness, this cold weather is certainly getting to be a drag, isn't it? Wouldn't it be nice if you could walk outside right now, tip toe across the hot grass, swing open the garden gate, and tug a ripe juicy tomato off the vine? Uh, sorry. Not going to happen. I realize it's not very nice of me to be teasing, and on top of that, I'm going to cheat, too. Because today I am offering you two recipes that are from the Summer section of Fresh From the Farm. So sue me.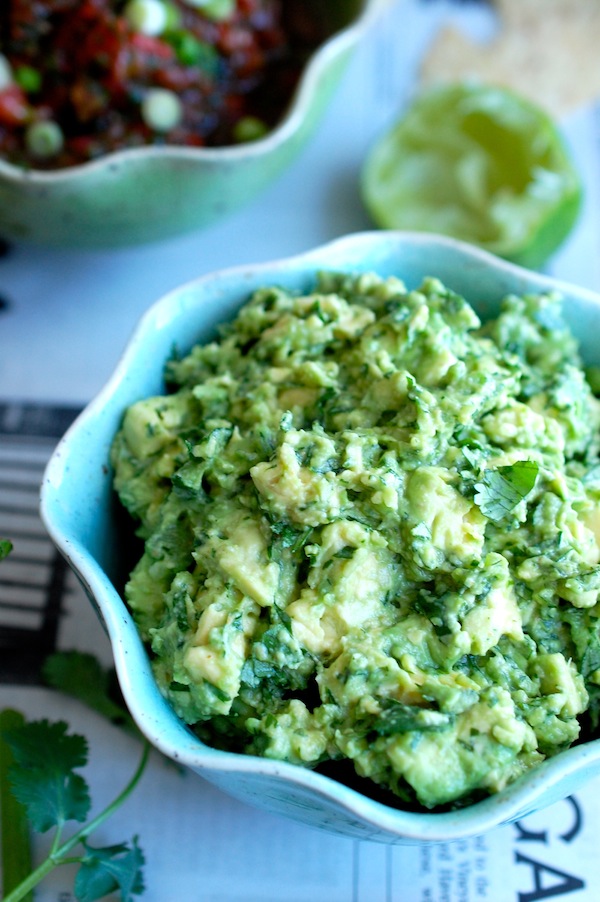 It just so happens that my Lazy Day Summer Salsa with Serranos, Cilantro & Lime (a spoonable, dippable, versatile Mexican-restaurant style sauce) is pretty darn good made with store-bought plum tomatoes—especially if you let them sit on the counter for a few days. Paired with my Double-Cilantro Guacamole (the real deal here, no pureeing or added fillers), these are two of the freshest, healthiest, liveliest additions you can make to your Super Bowl spread. Really clean and fresh-tasting. (And yes, this may be one of the only times you see two Vegan and Gluten-Free recipes together on Sixburnersue at the same time!) Even if you're not into the whole football thing (and here in New England, with the Patriots now out of it, we suddenly have a lot of people who'd rather shovel their sidewalks than watch the Super Bowl), I bet you've got a taco night planned, or you need a good way to liven up a fish or shrimp dish.
Honestly, these two recipes are repertoire essentials.
So I made them both yesterday in order to take pictures (alas, neither of these recipes is among the 200 photos in the book!), and I ate an entire half-batch of the guacamole myself. And the way this salsa comes together in the food processor so fast and easily makes me feel efficient every time I make it. We're eating leftovers tonight on pork tacos.
A Sidenote About Cilantro
Both of these recipes use a good amount of cilantro (and a bit of ground coriander, the seed of the cilantro plant), and now is the time to plan for growing your own this year.
It's very easy to grow, so order some seeds and plant early. It loves cool spring weather and tends to bolt around the summer solstice. One way to end-around this is to sow seed continuously (once a week or so). This way you can continuously harvest young plants before they bolt.
Once the plants bolt, though, all is not lost. The lovely flowers and fine foliage are just as tasty as the regular-sized leaves, if a bit more delicate.
The plants will also eventually form seed-heads, and at least some of them will drop and self-sow. I always have volunteer cilantro plants in my garden. If you leave the seed-heads on, they will dry and you can harvest coriander.
Lazy Summer Day Salsa with Serranos, Cilantro & Lime
Recipe copyright 2014 from Fresh From the Farm: A Year of Recipes and Stories
This fast, easy restaurant-style food-processor salsa is just as great with chips as it is with grilled steak or on top of a quesadilla. It will have a loose, not chunky, consistency.
Yields 1 2/3 cup
1/2 cup lightly packed cilantro (leaves and any upper stems—just lop the top off a bunch)
1/2 teaspoon kosher salt, plus more to taste
1/2 teaspoon granulated sugar, plus more to taste
1 large clove garlic, peeled
1 small serrano pepper, roughly chopped
2 cups cored, seeded and roughly chopped very ripe plum tomatoes (about 14 to 15 ounces or 4 to 6 large plum tomatoes)
2 teaspoons olive oil
2 teaspoons fresh lime juice, more to taste
2 to 4 tablespoons thinly sliced scallions (white and as much of green part as you like)(optional)
Put the cilantro, salt, sugar, garlic and serrano in the bowl of a food processor. Process until finely chopped. Add the tomatoes and pulse six to eight times again until very finely chopped. (Don't overprocess. The salsa will have a very loose consistency but should still have visible small chunks of veggies.) Scrape down the sides of the bowl and add the olive oil and lime juice. Pulse once or twice until combined. Taste for seasonings, adding more salt, sugar, or lime juice if desired, and process briefly again if necessary. Transfer the salsa to a bowl and stir in as many scallions as you like (or none at all). Serve right away or store in the fridge, well-covered, for several days.
Double Cilantro Guacamole
Recipe copyright 2014 from Fresh From the Farm: A Year of Recipes and Stories
I like my guacamole bright, fresh, and a little bit chunky. I don't add tomatoes or onions or sour cream, and I don't pulverize the avocado, but I do think of guacamole as the perfect destination for our garden cilantro. I call this "double cilantro" guacamole because I add a little ground coriander to the mix, too. When you buy cilantro at the grocery, give it a sniff to make sure it is fragrant. Some grocery-store cilantro can be devoid of flavor during certain times of the year. You can easily double this recipe.
Yields 1 1/2 cups
1 large clove garlic
1 serrano pepper
kosher salt
2 medium ripe Haas Avocados
1/8 teaspoon ground coriander
big pinch ground cumin
2 teaspoons lime juice, more if needed
1/4 cup chopped fresh cilantro, more if needed
On a cutting board, roughly chop the garlic and the serrano. Sprinkle them with a big pinch of salt and continue to chop until the garlic and serrano are very finely minced. Transfer to a mixing bowl. Peel and pit the avocados. Cut them into rough 3/4-inch dice or pieces and add them to the mixing bowl. Sprinkle a generous 1/4 teaspoon salt, the coriander, the cumin, and the lime juice over the avocado. Using the back of a fork, gently mash and stir the avocado just until everything is well-combined but the mixture is still a bit chunky. Add the cilantro, stir again, and taste. Add more salt or lime juice if needed.