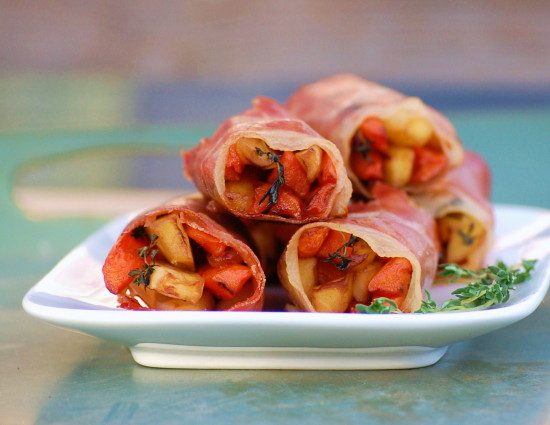 While I am not (as many people ask) related to Catherine, Duchess of Cambridge (formerly known as Kate Middleton), I am fond of many things British, especially in the "cookery" world. Two of my favorite cookbooks from this year are Plenty—Vibrant Vegetable Recipes from London's Ottolenghi, and Tender—A Cook and His Vegetable Patch, by Nigel Slater. And all of Hugh Fearnley-Whittingstall's books (most recently River Cottage Every Day) inspire me. These modern British chefs and food writers have a knack for appreciating good quality fresh ingredients and treating them simply but creatively.
Back when I lived closer to a big Barnes&Noble, where I could buy British magazines, my favorite purchase was Olive, the little sister magazine to BBC's Good Food. Last week, as I culled through hundreds of my old cookbooks to put out for our yard sale, I came across a page I had ripped out of Olive probably five years ago. The picture still seduced me, so I taped it up over my kitchen counter, hoping to make the dish soon. In the meantime, I went online to see if the recipe resided on their website, and while I couldn't find it, I did find 80 recipes for using parsnips—lovely! And so British.  (See my favorite things to do with parsnips here.)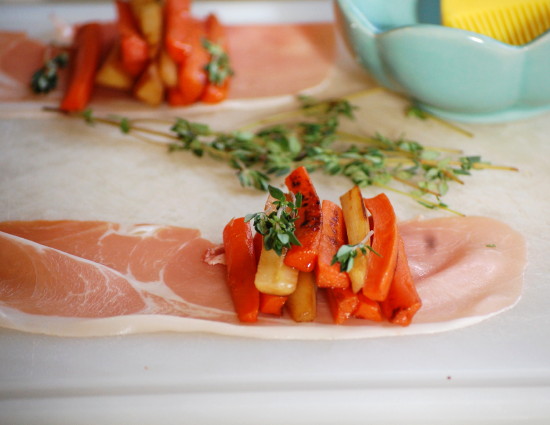 Yesterday I had a chance to make the dish, which was called "Roast" Vegetable Bundles in the magazine. I used that glorious photo and the simple instructions to develop a more detailed recipe, and I still think there is room for more improvisation here. The basic idea is a little package of carrots and parsnips, blanched and lightly glazed, wrapped in thinly sliced ham or bacon, and roasted to finish. The funny thing is, all along I was thinking what a great side dish this would be for a no-fuss Christmas Eve dinner with beef tenderloin. (I don't see any reason why the bundles couldn't be made up to the point of assembly and roasted just before serving.) But only this morning I noticed that the original recipe was part of a "Christmas Entertaining" section in the magazine. Of course!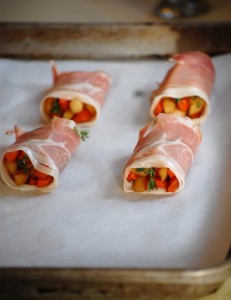 Straight out I will tell you that the main reason I love these little bundles is the whole wrapping and rolling thing. Fun in the kitchen, you know. Plus, they look so darn cute (who wouldn't love a little veggie present?), and I admit, I had a lot of fun photographing them. As far as the delicious factor goes, they are more than satisfying. The only tiny drawback I see is that I liked the flavor and texture of the little bundles I wrapped in pancetta better than those I wrapped in prosciutto. Since prosciutto isn't as fatty, it naturally hardens up a bit when roasted. The pancetta renders beautifully when roasted, but since it comes in round slices, you need to overlap them carefully to form one longer piece to wrap the bundles. (The long prosciutto pieces are easier to roll up than the pancetta, and they stay tighter when cooked). I think next time I will ask the deli to slice my pancetta extra thin and maybe experiment with using 3 pieces together rather than 2. (You could vary the size of the bundles, too.) Also, I didn't try bacon, though theoretically overlapping thin slices would work, just a little more messily.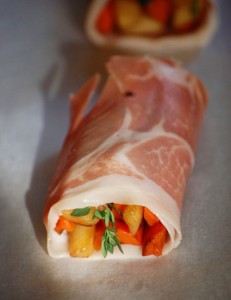 Also, this recipe includes a step that's unusual for me—par-boiling root vegetables. Normally I would slowly saute sticks of carrots and parsnips until tender, but I went along with the suggestion to par-boil here and then lightly glaze in a sauté pan, because I thought the veggies would hold up better when roasted. That turned out to be true, and I'm glad I did it.
For a special dish, this really doesn't take that much time to prepare, and you could very easily double it for a crowd if your Christmas dinner plans are ambitious. I know, we just got through Thanksgiving, but I am one of those goofballs who loves everything Christmas. (Libby and I made Christmas cookies the day after Thanksgiving.) In fact, there's nothing I like better than a British Christmas. That's why I'm so excited by the cool advent calendar my sister sent me. If you feel like treating yourself to Christmas in London—on your computer—click here.
Roasted Carrot and Parsnip "Bundles" with Fresh Thyme, Maple & Pancetta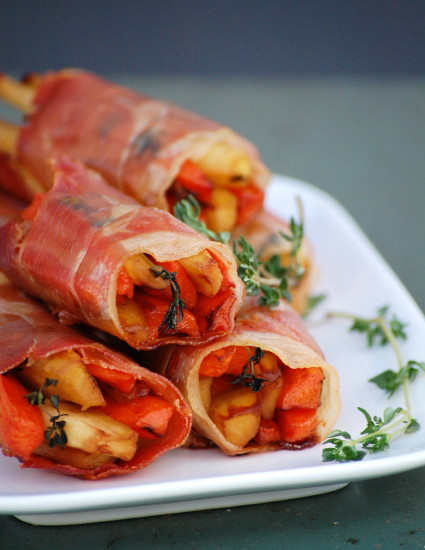 These veggies would be just as lovely with roast chicken or turkey as they would with Christmas beef. If you are working ahead, assemble the bundles and refrigerate covered. Bring to room temperature before roasting. This recipe, adapted from Olive magazine,  doubles or triples easily.
_____________________________
Kosher salt
4 medium carrots, about 9 ounces
4 medium parsnips, about 9 ounces
1 1/2 tablespoons unsalted butter
1 tablespoon maple syrup, more for brushing
1 teaspoon balsamic vinegar
8 very thin slices of prosciutto, or 16 or 24 very thin slices of pancetta
16 small thyme sprigs
________________________
Heat the oven to 400°F. Put a piece of parchment paper on a heavy-duty rimmed baking sheet.
Bring a large pot of salted water to a boil. Meanwhile, peel and trim the carrots and parsnips, and cut into sticks or batons that are each about 3 inches long and 1/2 inch wide. Add the veggies to the boiling water and cook for 4 minutes. Transfer to a couple layers of dish towels to drain and dry.
Heat the butter in a medium nonstick skillet over medium heat. When the butter has melted, add the 1 tablespoon maple syrup and the balsamic vinegar and stir. Transfer the veggies to the skillet and season with about 1/4 teaspoon kosher salt. Stir gently and turn the heat to medium high. Cook, stirring and tossing occasionally, until the veggies are browned in spots and a bit more pliable, about 7 to 9 minutes. Transfer to a large plate and spread out to cool.
On a large cutting board or other surface, arrange the 8 slices of prosciutto in front of you. If using pancetta, arrange 8 groups of pancetta by slightly overlapping the slices.
Divide the veggies into eight portions and arrange each portion on top of the prosciutto or pancetta. (Rather than centering the veggies, place them about one third of the way over from the right side. This will make rolling easier.) Brush the bundle of veggies with a little maple syrup and arrange the thyme sprigs on them. Working right to left, roll up the veggies in the prosciutto or pancetta and transfer to the baking sheet.
Roast until the packages are browned around the edges (will be lots of browning underneath) and slightly shrunken, about 18 to 20 minutes. (This is enough to warm the veggies through, too.) Serve right away.
Makes 8 bundles; serves 4 as a side dish.