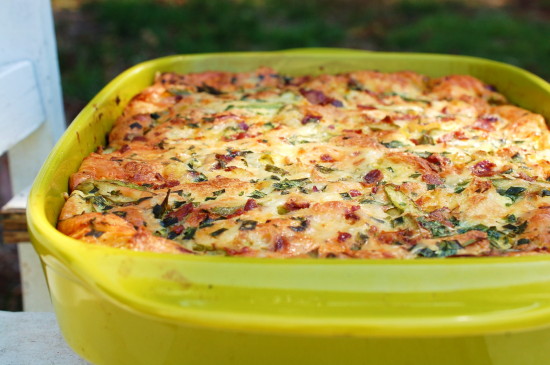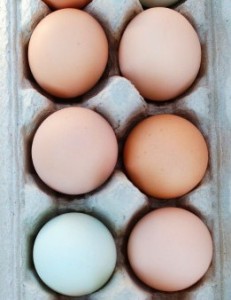 Every year around Easter time (and believe it or not, this is sixburnersue.com's third Easter), I start writing something about asparagus, even though we're still weeks away from harvesting any local asparagus. I've always reassured myself that at least the vegetable is now in season in California; and after all, that's where most of the country's asparagus comes from—during the proper asparagus season. (Or at least it used to.) I've always found it ridiculous to buy asparagus out of season from South America (so I simply don't eat asparagus in winter), but now I find it even more ridiculous that most of the asparagus in stores right now is coming from Mexico, which has underpriced California growers by so much that even California grocery stores sell Mexican asparagus.
Okay, so despite my rant (sorry about that), I still wanted to give you a tasty asparagus recipe for Easter, so I went to the store and bought asparagus to cook with this morning—and I tried not to look at the label of origin. I'm comforting myself with the delicious bread pudding that just came out of the oven, and I am also using the excuse that this dish is really all about the eggs. I know, I know—I have a thing about farm-fresh eggs, too, with their rich marigold yolks and bouncy whites.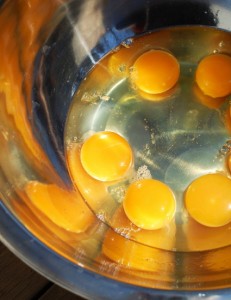 But here's the thing—it may be impossible to get local or even U.S. asparagus this Easter, but you've got more and more choice in eggs at the grocery store now. Look for the USDA Organic label (even Costco has Organic eggs!), the Certified Humane label, or eggs that say "pastured." Pastured eggs come from hens that truly do range over grass. (Unfortunately, the term "free-range" can be applied to hens that simply have a bit more room to stretch than the typical factory egg-layer which has 1 square foot of space allotted to her. Some free-range eggs truly do come from "free-range" hens, but the term is a loose one.) And then there's always the "grow-your-own" option! Backyard chicken keeping is one of the biggest trends going, so why not join in?! But if you're planning to get baby chicks for Easter (our 50 babies arrive April 25), you will have to wait five or six months before they lay eggs.
In the mean time, enjoy this eggy treat with friends and family this Easter morning and keep the spirit of new beginnings in your heart.
Asparagus, Leek, Bacon & Croissant Bread Pudding
While I love challah bread in a savory bread pudding, croissants are a wonderful option, too, and they give the final dish a lovely ethereal texture. (No need for fancy croissants—just pick some up at the grocery store bakery.) There's no trick to cooking a bread pudding (you can even call it a strata if you like), so don't be intimidated. I like to bake mine soon after assembling (I let the bread soak up custard for 20 minutes or so), but I have held them in the fridge for a few hours before baking, so feel free to do that if you like. (Remove from fridge a half-hour or so before baking.)
Ingredients
kosher salt
1 tablespoon extra virgin olive oil
1 bunch medium asparagus, trimmed and thinly sliced on a sharp diagonal (to yield about 2¼ cups)
7 eggs
1¾ cups whole milk
1 cup heavy cream
3 to 4 tablespoons sliced fresh chives
2 teaspoons coarsely chopped fresh thyme leaves
⅛ tsp. ground nutmeg
Worcestershire sauce
½ pound day-old grocery store or bakery croissants, torn into 1-inch pieces
1½ cups (packed) coarsely grated Gruyere cheese
Directions
Preheat the oven to 375 degrees F. Rub a 9×13-inch (3-quart) baking dish all over with a little butter.
In a large heavy nonstick skillet, cook the bacon over medium-low heat until crisp and browned, about 10 to 14 minutes. Transfer the bacon to a paper-towel lined plate and break up into smaller pieces when cool. Pour off half the bacon fat from the skillet and add 1 tablespoon butter and the leeks. Season the leeks with a pinch of salt, cover, and cook, stirring, until softened and beginning to brown, about 6 to 8 minutes. Remove the pan from heat and let the leeks cool.
In a medium nonstick skillet, heat the olive oil and the remaining half-tablespoon of butter over medium-high heat. When the butter has melted, add the asparagus and ¼ teaspoon kosher salt. Cook, stirring, until the asparagus is crisp-tender (it will still be somewhat green), about 3 to 4 minutes. Transfer the asparagus to a plate.
In a large mixing bowl, combine the eggs, the milk, the cream, the chives, the thyme, the nutmeg, a couple dashes of Worcestershire sauce, and 1 tsp. salt. Whisk well to combine.
Arrange half of the croissant pieces over the bottom of the baking dish. Sprinkle half of the asparagus, half of the leeks, half of the Gruyere, and half of the bacon over the bread. Repeat with the remaining bread, veggies, cheese, and bacon.
Pour the egg mixture evenly over all. (Start at one end and pour slowly back and forth). Using your hands, gently press down on the bread and veggies to force the custard to evenly surround everything. Let sit for 20 minutes. Bake until the bread pudding has risen and is set and dry in the middle (it will be golden all over), about 40 to 44 minutes.