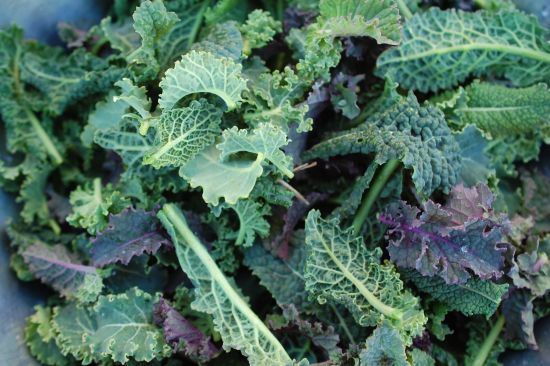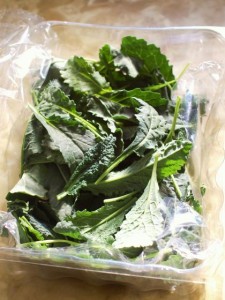 We are just going to ignore the fact that 7 inches of snow fell here last night and pretend that it truly is spring.
So let's talk about spring greens, specifically baby kale. I am very excited that baby kale is finally making it into mainstream supermarkets. I've seen more of it just in the last couple months, since I first mentioned it in a blog post back in February. Now I've seen boxes (right) or bags of it in three different grocery store chains. (One to look for is Earthbound Farm's Mixed Baby Kales.)
Mostly I am excited because baby kale is a much more versatile veggie than mature kale. (See ideas below.) It is also tastier, more tender, and a whole lot more palatable. Roy and Farmer both eat the stuff without blinking.
I've never been a big fan of the tough leaves of huge, curly-type kales, and in fact, when I wrote Fast, Fresh & Green four years ago, I insisted that everyone par-boil kale before using it in most other dishes, or confine it to soups and braises. I still think it's a good idea to soften kale first before adding it to pastas or gratins, but now I don't necessarily freak out when I see chefs and cooks "sautéing" raw kale. With a young or tender variety, a simple sauté is just fine. (But try "sautéing" the older, tougher leaves and you will still have something pretty chewy on your plate.) I'm even embracing kale salads!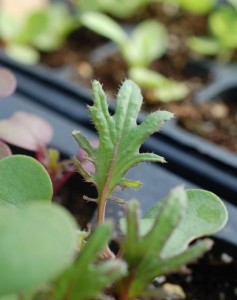 I'm also kind of excited about this baby kale trend, because I'm quite sure it came straight from the farmers' markets. Market growers have been selling baby kale for a while, first in baby salad green mixes and then on its own. I have to laugh, as I stumbled into selling mostly baby and small leaves of kale at our farm stand (see mix at top), because I have trouble controlling damage from cabbage worms, which for some odd reason like the older, bigger leaves better than the little tender ones. Also, I can harvest the first baby kale leaves very early in the spring time, so it gives me something to sell while I'm waiting for other things. In fact, I've got the first little leaves of Red Russian Kale forming in the hoop house now (left).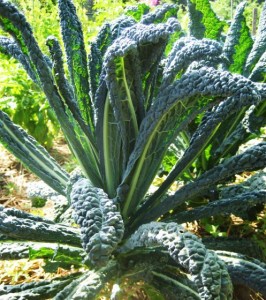 It's also fun to see that the baby kale mixes in the grocery store are featuring a few different varieties of kale so folks can begin to notice the differences. The mix I bought yesterday has some baby Lacinato in it. This is the variety of kale (also called Tuscan Kale or Dinosaur Kale–shown growing at right) that really won my affection, and now I grow both a green and a purple variety of it.
Best of all, baby kale, whether you get it at the grocery store or the farm stand, is pretty much an instant side dish—even easier to prepare than spinach, since it is cleaner. (Small stems can be removed or not). Because kale grows upright, several inches off the ground, it doesn't harbor dirt the way spinach does.
Okay, so here are some ideas for using baby kale. Why, you could practically eat the stuff every day. So now you have no excuses for avoiding this nutritional powerhouse:
1. Cook a simple sauté: Mince a clove of garlic and a half inch of fresh ginger, heat in olive oil with a few red pepper flakes until sizzling. Add kale leaves and a sprinkle of salt and toss until wilted.
2. Trick up the sauté: Do the above and add a combination of a couple teaspoons of balsamic vinegar, orange juice, and maple syrup in at the end. Stir and let thicken for a minute. Remove and eat right away. (Or sub soy sauce for the balsamic.)
3. Make a kale salad: Make a quick vinaigrette of fresh lemon juice, olive oil, a wee bit of anchovy (and/or a touch of honey) if you like, salt and fresh pepper. Toss the leaves well, rubbing the dressing in a bit with your hands. Let sit, then toss with crumbled fresh goat cheese or feta and toasted pine nuts or toasted almonds.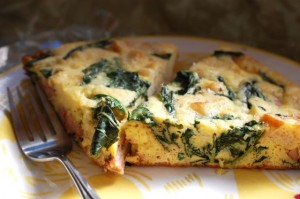 4. Make a frittata/savory bread pudding (like we did last night) with cubes of toasted English muffin, cheddar cheese, sausage, thyme, Dijon, and wilted baby kale. (Cook the sausage first and wilt the kale leaves with it.)
5. Make a topper: Put the salad (see No. 3 above) on top of grilled bread, pizza, toasted pita, naan or other flatbread.
6. Make a filler: Take the simple sauté (No. 1) and combine it with caramelized onions and a good aged cheese to make a yummy quesadilla filling or taco stuffing.
7. Make a quick soup: Infuse store-bought chicken broth with flavor by sautéing sausage, garlic, and shallots until brown. Simmer, add store-bought tortellini; add lots of kale leaves–and a dash of lemon or vinegar–at the end. Serve in shallow bowls, garnished with grated Parmigiano.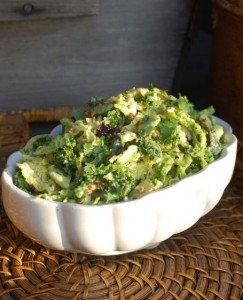 8. Pair with seafood: We eat a lot of our local bay scallops while they're in season (now–soon to be over). I often do a quick scallop sauté (very high heat to cook them quickly, and again I use ginger and garlic, and usually a bit of lemon zest and/or orange juice) and fold kale leaves in at the end for a main-and-veggie-in-one supper, served over mashed potatoes or rice. You could do the same thing with shrimp. Or wilt the kale separately and use it as a bed for roast cod or salmon or halibut.
9. Try chips & drinks: Yes, you can make kale chips and green smoothies out of this stuff, too, but you'll have to talk to someone else about that!
10. Don't forget slaw: Add baby kale to coleslaw (right) or any other marinated veggie dish.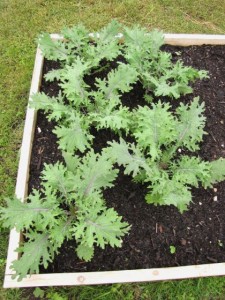 P.S. If you're inspired and want to grow kale in your garden this year, here are three nice varieties: Red Russian, Lacinato, and Rainbow Lacinato. The latter—a cross between Lacinato and Redbor kale—is my favorite—a beautiful crinkly purple leaf with a tender texture. (You can get a hint of it in the couple of baby leaves shown in the top photo–the color is stunning.) Don't spend money on kale starts (six-packs); it's not necessary since kale germinates well and grows quickly. Sow seeds directly as soon as the soil warms up to about 50°. You can sow the seeds thickly if you are going to harvest baby greens, but later you'll want to thin the plants to about 8 to 10 inches apart. You can let those plants grow and harvest new and bigger leaves all summer (and fall—and even into winter).
Photo below—greens from my friend Jessica Bard's garden.