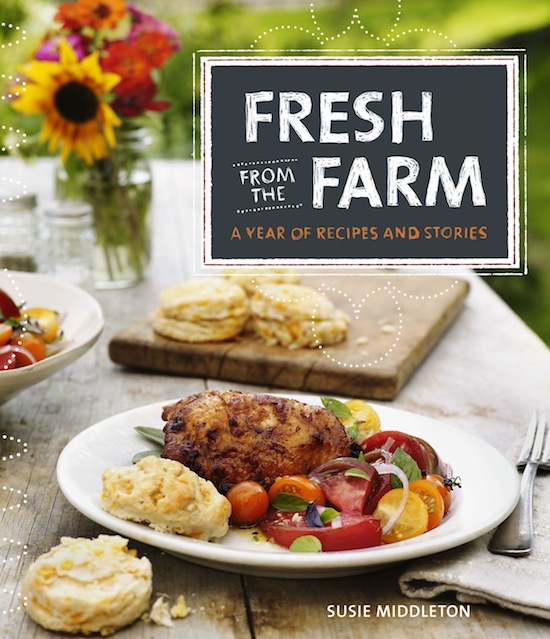 Keeping a secret for more than a year is hard, you know. And I can't say that I didn't hint here and there—I couldn't help myself. But now, with only about 5 months to go until pub date, it's the right time to let the cat out of the bag. Otherwise I might bust. So…here goes: I have written my third book! Okay, so maybe that doesn't sound so monumental or exciting when you see it written down on paper (or read it on a screen). But I have to tell you, this book rocks. It's totally awesome.
Here's why:  It's called Fresh from the Farm: A Year of Recipes and Stories, and yes, you guessed it, the "farm" is our farm, Green Island Farm. And not only is this book a cookbook (125 recipes), but it's a story too—the story of how the little farm came to be. (So, yeah, I got to write the story, so I'm pretty psyched about that.) Now add more than 100 photos of the farm and absolutely gorgeous finished-food photos to go with the recipes (Thank you, Alexandra Grablewski). Just for good measure, add an appendix of farm design ideas (by none other than RR). And put all that in a 256-page hard cover book. And then thank The Taunton Press (and especially my editor Carolyn Mandarano) for deciding to publish this book—and executing this cool concept so assuredly. (Breathe, Susie. Really, this is all so fabulous, as my friend Katie would say, so I get a little worked up.) There are even a bunch of my own photos in the book—woo-hoo!
Fans of Fast, Fresh & Green and The Fresh & Green Table will be happy to know that the seasonal recipes in Fresh from the Farm are just as carefully crafted and cross-tested as in my first books. (Thank you Jessica Bard and Eliza Peter.) And while each one makes happy use of a veggie or fruit we grow on the farm (or eggs, of course), this time I got to do everything from breakfast to dessert—and even meatloaf! Here are a few teaser recipe titles:
Roast Parmesan Crusted Cod with Baby Potatoes, Bell Peppers, Onions & Thyme; Chinese Grilled Chicken and Bibb Lettuce "Wraps;" Spicy Thai Shrimp and Baby Bok Choy Stir-Fry; Grill-Roasted Fingerlings with Rosemary, Lemon, Sea Salt and Fresh Corn Vinaigrette; Farmhouse French Toast with Backyard Berry Syrup; Libby's Lemon Blueberry Buckle; Lobster Salad Rolls with Fresh Peas; Curry-Coconut Butternut Squash Soup; Baby Kale and Blood Orange Salad with Feta and Toasted Almonds; Autumn Pot Roast with Roasted Root Veggie Garnish; Honey-Vanilla Roasted Pears.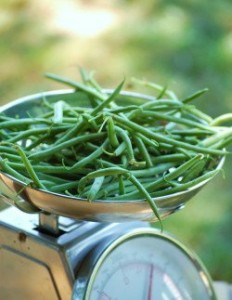 So you can see that Fresh from the Farm is firmly in the cookbook camp. But as you make your way from early spring to late fall, from Bibb lettuce and fresh peas to blueberries and butternut squash, you'll also be traveling through the first couple years of our garden-to-farm journey. (The text runs around the recipes on every page.) How we landed our little farmstead, how we started with 8 chickens and wound up with 550 laying hens, how Farmer came to be the Farm Dog, and how a hoop house, a free tractor, and four acres sealed our fate.
I won't tell you any more now. Don't want to spoil the fun you're going to have when you get this gorgeous book in your hands! But I will try to give you a few more details in the upcoming months. But for right now, believe it or not, you can already pre-order Fresh from the Farm on Amazon or Barnes and Noble. It's also listed with the Indie booksellers, and since we love to patronize independent bookstores, I'd encourage you to go ask your bookstore to pre-order it for you if you like. Or you can just be patient and wait until February 11, 2014. But I wouldn't know anything about patience!