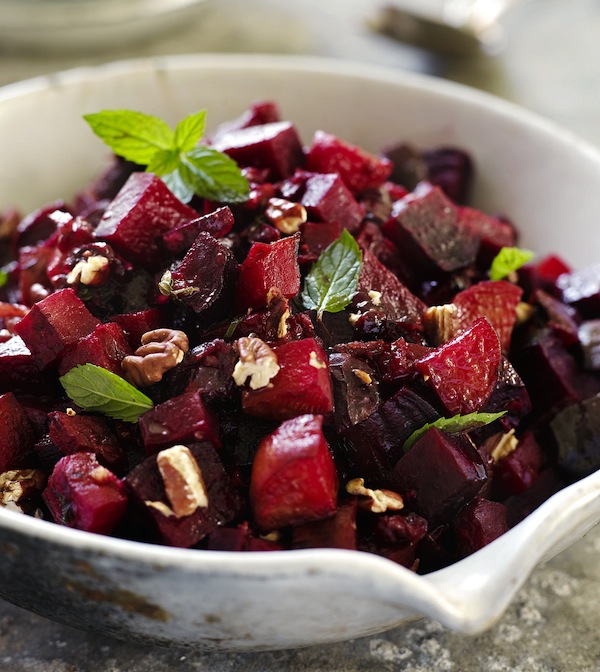 Tomorrow is Christmas. Oh boy. And, in one month, I will hold the first copy of my first-ever hardcover book in my hands. I am doubly excited. This could be a problem, as I'm not known for containing excitement well.
When I was three years old, I woke up in the middle of the night on Christmas Eve, put on my green velvet party dress (backwards, buttons down the front), and threw up all over myself. I thought I heard Santa on the roof. (Why I put my party dress on, I'm not sure. But apparently I was quite feverish—sick enough that the doctor had paid us a house-call earlier that day—so perhaps I got the dress-up part confused with Easter morning.) At any rate, I'm sorry to say that's not the extent of the damage I did as a child during peak moments of excitement. (Graduation from elementary school involved pinning myself accidentally under a folded up ping-pong table. I'm not kidding.)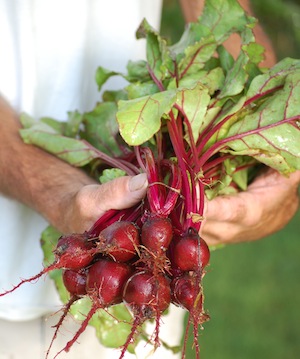 So my wise and wonderful publishers at The Taunton Press, who know how excited I am about Fresh from the Farm, have given me permission to publish a recipe from the book, just in time for Christmas. Whew.
So I will spare you any more childhood stories and get right to it. I'll just tell you that I picked something easy and festive (with a pretty picture!), even though it is kind of an iconic Susie-type vegetable side dish recipe, the kind of thing you readers of Fast, Fresh & Green and The Fresh and Green Table will find familiar. But Fresh From the Farm has so much more—everything from tostados and burritos to pot roast and meat loaf to French toast, coffee cake, and cookies (all still inspired by the veggies and fruit that we grow). But since Christmas (and deep winter market/CSA season) is upon us, I thought I'd share something that could just as easily go on the holiday table as be part of a weeknight winter supper. (And use up some of those beets in the veg drawer. Although, in case you don't know, beets are one of the better keeping winter veggies—wrap them in dish towels and put in open plastic bags and they'll retain some moisture longer.)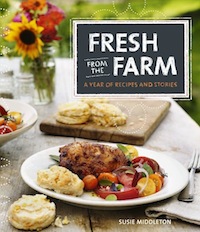 Here you go. I hope you have a peaceful and relaxing and delicious holiday. I wish I could give you the real book for Christmas, but alas, you and I will have to wait patiently. (You patiently, me not so much.) At least you can order Fresh From the Farm now if you like. (If you need it, all the ordering info is on the homepage of sixburnersue.)
If you like beets, check out these other recipes on sixburnersue as well.
Roasted Beet "Jewels" with Cranberries, Toasted Pecans & Balsamic Butter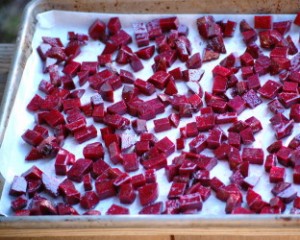 This easy and delicious side dish is a great way to introduce people to roasted beets—or beets in general. You'll love it too, because the small-diced beets cook in only 25 minutes—no boiling or long slow roasting here! This is just as great to make with summer beets as fall beets, and would be delicious with roast beef, roast chicken or crispy duck. I like to use a mix of red and orange or yellow beets if I've got them, but for a variation, you can also make this by substituting carrots for half of the beets.
Serves 4
1 1⁄2 pounds beets (preferably half red and half golden), topped and tailed but
not peeled
1 tablespoon plus 1 teaspoon extra-virgin olive oil
Kosher salt
1 tablespoon fresh orange juice
1 tablespoon seedless red raspberry jam
1 teaspoon balsamic vinegar
1 1⁄2 tablespoons unsalted butter, cut into 6 pieces and chilled
1⁄4 cup very finely chopped dried cranberries
1 teaspoon chopped fresh thyme
1⁄2 cup chopped toasted pecans
Small fresh parsley or mint leaves, for garnish (optional)
Heat the oven to 450°F. Cover two heavy-duty sheet pans with parchment paper. Keeping the red and golden beets separate (if using both colors), cut them into medium-small dice (no more than about 1⁄2 inch). Put each color in a bowl and toss with 2 teaspoons olive oil and 1⁄2 teaspoon kosher salt. Transfer each bowl of beets to separate sheet pans and spread in one layer. Roast until the beets are tender and shrunken, about 25 minutes. (Rotate the baking sheets to opposite racks halfway through cooking for more even cooking.) Transfer to a mixing bowl.
Put the orange juice, raspberry jam, and balsamic vinegar in a small saucepan over medium-low heat. Stir or whisk continuously (don't walk away!) until the jam is completely melted and the sauce is slightly more viscous (it may be steaming but it should not boil), 2 to 3 minutes. Remove the pan from the heat and immediately add the cold butter. Swirl the pan until the butter is melted and the sauce is slightly creamy. Add the cranberries and thyme and stir. Pour and scrape the balsamic butter with the cranberries over the roasted beets and mix and toss gently. Add most of the pecans and stir gently again. Transfer to a serving bowl and garnish with the remaining nuts and herb leaves (if using).
PHOTO CREDIT, TOP PHOTO: Alexandra Grablewski; styling by Michael Pederson