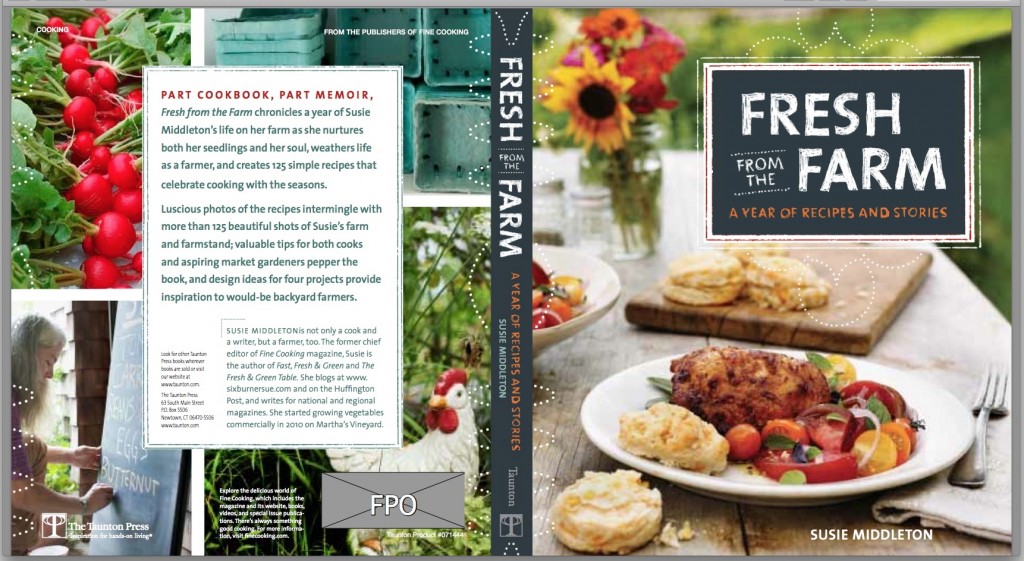 Waiting for a new book to come out is anxiety-producing, at least for me. T minus 30 days and counting for Fresh From the Farm. Until the official pub date (Feb.11), that is. But actually, the very first advanced copies have arrived at The Taunton Press in Connecticut, and one is on its way to me via Fed Ex. So this morning I have been clicking on and off the Fed Ex tracking site, following the package. (It's currently in Middleboro, Mass.) Even if it gets to the Island tomorrow, that's no guarantee it will get to me. But if I keep tracking it, once I see it's on-Island, I could always go over to the airport, where the Fed Ex office is, and terrorize them, hoping not to get arrested. But I'd have to beat Roy over there, as he's the one who told me to call them this morning! He's excited too. (Screen shot above is galley of front and back covers).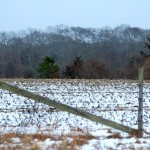 Biding my time, I walked a few laps around the cornfields out back (each is about the length of 5 or 6 football fields, so the fact that I am circling is not too obvious.) That took care of some of my energy.
So now I am back to my desk, doing "my job"—the only job an author with a book coming out in a month can do: Working on promotion. Honestly, it's not nearly as much fun as writing the book, as I hate having to put myself out there. But I am fiercely determined to do what I can with this book. (The whole getting-to-write-books-for-a-living thing is huge incentive. And that all goes away if your books don't sell well. Hence, you get off your butt and promote yourself. Right, Susie?)
This time around, putting myself out there also meant doing a promotional video. As with a lot of things, it had to come together pretty quickly last fall before the vegetables all went away. But that was a good thing, as it didn't give me time to fret, or do things like hire a makeup artist or wardrobe consultant. (It's a farm, after all and it is what it is!) But the whole experience was very positive because I did it with two wonderful friends, Katie Hutchison and Chris Hufstader. Thankfully, this wife-and-husband duo has experience filming and editing videos. (See architect Katie's many talents on her website. And here's a video Chris worked on as part of his job in communications with Oxfam America, which takes him all over the world.)
Now I have finally managed (overcoming my technological limitations) to get the video to go live on YouTube and here on Sixburnersue. (You can watch the short version by clicking below, or the longer version, which includes more about the food in the book, in the sidebar of the blog, at top right.)
I'm also happy to report that some nice early press has come in for Fresh From the Farm already, including a recommendation from Country Living magazine in the February issue (see p. 10!) and a mention on this list of Ten Exciting Books to Look For in 2014 from Wall St. Cheat Sheet.
I'm planning some fun book signing events in Washington, D.C. and a bunch of other places so please visit my events page to stay posted. I'll soon have a date for a great local event at Bunch of Grapes Bookstore, too. By the way, if you are a social media person, please visit and like my FaceBook business page, Susie Middleton Cooks, and follow me on Pinterest and Twitter @sixburnersue. (Sorry, I had to ask—just doing my job!)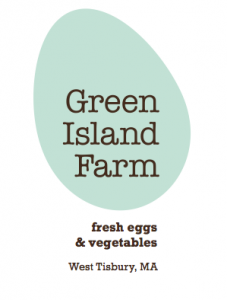 Book or no book, life moves forward on the farm, and there are, in fact, new things here to celebrate, too. The first is our very own Green Island Farm logo. Roy and I wanted something very simple and iconic (an egg!), and my old friend and former Fine Cooking Art Director/now-fine-artist Steve Hunter was incredibly accommodating and refined our thoughts for us. (Tilting the egg was his idea, which I love, and which is very Steve.) We picked the blue-green color of our Aracauna eggs because, of course, it is so pretty. So there you have it. Tee-shirts to come!
And lastly, we have 5 new additions to the farm—ducks! These beautiful creatures—three black Indian Runner ducks and two Welsh Harlequins—are a belated birthday present for Roy, who grew up with ducks and has wanted some here on the farm for awhile. It was Libby's idea to get them for his birthday (which was in December, but the weather has stalled us). And our dear friend Elizabeth Packer at Springmoon Farm made the whole thing possible.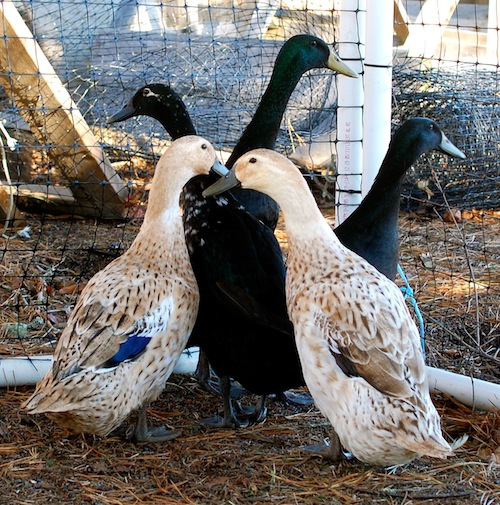 Last weekend, while Libby was here, we all (including Farmer) piled in the car, popped a hay-lined dog crate in the way back, and drove down to Liz's place in Vineyard Haven. We got a chance to see all the beautiful birds that she and her daughter Lucy Thompson are raising, included Royal Palm and Red Bourbon turkeys (gorgeous), peacocks, and several kinds of ducks and chickens.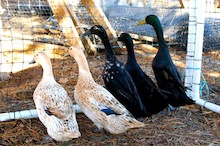 We wrangled the ducks (4 females, 1 drake) into the crate and into the car, and Farmer hung over the back seat the whole way home, wagging his tail. Back at the farm, Roy unloaded them into their new pen, where they paraded around and around like a proper flock. Lovely.
Lastly, not to be outdone by a book, the farm got its  own piece of press (its first) courtesy of Martha's Vineyard Patch, a couple weeks ago.
Now if we could just get Farmer on the cover of Lab Monthly, I'd feel really good about all our promotional efforts around here. With his bad teeth and crooked ears? Not happening.