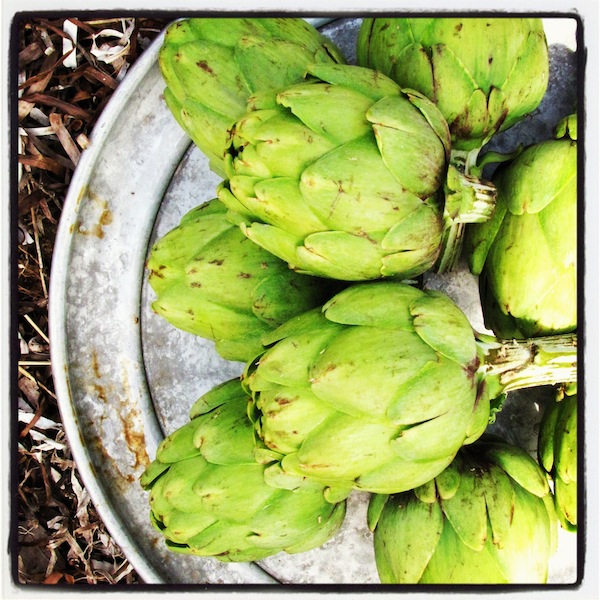 Apparently, there is a "glut" of artichokes in California right now. I love that word, "glut." It has a nice thwack to it; plus it must be derived from the best of the seven deadly sins, gluttony.
So we're very happy for California. (Note, there is no cynical tone in my voice. I just couldn't be more thrilled that here on the East Coast—actually, one of the very most Eastern parts of the East Coast—we had a blizzard yesterday. Whee! Certainly Farmer enjoyed it.) Honestly, we are happy because we know that California will be sending some of these artichokes our way very soon. They'd better, lest we have to travel out there and get them ourselves.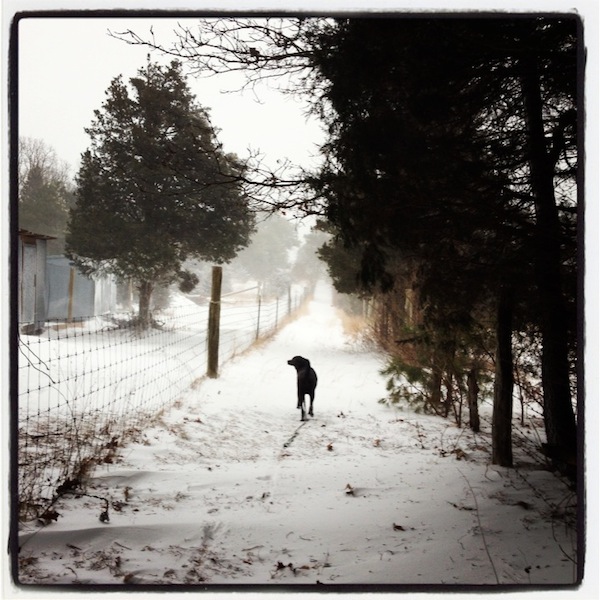 Meanwhile, I have been trolling through old photos and blogs to put together two presentations for my next travels (more on that in a minute). And I came across these baby artichokes (top) and my favorite method for cooking them (see recipe below). I'm hoping the "glut" includes baby artichokes, because I could eat a plate of these for lunch right now. Baby artichokes are really easy to prepare and so delicious. While we're waiting (I just visited the Ocean Mists website—lots of good info there—and discovered that babies may be a few weeks away), you can get some excellent ideas for using standard-sized artichokes from Russ Parsons, Food editor of the LA Times. Here's his recent piece that includes 12 artichoke recipes. (I want to make the fries!). And, as always, FineCooking.com comes to the rescue with more than two dozen artichoke recipes to browse through.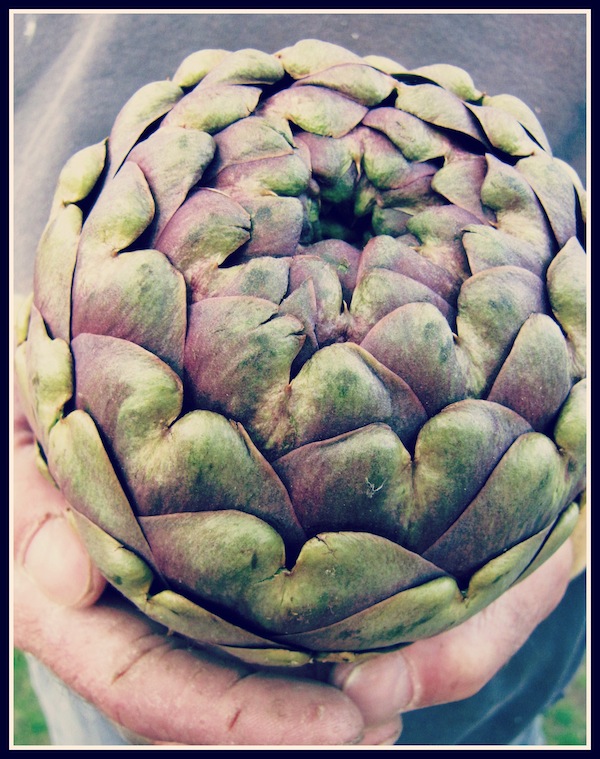 I know a lot of you who read the blog actually live in California, so just to be clear—I love you! But now I'm going to focus on Montana. And North Carolina. Yup, in a week or so, I'll be traveling to Montana to participate in Zone 4 Magazine's spring Plant to Plate event at Chico Hot Springs Resort. I can't wait! I'm going to do a cool tip demo and give a talk about how to cook all kinds of veggies—from baby bok choy to Swiss chard to beets. Plus a little Fresh from the Farm storytelling.
When I'm not on deck, I'm going to be sneaking around to observe all the cool growing seminars on things like grafting tomatoes, building a green house, and growing fruit trees. If you live in the area, I believe there are still a few tickets left (call 406-586-8540; dates are April 8 and 9.) I can assure you that it is going to be an awesome event, as Dan and Andra Spurr, the Editor and Publisher of Zone 4 Magazine, are old friends from our days together at Sailing World and Cruising World magazines, and they are super-organized and on the ball.
From Montana I fly directly to North Carolina for my 30th (yes 30th!) reunion at Duke University, where I am honored to be a featured speaker on Friday, April 11. I'm going to tell the story of my "career change" and how Fresh from the Farm came to be! It should be gorgeous in Durham by then—I'll get to enjoy a real spring for once. I only wish Roy and Libby were going to be with me, but it's just too much time away from farm and school this time. And I am certainly hoping I won't be flying through any blizzards on this adventure.
But before I go, I have a few seedlings to tend to, some peas to plant, and some artichokes to track down.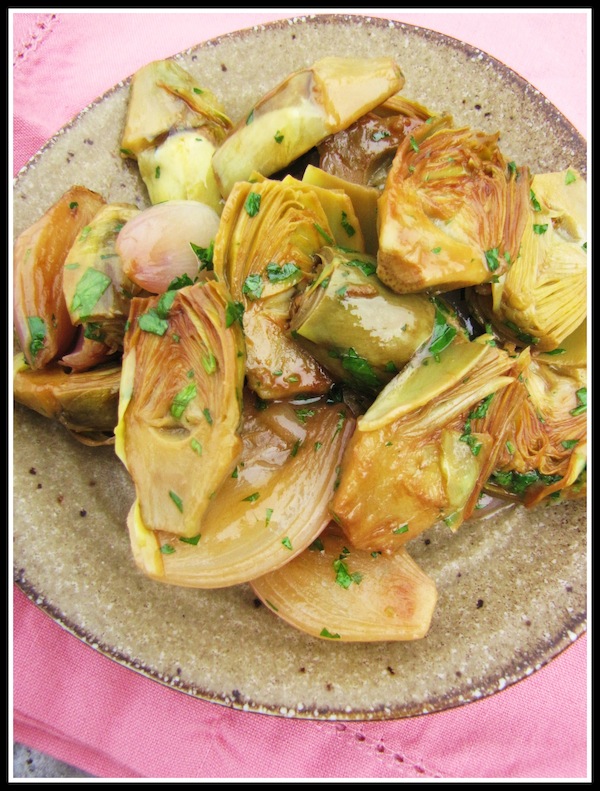 Brown-Braised Baby Artichokes with Lemon Herb Pan Sauce
Serve these over creamy polenta or a small serving of fresh fettucine for a lovely veggie supper. For a variation, cook a little bacon, ham or pancetta in the pan before cooking the artichokes; remove and crumble on at the end. Toasted almonds or hazelnuts would be good with these too. Baby artichokes vary in size—I have seen the same size box packed with 9 artichokes sometimes, 12 another. This recipe will work for 9 medium-small baby artichokes (2 to 2 1/2 oz. each). If your artichokes are very small, you can use 10 or 11 of them, as long as they fit in one layer across the bottom of the pan with the shallots. Be generous with the fresh herbs here.
_____________________________
1 1/2 lemons
9 or 10 baby artichokes
1 1/2 tablespoons unsalted butter
1 tablespoon extra-virgin olive oil
4 small shallots, halved and peeled (or 2 medium or large, quartered)
Kosher salt
1 cup low-sodium chicken broth
1 to 2 tablespoons mixed fresh tender spring herbs such as chives, parsley, mint, tarragon and/or chervil
__________________________________

Cut the whole lemon in half. Squeeze and drop the two halves into a medium bowl filled half-way with water.
Cut the stems off the artichokes at the base. Working with one artichoke at a time, peel away all of the outer leaves until you are left with a mostly lemon-limey colored artichoke (it will be somewhat cone-shaped) with the top third still being a light green. With a sharp knife, cut about 3/4 inch off of the top, and, with a paring knife, clean up the stem end just a bit (don't remove too much; that's the tasty heart). Cut the artichoke in half lengthwise. Rub the cut sides of each piece with the other lemon half and drop the artichoke halves into the lemon water.
In a 10-inch straight-sided sauté pan that has a lid, melt 1 tablespoon of the butter with the olive oil over medium heat. Arrange the artichoke halves (with whatever water still clings to them) and the shallot halves (both cut-side down) in one snug layer in the pan. Sprinkle with 1/2 teaspoon salt.
Cook, without stirring, until the bottoms of the artichokes and the shallots are well browned, 7 to 8 minutes. (If the heat on your stovetop is uneven—or the burner isn't level, like mine—rotate the pan so that the bottoms get evenly browned.)
Pour in the chicken broth and cover the pan, leaving the lid slightly askew so that some steam escapes. Simmer gently, turning down the heat if necessary, until the broth is reduced to a few tablespoons, 12 to 14 minutes. Uncover, add the remaining 1/2 tablespoon butter, and squeeze the other lemon half over all.
Sprinkle most of the herbs over and stir gently until the butter has melted. Remove the pan from the heat, and stir again, scraping up any browned bits if possible. Taste for salt and immediately transfer the artichokes and the pan sauce to a serving platter. Sprinkle on any remaining herbs.
Serves 2 as a veggie main dish with polenta or noodles, or 3 as a side dish