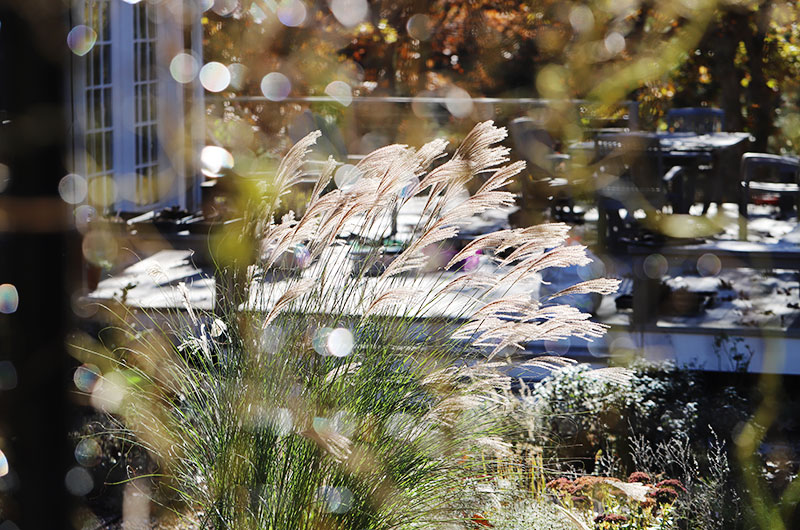 THERE IS A NARROW SHAFT OF SUNLIGHT beaming from the south-facing window in our bedroom across the room and onto the keyboard of my laptop. Normally — meaning summertime — the sun pours in through the easternmost window in the room this time of day, lighting up our morning space with a cheery greeting.
But the sun is so far south and so low in the sky now (well, actually the sun hasn't moved, but we have) that it now sneaks around the south side of the house while it is still low enough to shine a pale luminous beam through this window, and to light up the breakfast room for several hours downstairs. If you live in the north, especially far to the east like we are, a south-facing window is key to surviving winter with its scarcity of daylight hours. If I had my way, I'd plaster the south side of our house with windows.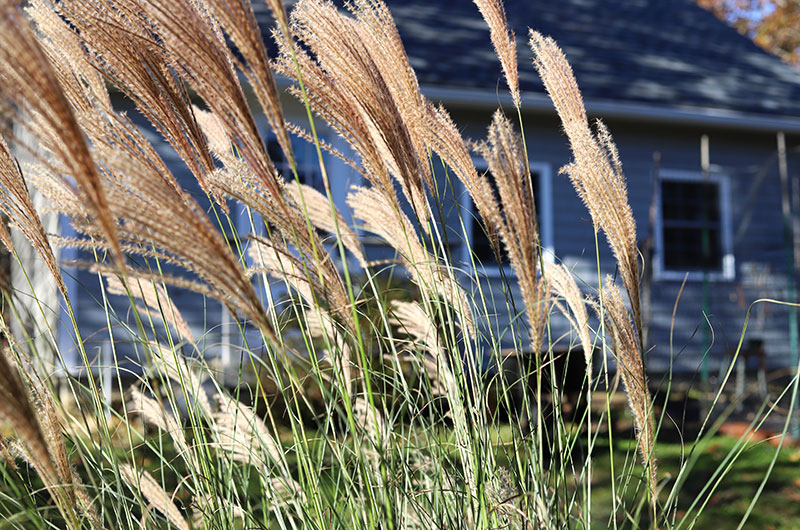 I am awake early because of the change from daylight savings time to, well, no daylight savings time. It is only early mornings like this (and mostly Sundays) that I indulge myself with writing from this comfortable position, propped up by colorful pillows, blanketed by an old quilt and new flannel.
To move to that black plastic chair in the office (on the north side of the house) would be disheartening — I spend so much time working there. And here, not only do I have the south and east windows, but I am three feet away from a double window facing west.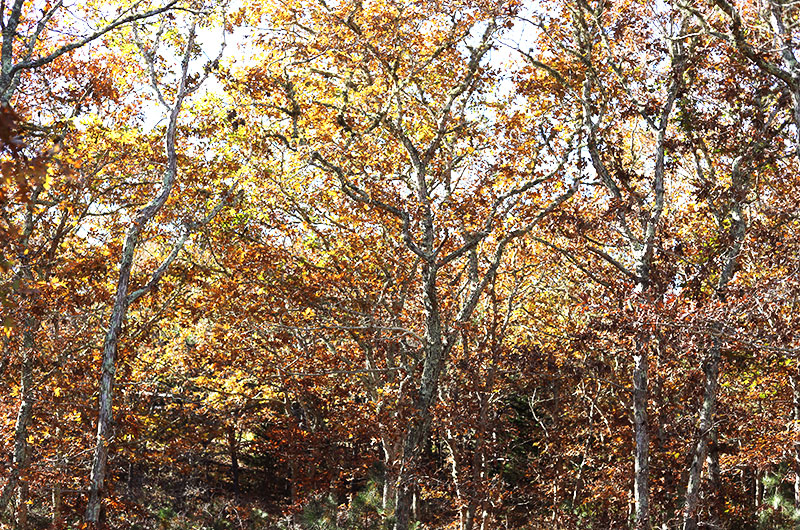 From my comfy post up high here on the second floor, what I see out those windows is a sea of oak branches, oak trunks, copper oak leaves dangling from limbs, brown oak leaves carpeting the ground below. I can see our old wood pile and the path we use to wind our way through the woods across fields and down to the water. The oaks are not pretty; fall on the south central side of the Island, where scrub oaks and pines predominate, is not classically beautiful.
But those stubborn oaks, clinging to so many of their brown leaves despite last week's hurricane-force winds and subsequent deluge, do mark the transition effectively. Along with the change in sun direction, I wake up knowing where we are in time.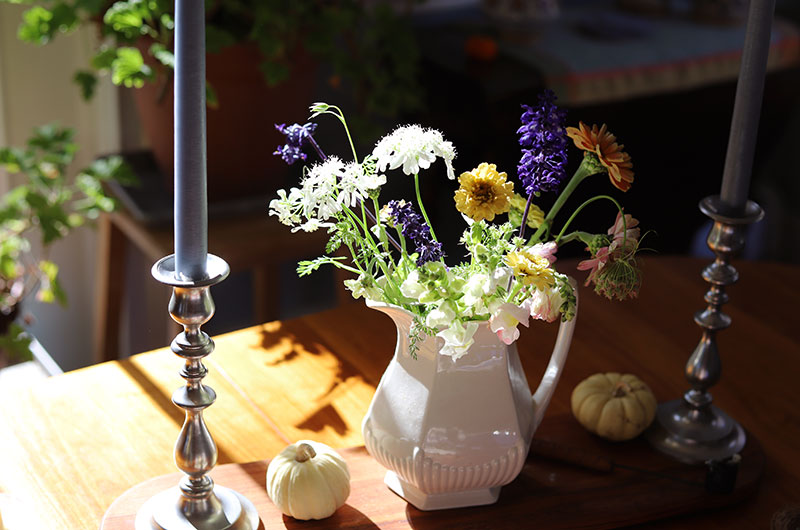 Less than a week ago, we had a light frost. Then another. But still a few random zinnias, low-lying nasturtiums, sturdy roses and purple hardy geranium blossoms carried on with color. I snipped orlaya and snapdragons to take inside. Then Friday night, bam! Not a hard frost but an actual freeze. Odd to go straight into a night where temperatures dipped below 30 degrees and stayed in the freezing zone for so many hours that buckets of water were frozen and every tender leaf turned to black.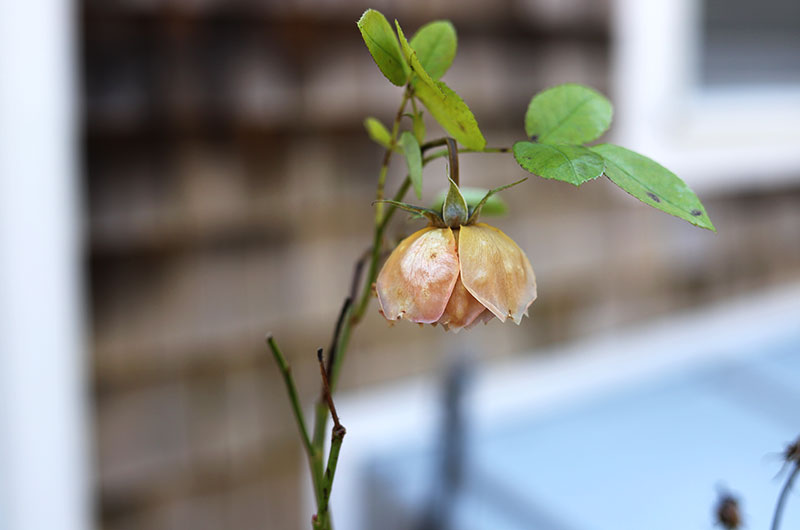 I had not dug up the dahlia tubers, partly because the plants were still green in many places. Also, I was busy and thought I had time. Yesterday when I knelt down to put my hands in the soil, the top two inches were crusted together from the freeze.
Fortunately the dahlia tubers all lay several inches below the surface – at least in the garden. I had a few in pots, and I noticed when trying to dig those out that a few tubers near the surface had actually frozen and turned to mush.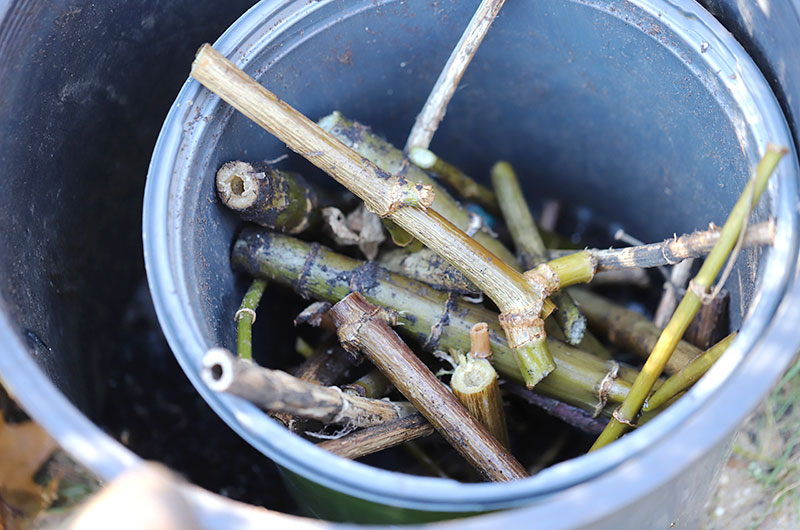 With our ground so moist right now, and not knowing when another very cold night would come, I decided I couldn't take the risk of leaving the tubers in the ground any longer. So in a fit of deadline procrastination, I grabbed my gloves, my pruners (to lop off the stems), and my pitchfork, and dug up half the dahlias, arranging them — with their name tags — in anything I could find in the garage. (It looks like our plants produced a lot of tubers!)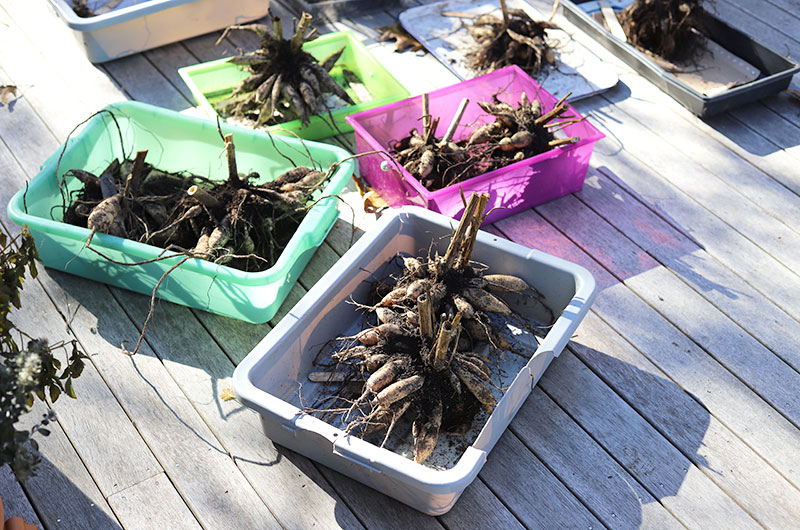 Suddenly I realized that I really had to go inside if I was going to leave myself enough daylight to cook and photograph a recipe for this week's Cook the Vineyard newsletter. Food photography in natural light gets really tough this time of year. So when my partner arrived home from running errands, I Tom Sawyer-ed him into digging up the rest. He was a good sport as always. An amazing man.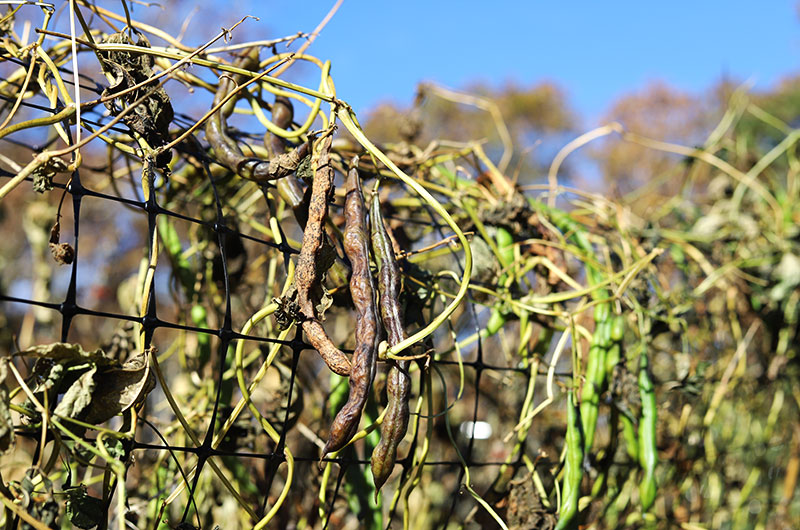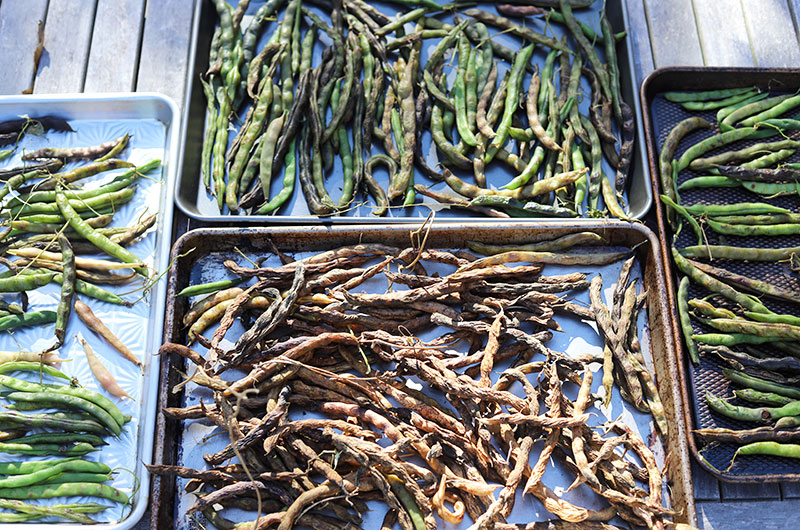 Not only did he finish digging the dahlias, but he picked the hundreds of Rattlesnake beans left hanging on the dead vines after the freeze. They were in varying stages of development, and except for the ones that had dried on the vine, their pods were left wet and limp from the freeze. But still we will be able to extract the seeds; we'll let them dry in the warm air inside, and save them for cooking this winter – and a few for planting next year.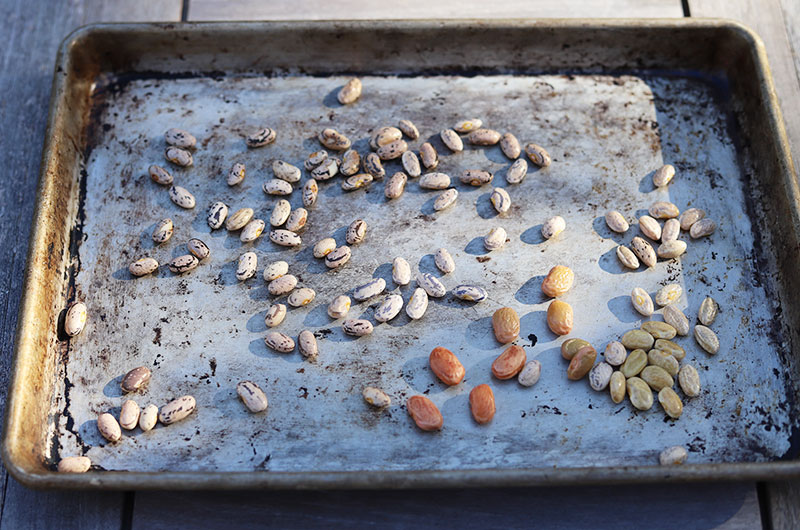 This is the funny thing about transitions — they seem to move in slow motion and then in the blink of an eye, they are manifest. We are left wondering where the time went and how we got to where we are, and most especially what the future will hold.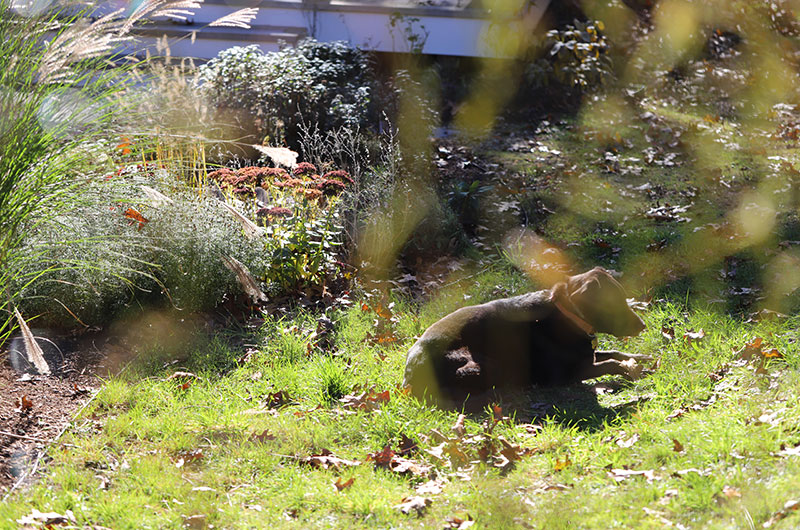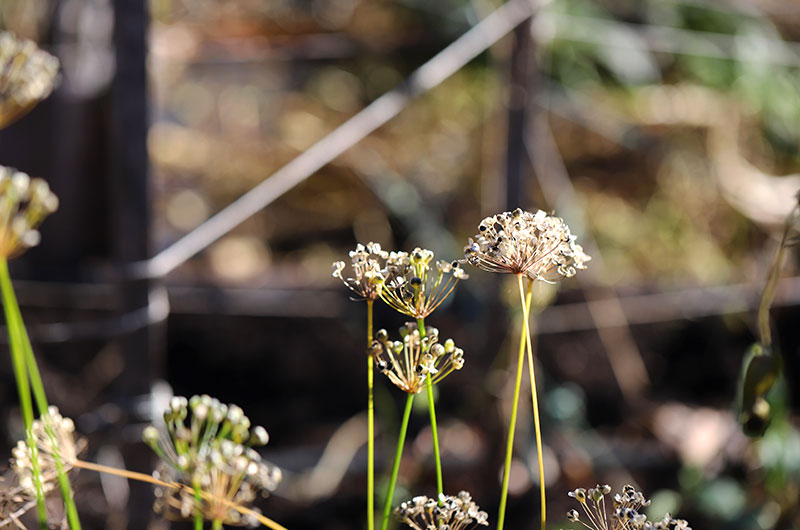 P.S. If you are looking for Thanksgiving menu inspiration , be sure to check out Cook the Vineyard's Thanksgiving recipe collection. And, um, if you are not subscribing to the free Cook the Vineyard newsletter, be sure to sign up while you're over there! (Sign up on right hand side of any page.)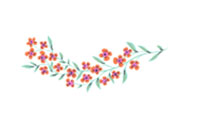 ---
If you arrived here from the internet and would like to subscribe to the Sixburnersue blog, click here.