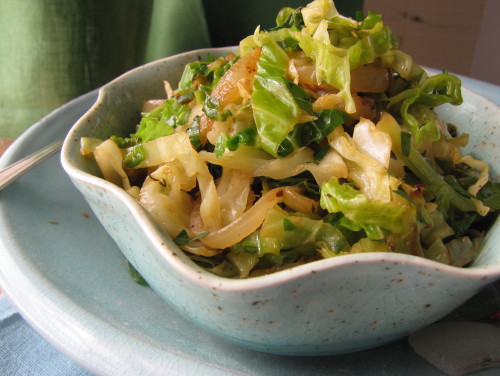 If you're getting around to planning your St. Patrick's menu a little late like me, here's something to help—a quick and easy sautéed cabbage recipe. I've never been one for the traditional boiled cabbage that often goes along with the corned beef on this holiday. In fact, I didn't learn to love cabbage until I cooked it hot-and-fast–in a sauté pan, in a stir-fry pan, on a griddle—anything where I could bring out its sweeter side with a little browning.
Sautéed cabbage is not only (much) tastier than boiled cabbage, but it's less fussy to cook. The basic recipe really doesn't need much embellishment either, since browning accentuates the nutty flavor of cabbage. But after you've tried this and made it part of your repertoire, you can perk it up by adding sautéed apples to it, by tossing in a bit of ginger or garlic, or by playing around with the deglazing broth by sub-ing in white wine, lemon, or apple cider for the rice vinegar and soy sauce.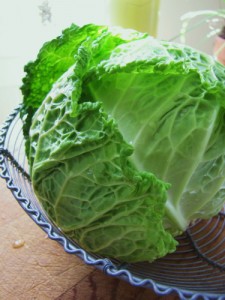 Regular old green cabbage would be just fine here, but I'm crazy about its crinkly-leaved cousin, Savoy cabbage (right). Savoy wilts in a hot pan a bit quicker than regular cabbage, and has a slightly richer flavor and lighter texture.
To make Colcannon: To make a delicious version of this Irish mashed potato and cabbage dish, make mashed potatoes using Yukon gold potatoes, cream, and butter (and plenty of salt). Hand mash for a coarse texture. Fold in some or all of the cooled Quick-Sautéed Savoy Cabbage (lightly chopped first if you like). You can also substitute leeks for the onions in the sautéed cabbage recipe, but you will need a bit more cooking fat and time to soften them before adding the cabbage.
Quick-Sautéed Savoy Cabbage
___________________________________
2 tablespoons chicken broth
½ teaspoon rice wine vinegar
¼ teaspoon low-sodium soy sauce
¼ teaspoon sugar
2 tablespoons unsalted butter
1 tablespoon extra-virgin olive oil
1 medium onion (4 to 5 ounces), thinly sliced
kosher salt for seasoning
½ head Savoy cabbage, cored and very thinly sliced (about 8 to 9 ounces)
2 teaspoons chopped fresh parsley (optional)
___________________________________
Combine the chicken broth, rice wine vinegar, soy sauce, and sugar in a small bowl. In a 10-inch straight-sided sauté pan over medium-high heat, melt 1 tablespoon of the butter with 1 tablespoon of the olive oil. When the butter is foamy, add the onion and a pinch of salt and sauté, stirring, until the onions are somewhat softened and just beginning to brown, 2 to 3 minutes. Add all of the cabbage and ½ teaspoon salt and stir well. Cook, stirring only occasionally, until the cabbage is limp and browned in spots (the bottom of the pan will be very brown and the onions will be brown), about 5 to 6 minutes.
Remove the pan from the heat and immediately stir in the chicken broth mixture and the remaining 1 tablespoon butter. Stir until the butter has melted, scraping up some of the browned bits on the bottom of the pan. Let the cabbage sit in the pan for two minutes and stir again. (The cabbage will release a little more moisture and you'll be able to incorporate a bit more of the browned bits.) Add the parsley, stir again, and transfer to a serving dish. Serve right away.
Serves 3-4