I didn't always love carrots, but two things changed that.  First, I grew my own carrots last summer—and toted home fistfuls of freshly dug carrots from my CSA farm every week. These sweet and crunchy little wonders bore no resemblance in taste or texture to the poly-bagged grocery store carrots harvested light-years ago and shipped from a galaxy far, far away.
Secondly, when I started writing my vegetable cookbook, Fast, Fresh & Green, I figured the familiar and friendly carrot would need to star in at least a few side dishes. So I cooked carrots—a lot. In the back of my mind were bad memories of overcooked (mushy) and under-flavored (wan and vegetal) carrots from bad convention dinners and childhood TV dinners.
I needed to erase that memory. I figured that any method that let the carrots brown up a little first (caramelization=deep, sweet flavor) and then just cook through until barely tender would do the trick. Stovetop braising, roasting, sautéing—these methods all worked, but I discovered that the hands-down easiest and most efficient way to get great carrot flavor fast is stir-frying.
By stir-frying, I don't mean leaping flames and a professional wok. I mean a wide, round, bowl-shaped non-stick stir-fry pan (my favorite is a Circulon) on a home burner. These pans are great for two reasons—the large surface area lets more vegetables come in contact with the hot pan for more browning, but at the same time, the depth and slope of the bowl allows the vegetables to steam a bit while they cook, too.  (The pan should be moderately full for the veggies to do that steamy thing—too empty, and the veggies will tend to burn.)
Cooking carrots in a stir-fry pan is such a no-brainer that I was sort of embarrassed to espouse the technique in my book. But who doesn't like easy? And the result is so fabulous—deeply browned around the edges and just cooked through,  the carrots are nutty and sweet tasting. You can finish off the carrots simply with chopped fresh ginger and a squeeze of lime, or go crazy with flavors.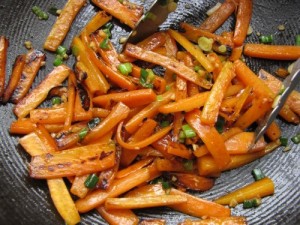 I do get a teensy bit fussy (or so my mother says) about how I cut my carrots for a stir-fry. I like slender sticks; they don't have to be perfect—just try to keep them all about the same thickness.
Gingery Stir-Fried Carrots with Cranberry and Orange
Serves 3
1 pound carrots
1 tablespoon cranberry juice (unsweetened)
1 tablespoon fresh orange juice
1/8 teaspoon balsamic vinegar
½ teaspoon kosher salt
1 tablespoon vegetable oil
¼ cup (about 2 small) sliced scallions, white and green
2 teaspoons minced fresh ginger
pinch red pepper flakes
1 teaspoon unsalted butter
Trim and peel your carrots and cut them into sticks that are 2 to 3 inches long, and between ¼ and 3/8 inch thick. Combine the cranberry juice, orange juice and balsamic vinegar in a small bowl.
In a large (12-inch) nonstick stir-fry pan, heat the vegetable oil over medium-high heat. When the oil is hot (it will loosen up), add the carrots and salt and stir well with tongs. Cook, stirring only occasionally and spreading out the vegetables after every stir, until the carrots are browned in places (they should have lost their stiffness; some will be slightly blackened), about 10 minutes. Adjust the heat up if the carrots are not browning after a couple minutes; lower the heat if the carrots are browning too much after five or six minutes.
Turn the heat to low, add the scallions and ginger, and stir until fragrant, about 30 seconds. Turn off the heat, add the cranberry/orange/balsamic combo and stir until the liquids have mostly reduced and been absorbed. Take the pan off the heat, add the butter, and toss and stir gently until it melts. Serve warm.