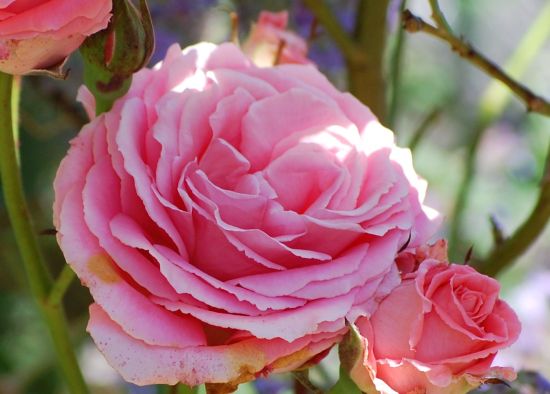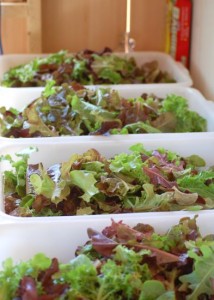 We've entered that zone—that zone where time disappears and you simply move from one thing to the next on the farm and wind up at the end of the day exhausted and dirty (and eating a hot dog at the picnic table)—but happy. And ready for the bliss of the outdoor shower.
The summer visitors have reached the Island (how they get here so fast, I'll never know), and all day folks are coming and going down the driveway to the farm stand.
And now, all of a sudden, with the summer light-switch flipped on, all kinds of things are happening in the garden. I don't want to miss anything, so I took a break from salad duty this morning (right) and did a farm check.
The America rose (above) that Roy gave me for my birthday last year is blooming. Stunning.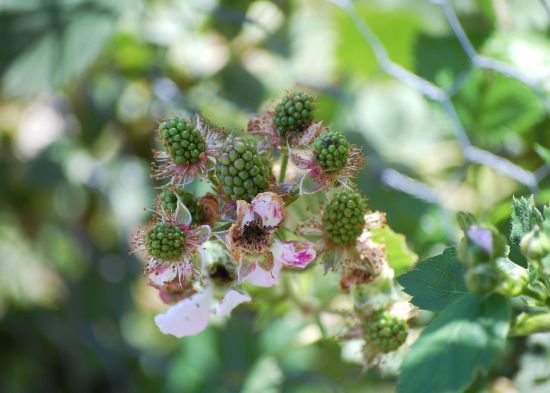 The blackberry plant that my friend Cathy gave me (also for my birthday last year) is shedding its rosy blooms to make way for huge berry clusters. The blueberries are fattening up too. At least the ones that I managed to cover up before the birds got the blossoms. I thought you were supposed to protect the berries from the birds—I had no idea the birds ate the blossoms, too.
In the hoop house, the first of Roy's early tomatoes are blushing red (and we've got 80 more planted outside in the garden). Also in the hoop house, we've got cucumbers coming up, and some patty pan squash plants that look like they're on steroids. And the basil couldn't be happier.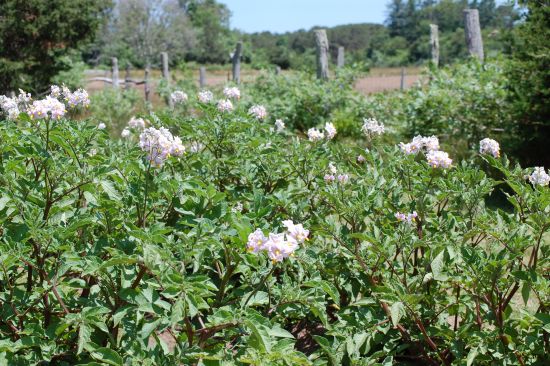 Just north of the hoop house is Roy's potato field—the French fingerlings are blooming and it won't be long now before we can dig some plants up.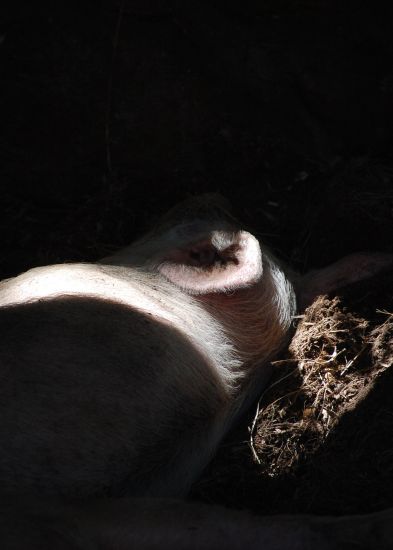 Over at the pig pen, the two pigs are as happy as can be. They eat, root around, make mud baths, and mostly sleep in a nice comfy hay mulch bed. They always look very relaxed. (Update: Libby did name them this weekend, and I'm sorry to say that she did, in fact, pick Wilbur as one of the names. The other (bigger one) is Dozer, short for Bulldozer. Feeding them apples, cereal milk, Ritz crackers, and pasta was a big activity this weekend.)
In the garden, the first row of green beans is flourishing and two more are germinating. Forty eggplants are in the ground; a new variety called Orient Express has gorgeous purple leaves.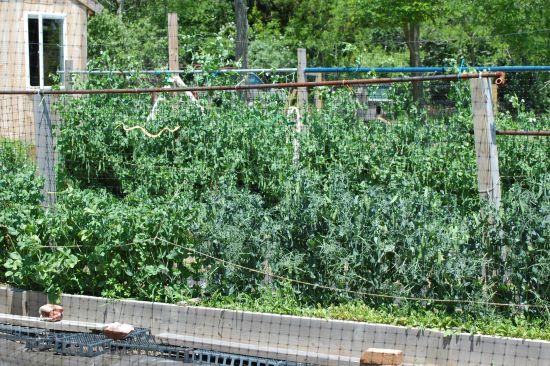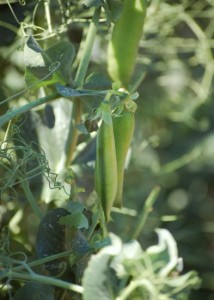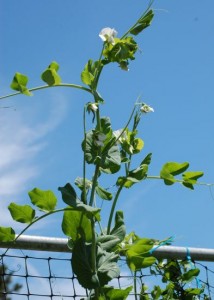 I'm growing three varieties of shell peas this year to compare. The first is called Coral and it delivered on its promise of being early. But these short vines bloomed all at once and produced a very low yield. (This sort of defeated the purpose of having early peas, as I didn't have much to sell every day.) The second variety—a gorgeous deep-green plant with a profusion of tendrils about 2 feet up—is delicious and sweet. Called Easy Peasy, it is definitely yielding more than Coral, but still looks like it will end production without anywhere near the yield that my Green Arrow gives. Green Arrow grows very tall (vines curl off the top of the trellis as in the photo at top left) and blooms all up and down the vines, not just in one spot like the others. And it blooms over a longer period of time. The pods are extra-long and the peas delicious. I think I'll go back to just this one variety next year.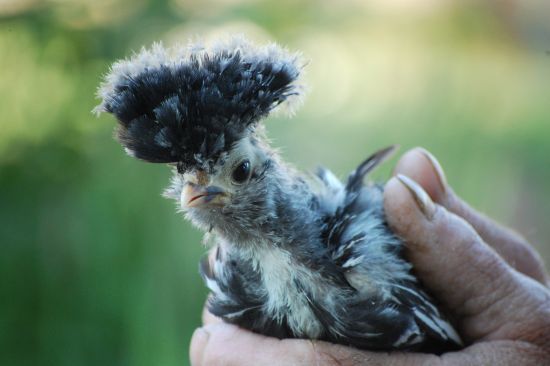 The chicks in the barn are getting really big—which means that Roy has to build another coop! The brooder is now the entire length of the barn, because we had to add two additions for two chicks that we separated out from the rest. (One of them has been living in a box in my office, the other in the living room.) Here is Polly, the Polish Crested. Her other nickname is Don King.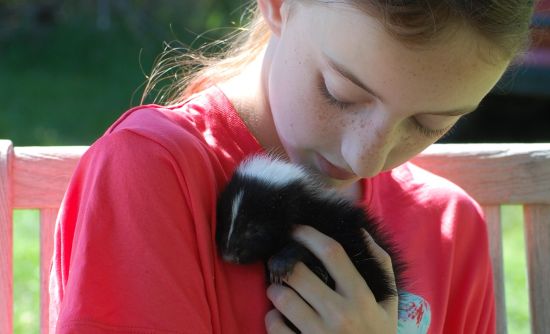 Yes, it is Animal-Central around here. In fact, this weekend we cared for an ailing baby (and I mean baby—a few weeks old) skunk that stumbled into the driveway. Libby took to little Skunky in a big way and did her best to nurse it along with milk and cat food. But most likely it was not going to make it from the start, and Libby understood that. No, the little skunk did not have a functioning sprayer, and truthfully, it was the cutest darn critter you've ever seen. But I never would have taken it in myself. Leave that to my two National Geographic nature/animal lovers who also had a snake in a bucket this weekend and a collection of sand crabs in sea water.
We got Libby's garden planted, too, with two tomatoes, one pepper, a row of green beans, sunflowers, cosmos, carrots, and two squash hills—one of pumpkins and one of summer squash. I can't wait for Libby's school to end and we'll have her out more. Because any "work" we do with Libby is always fun. The only problem is that the days fly by even faster. Pretty soon, it will be August and time for the Fair!