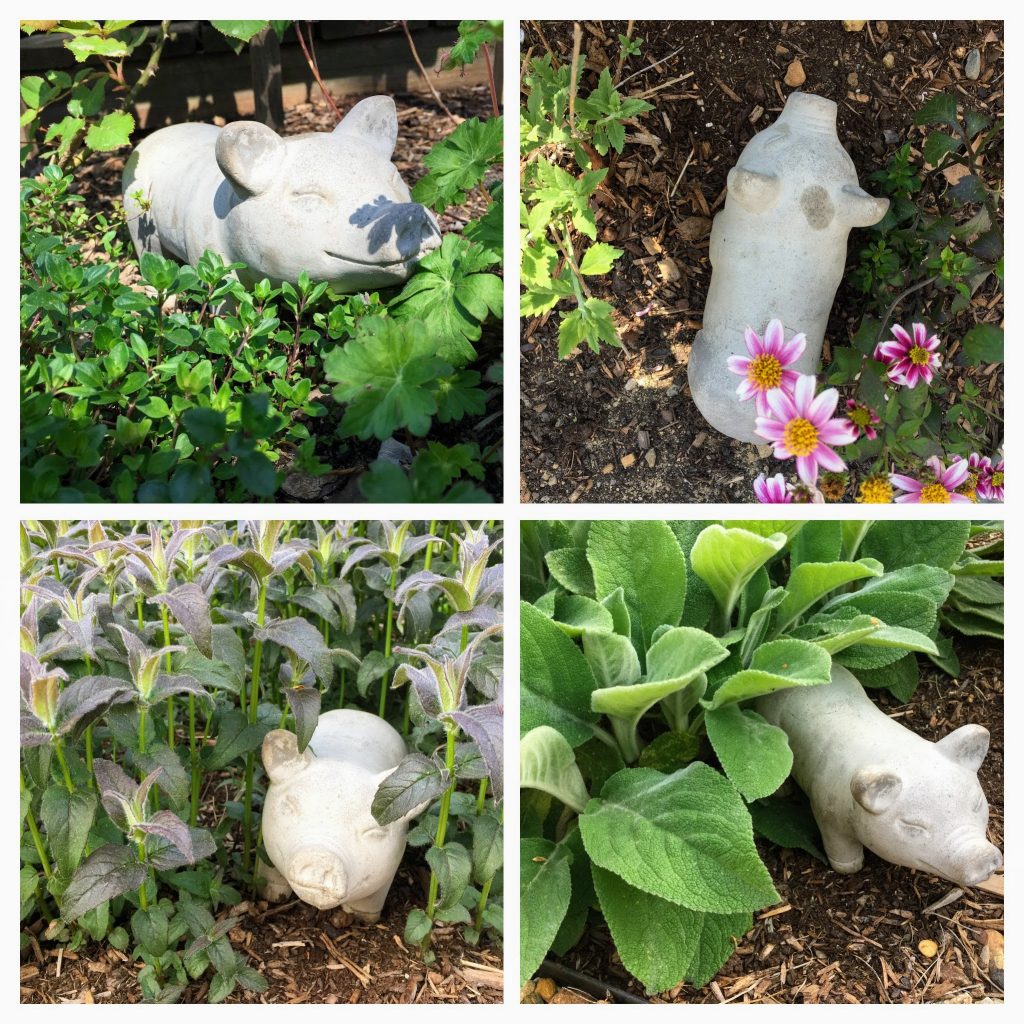 FARMER AND PIGGY and I spent the afternoon in the garden yesterday. It was lovely. Piggy has a habit of moving around when I am not looking and today I found him hiding in the lamb's ears and later peeking out of a forest of bee balm. By late afternoon he was over by the rose trellis sniffing the hardy geranium that's about to bloom. Honestly, Piggy.
Farmer loves gardening. He lies in the grass, baking in the sun until his black fur is as warm as beach sand on a hot July day. Then and only then does he move into the shade. Occasionally he gets up and wanders over to a mossy patch under the oaks where he immediately dives on to his back and does a roly-poly, squirming with glee as he scratches his back.
He's a big help.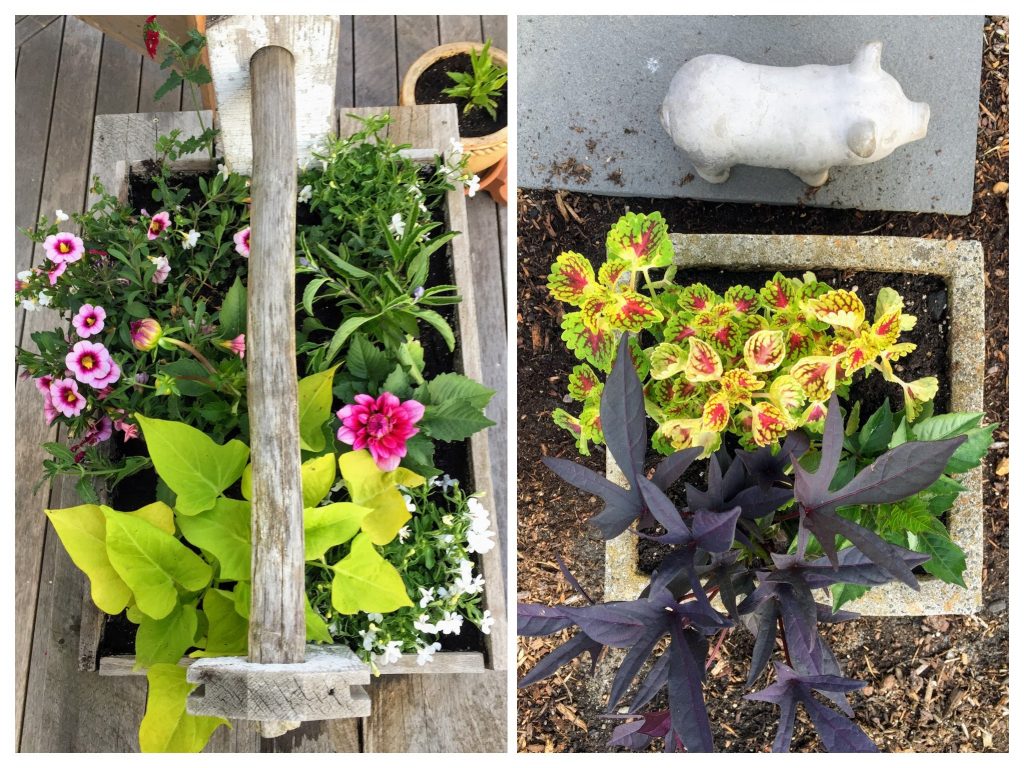 Today's project was planting up containers and pots with annuals and herbs. It was a total immersion in dirt. The driveway was a disheveled disaster zone, pots upturned everywhere, bags of potting soil spilling in the gravel, various plants in various stages of undress waiting for new homes. Whenever I am covered in dirt, I think back (way back) to making mudpies with my best friend Eliza. This makes me happy. Dirt makes me happy.
My joy at being outside with Farmer and Piggy (yes, I realize that one of these two is an inanimate object) was coupled with relief, having powered through practically nonstop from Sunday midday to Thursday evening on a series of deadlines.
I was so tired Thursday night that I couldn't even read. I settled myself in my comfy chair, surrounded by stacks of books and magazines, thinking I'd be dipping in and out of any number of things.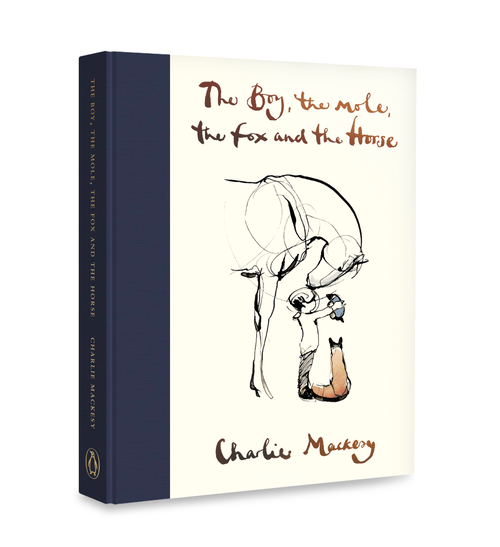 Sadly, I was exhausted. Disappointed, I yawned and thought to make tracks for bed. But I hesitated, looking at the book on the top of the pile and thinking I had just enough energy to page through it. Again. It's a book so charming as to make you weepy with gratitude.
The Boy, the Mole, the Fox and The Horse, by Charlie Mackesy, arrived earlier in the week, a gift unbidden from a friend, a kind and thoughtful friend who also happens to be a sober friend. She shared the book with me in part because it is so darn beautiful and sweet (and we already know that receiving wisdom from animals is actually my preferred wisdom-delivery form) but also because it is an affirmation of all the self-knowledge we've gained in recovery, the painful scraping away of the superfluous junk to arrive at the truth of who we are and what really matters in this life.
Wisdom delivery is a very tricky thing. No one really wants it thrown at them in a neat little package. But what is it about young children (in this case a boy), animals that talk, and a mythical land, that turns a story into a fable and creates a safe place to have honest thoughts and to express love?
In the book (which Mackesy hand-wrote in pen and ink and illustrated with sketches of the four unlikely friends on a journey through the wild to what may or may not be home), there is a moment when the boy — who was lonely before he met the mole, and they met the fox, and they all ran into the horse — is looking at his reflection in a pond.
"Isn't it odd? We can only see our outsides, but nearly everything happens on the inside."
So true. One of the first things I learned in early sobriety was to look past the outsides of people and to imagine a person as a struggling, yearning, vulnerable soul, someone just like me. (In the world I grew up in, appearances were valued above all else, so I had to unlearn this. In the book, the boy asks, "I wonder if there is a school of unlearning?" Don't we wish!)
A wise person taught me to practice stripping away a person's trappings and circumstances and to try to feel compassion. Not saying I've mastered this, but forced humility (in the form of realizing you are an addict who is unable to recover on her own) helped. And I clearly remember a moment when being judgmental suddenly felt less comfortable as a prop. I was listening to a woman talk who had recently been released from prison. Mind you, this was early on and I was still in a fog. I immediately began to judge her … until I began to truly hear her story. She had gone to prison for killing an elderly couple in a car accident by driving through an intersection while in a blackout. While I wasn't prone to blackouts, there were certainly many nights when I had to drive with one eye closed to keep the yellow line in focus. But for the grace of God, there go I.
Later on in The Boy, the Mole, the Fox and The Horse, the mole asks the boy, "Is your glass half-empty or half-full?" And the boy replies, "I think I'm just happy to have a glass."
I love that! I know I sure am happy to have a glass, and even though some days it is three-quarters empty, it is still sturdy enough to hold the few tablespoons of (non-alcoholic!) hydration I need to get through the day.
And if it is truly drained dry, I know (now) what to do. It's something the boy learns from the horse, who is the most wise of all the creatures.
"What is the bravest thing you've ever said?" the boy asks the horse.
"Help," said the horse.
It gives me goosebumps to think about how life-changing that plea can be. I know that I can pinpoint the exact moment my life began to change course – and it happened the day I said out loud, "I can't do this myself."
If you know someone who needs help but is afraid to ask, perhaps a gift of this book might provide an opening. I also highly recommend at least one furry creature (real or imagined, live or inanimate) to talk to.
---
The Boy, the Mole, the Fox, and the Horse grew from the response British illustrator Charlie Mackesy got when posting his thoughtful drawings on Instagram. The book was published in October 2019 by HarperCollins and has become an international bestseller. Read a bit about that here. And be sure to visit his website and follow him @charliemackesy on Instagram. All illustrations pictured here are Mackesy's, of course!
---
---
LOOKING FOR RECIPES?
Visit cookthevineyard.comand sign up for the free weekly newsletter. (Something I do as part of my day job.)
---
If you arrived here from the internet and would like to subscribe to the Sixburnersue blog, click here.