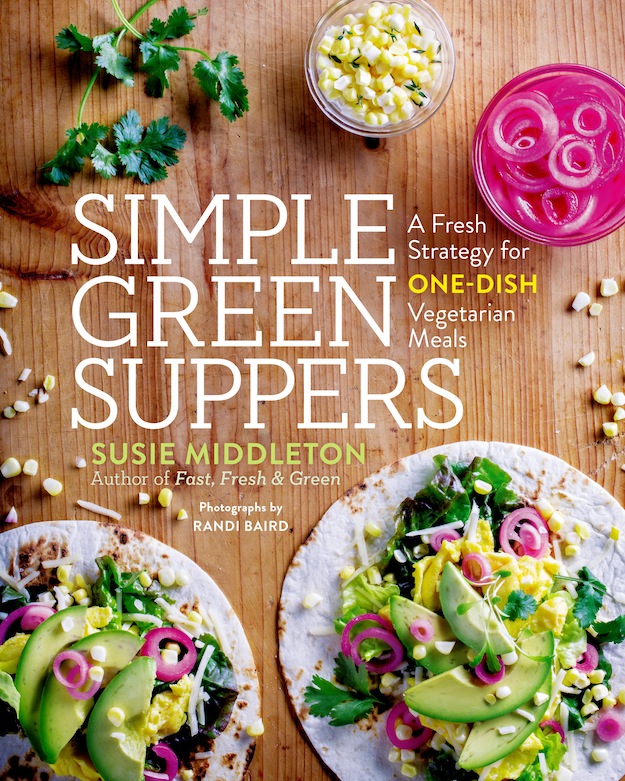 My fourth cookbook, Simple Green Suppers, is now available for preorder (see links below). There, I've said it. Seems unreal, really, in many ways. First, that the whole selling and promotion thing gets started more than six months ahead of time. (The pub date is April 11, 2017.) Second, that it is actually happening—When I wrote my first cookbook, Fast, Fresh & Green, in 2010, I was pretty jazzed about that. Then came The Fresh & Green Table in 2012 and Fresh from the Farm in 2014. Meanwhile, I am farming and growing vegetables and, well, you'd think I'd get tired of vegetables. Not!
As some of you know, I also skipped over the line into full-time vegetarian eating a few years ago, so that gave me the ultimate fun challenge for a new book—how to cook vegetarian suppers every night.
Simple Green Suppers: A Fresh Strategy for One-Dish Vegetarian Meals is the very delicious, very beautiful result of that challenge. (Sorry about the "very"s but I am as excited about this book as I was about Fast, Fresh, and Green, which I believe continues to sell well because it is useful. Simple Green Suppers is super-useful. And inspiring. It is being published by Roost Books after all, and they make beautiful books!! Plus, I collaborated with talented photographer Randi Baird on a monster-sized effort on the photos. Okay, I'll stop.)
Though my mission has always been to make vegetables more accessible and appealing for all kinds of eaters, I don't think this full-on vegetarian book will exclude anyone, as most of the recipes will appeal to non-vegetarians and part-time vegetarians, too. I've never been one to go in for fake foods and I'm also not particularly into soy-based meat substitutes, so the recipes are based on familiar ingredients, with plenty of exciting flavor boosts.
The premise is this: Think of one-dish veggie suppers as "Veggies + 1." The "1" is a staple ingredient from your pantry or larder. The chapters are divided thus:
Noodles, Grains, Leaves, Toast, Eggs, Broth, Beans (and Legumes), Tortillas
Each chapter offers you lots of strategy about how to shop for, store, and cook with the best and most versatile of these items (and the flavors that go well with them.) Each chapter, in addition to multiple yummy recipes (there are 125 in the book), has versatile mini-recipes for little sauces and salsas, infused oils, dressings, toppings and more that can be used many different ways. I'm encouraging you to nudge yourself just a bit towards the make-ahead mindset. Because if you've got Quick Lemony Tahini Sauce or Spicy Peanut Sauce or Whipped Lemony Thyme Feta in the fridge, and/or a batch of cooked short-grain brown rice or chickpeas around, you can bring that broccoli or cauliflower or spinach home and make a delicious supper in no time, with a little support from your pantry.
Just to be clear, everything winds up in one bowl or on one plate or platter. Though I'm not a nutritionist, I have thought ahead about protein and a balance of flavors and textures so your one-dish recipe is a complete supper. Some suppers are heartier than others, and I admit that I don't eat huge amounts of anything in one sitting anymore, so portions, while filling (and rest assured, cross-tested by real families!!) are not huge. But they can be flexible.
Here's a sample list of recipe titles:
Crispy Tortillas with Watercress, Peas, Avocado, Sprouts and Smoky Chile Broth

Roasted Butternut "Smash" on Whole Wheat Toast with Cranberry Citrus Butter and Crispy Shallots

Grilled Naan Pizza with Quick-Roasted Cherry Tomatoes, Whipped Lemon-Thyme Feta, Cucumbers and Basil

Grilled Peach, Red Onion and Arugula Salad with Sungold Tomatoes and Grilled Croutons

Indian Curry with Chickpeas, Cauliflower, Spinach, Tomatoes and Coconut Milk

Autumn Farro Salad with Quick-Roasted Root Vegetables and Lemon-Sherry Dressing

Green Rice with Brussels Sprouts, Crispy Shiitakes, and Crunchy Pepitas

Spicy Egg Tacos with Salsa Verde, Sharp Cheddar and Pickled Veggies (cover recipe)

Yukon Gold Potato and Brussels Sprouts Hash with Parmesan Fried Egg

Red Quinoa and Baby Kale Salad with Sweet Potato Fries and Blackberry Dressing.

Stir-Fried Black Rice with Baby Bok Choy, Asparagus, Shiitakes, and Lemon-Miso Butter
Now I just have to say a word about pre-ordering. I know how easy it is to order on Amazon, and certainly for authors this seems to be a good thing, to a certain extent. The more pre-orders, the more your book shows up in rankings and searches, etc. But the more we order on Amazon, the less we contribute to the well-being of our independent bookstores and our local communities, and ultimately that's not great for anyone, especially book authors. (Also, discounted books earn back advances at a slower rate.)
As you may know, I work part-time in an independent bookstore, Bunch of Grapes, so I am particularly interested in supporting independent bookstores. Our book buyer has already placed a generous order for copies of my book (this is a normal practice—ordering the books months in advance), but you could visit your own local bookstore and ask if they'd be willing to stock Simple Green Suppers, and you can also pre-order your book from a list of independent sources (including Powell's bookstore and IndieBound.org) through my book's distributor, Penguin Random House. So you have choices!
But just so you know, pre-ordering is a good thing as it helps build buzz and in some cases might actually affect the numbers of the first print run. A book has to build momentum before publishing day arrives or it won't be able to take off running. So thank you in advance.
And yes, you'll be hearing more about Simple Green Suppers in the next few months!!

Simple Green Suppers cover photo by Randi Baird. Food styling by Susie Middleton and Amy Miller.