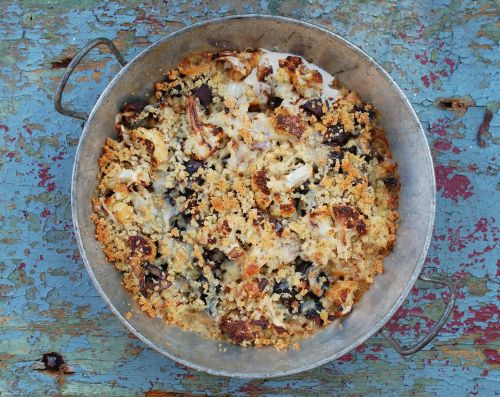 The savage weather has reached Biblical proportions. Yes, I am exaggerating, but today it is blowing so hard that I am fully expecting Auntie Em to ride by my window on her bicycle at any time. Frankly, I'd rather look out and see her than some random farm item that was once tethered to the ground.*
Well, there is no antidote to all this other than good warming winter food. (And chocolate—I have my new favorite, a 77% percent cocoa bar from Chocolove, by my side.) In the kitchen today I am making a cauliflower gratin, because I am still having cruciferous cravings. Don't worry, I am not eating the chocolate and the cauliflower at the same time.
Because of my sweet tooth, I prefer cauliflower roasted, rather than prepared any other way. So today I was thinking about taking the extra step of putting roasted cauliflower into a gratin with Gruyère and rosemary—and then I realized I'd already developed a recipe like this for The Fresh & Green Table. (Yikes, sometimes I forget these things, which is a little scary.) That recipe spans the seasons a bit, since it includes green beans and potatoes as well as cauliflower and mushrooms. I decided to simplify a bit and stick to the colors of winter, partly because I had a monochromatic photo in my head. (I love shades of white. In the end the photos turned out yummy, but not so monochromatic.)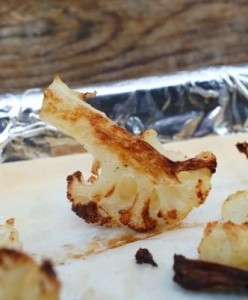 Anyway, the version I made today is just cauliflower and mushrooms. I call it a gratin but really it is more like gratinéed veggies. No major deep-dish casserole-y kind of thing here—just roasted veggies sprinkled with cheese, a little cream, and plenty of breadcrumbs and baked until bubbly. Rustic and delicious. The rosemary winds up being pretty fragrant, so sub in thyme if you're not in a piney mood.
Tip: And here's something to keep in mind when roasting cauliflower or broccoli. Cut through the florets (at least in half, or in thick slabs if they're large) so that they have a flat side that can have full contact with the sheet pan. Glorious caramelization will occur where floret meets heat. (Witness photo above; floret has been flipped up after roasting.)
*P.S. I wrote this yesterday but was unable to get it posted until today. I am happy to report that Auntie Em and Toto did not fly by the window. However, one of the doors off the gas grill, some tree limbs, and a plastic tarp are all tangled up outside my window.
Roasted Cauliflower, Cremini , Gruyère and Rosemary "Gratin"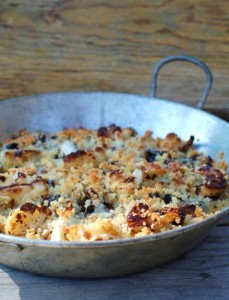 Take this idea and run with it—use whatever roasted veggies you like, sprinkle with a bit of cheese, cream, and breadcrumbs, and bake until bubbly.
________________________
3 tablespoons plus 2 teaspoons extra-virgin olive oil (plus more for rubbing pan)
3/4 cup coarse fresh breadcrumbs (I use an English muffin for this)
1 1/4 teaspoons chopped fresh rosemary
kosher salt
Florets from 1 small head cauliflower (about 14 ounces), each about 1 1/2 inches long and cut to have one flat side
8 ounces cremini mushrooms, quartered if large, halved if small
1/2 cup grated Gruyère cheese
1/2 cup heavy cream
________________________
Heat the oven to 450°F. Line a large heavy-duty rimmed sheet pan with parchment paper. Rub a little olive oil all over the inside of a small shallow gratin or baking dish. (I used a 9-inch round, but something about 1 1/2 quarts in volume works well.)
In a small bowl, combine the breadcrumbs, 2 teaspoons olive oil, 1/2 teaspoon chopped rosemary and a pinch of salt. Mix well and set aside.
In a mixing bowl, toss the cauliflower and mushrooms with the 3 tablespoons olive oil and 1/2 teaspoon kosher salt. Spread the vegetables out in one layer on the sheet pan (flip the florets so that they are cut-side down). Roast until the veggies are nicely browned and tender, about 28 to 30 minutes. Let the veggies cool for a few minutes and transfer them to the baking dish, arranging them in one snug layer.
Reduce the oven temperature to 425°F.
Sprinkle the remaining rosemary and the cheese over the vegetables in the pan. Drizzle the cream over the vegetables. Scatter the breadcrumb mixture over the top, leaving some vegetables peeking out.
Bake until the crumbs are well-browned and the cream has bubbled and reduced, leaving a thin brown ring around the edge, about 18 to 20 minutes. Serve hot or warm.
Serves 3